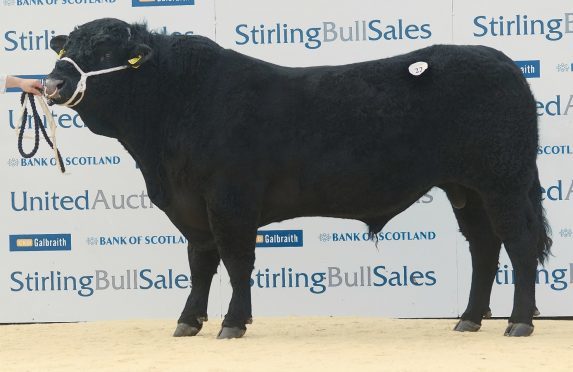 Continental bulls sold to a top price of 9,000gn four times at yesterday's May bull sale at United Auctions in Stirling.
First at this price was an October-2013 born Saler from Rigel Pedigree which is run by Terrence and Jane Pye at Yarm, North Yorkshire.
Rigel Rhett which is a polled black home-bred son of Rigel Byron, and out of Rigel Rhiannon, sold to W Duncan & Co, East Lediken, Insch, Aberdeenshire. He made a new record for the highest price Saler to be sold at Stirling and he was only 1,000gn short of the breed record in the UK.
In total, five Salers sold to an average of £4,935 which is up £1,260 on last year. A clearance rate of 83% was achieved.
The next breed to hit the 9,000gn price tag was the Charolais when a lot from Major David Walter's Balthayock herd at Glencarse, Perth, went under the hammer.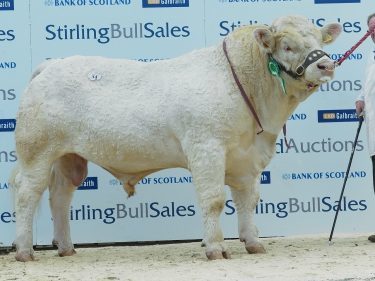 July-2014 born Balthayock Jetset is a home-bred son of Ugie Echo, which has previously sold sons to 15,000gn, and out of Balthayock Daphne. He sold to JD Leavesley, Needwood House, Needwood, Burton on Trent.
Next best at 7,200gn was the reserve champion from Katreen Millar, Lochend Farm, Port of Menteith, Stirling.
June-2014 born Lakelady is a home-bred son of Mortimers Echo, out of Lakelady Elle. He sold to D Thomson, Mid Town Farm, Penrith.
The breed champion – August-2014 born Falleninch Julius from Andrew B Hornall, Falleninch Farm, Stirling – sold for 5,000gn to Liam Muir in Orkney. This one is a home-bred son of Dereskit Fernando and out of Falleninch Anna.
In all, 25 Charolais bulls sold to an average of £4,486 and a clearance rate of 53%. This is down £639 on last year's average when 16 bulls went under the hammer.
The next breed to achieve 9,000gn was the Limousin with two lots selling to this price.
First up at this price was the breed champion from Bruce T Goldie, Townfoot, Mouswald, Dumfries.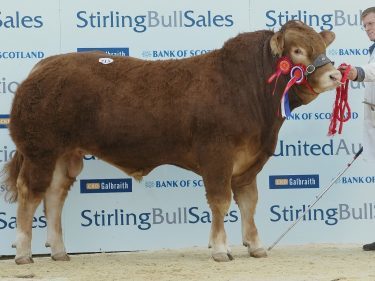 November-2014 born Goldies Justgreat is an AI son of Goldies Fandango, which the family previously sold for 22,000gn, and out of Goldies Fairytale. He sold to W & R Thomson, Cairnbog Farm, Kilsyth.
The Goldies also achieved the second bid of 9,000gn for the Limousin breed when October-2014 born Goldies Jenson went under the hammer.
This home-bred son of Goldies Fantastic, out of Goldies Belle, sold to J & R Semple, Netherton Farm, Dalrymple, by Ayr.
The breed reserve champion – September-2014 born Harestone Jason from Neil and Stuart Barclay, South Road, Insch – sold for 5,200gn to Peter Alexander, Mains of Mause, Blairgowrie.
A total of 43 Limousin bulls sold to an average of £4,356, which is up £748 on last year's fixture when 32 bulls sold. A clearance rate of 90% was achieved.
Lastly in the Simmental section a top price of 7,800gn was achieved when the pre-sale show champion went into the ring.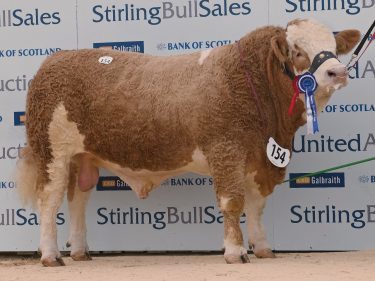 September-2014 born Aultmore Franco, from Garry Patterson of Upper Forgie, Aultmore, Keith, is by Grangewood William and out of Hazelden Jingle 8th.
Franco sold yesterday to the Green family's Corskie herd at Corskie Farm, Garmouth, Fochabers.
The Pattersons also sold another lot – October-2014 born Aultmore Fearless – for 6,500gn.
The second best price for the Simmentals at 7,200gn was paid for June-2014 born Corskie Freddo from the Green family at Corskie.
This one is a son of the 22,000gn Dirnanean Bradley out of Corskie Candy. He sold to John Meikle, Kirkton of Lundie, Dundee.
The reserve breed champion – November-2014 born Islavale Fusilier from Stewart Stronach, Berryleys Farm, Grange, Keith – sold for 6,500gn to D Hyslop, Clydside Farm, Lamington, Biggar.
In total 33 Simmental bulls sold to average £4,192, which is down £4 on last year when 25 bulls sold. The clearance rate was 67%.