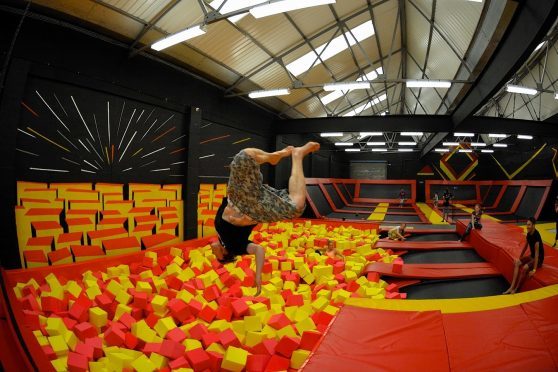 An Inverness trampoline centre is among more than 1,200 new businesses to have benefited from UK-Government-backed start-up funding totalling more than £11million to date.
After opening their first Infinity Trampoline Park in Cardiff last year, north entrepreneur Taran Campbell and David Montgomerie, of Edinburgh, teamed up with Inverness-based Alasdair Smith to expand the enterprise to the Highlands this summer.
The founders are inching closer to launching their third site, which will be in Newport, South Wales.
Mr Campbell, who previously played a key role in transforming a dilapidated Inverness park into a top centre for skateboarding and BMX sports, said Infinity had benefited from £75,000 in start-up funding from the UK Government's Transmit loans programme.
And Mr Smith, 31, who previously managed a team of rope access painters on North Sea oil platforms, used £25,000 of that to set up the Inverness centre.
Mr Smith, said: "Trampoline parks have become hugely popular worldwide over the past few years and we wanted to bring the phenomenon to individuals, groups and families across Inverness and the Highlands.
"We provide a fun and safe space that includes a variety of areas like a dodge ball court, dedicated performance area, slam dunk basketball hoops and a 40ft foam pit so people can practice their flips and tricks.
"We also run fitness classes, while our main trampoline court has trampolines of all shapes and sizes to maximise the fun and potential for freestyle jumping."
He added: "A trampoline park is not a simple business to set up. Starting the business required a great deal of upfront cost and project management to get each element completed on time.
"The loan from Transmit really helped us to get our business off the ground, and we're delighted it has been so popular with both locals and tourists.
"We've been running at 100% capacity after school hours and have even put on more fitness classes to meet demand."
Transmit is said to have created thousands of new jobs across a range of industries, with one in five loan applications coming from Scotland.
The company administering the programme on behalf of the government has recently opened offices in both Edinburgh and Glasgow in order to meet demand from north of the border.
And the loan which broke the scheme's £10million milestone went to 27-year-old Emma Riddell, who sells gelato from a bicycle at the Tram Stop Market in Leith, Edinburgh.
Gateshead-based Transmit Start-Ups (TSU) said 71% of Scottish loan recipients had started their businesses from full-time employment, while 15% had been unemployed for a spell.
TSU commercial director Richard Myers added: "We are extremely proud of all of the businesses we have helped, both with our start-up loans and business mentoring.
"We're approached with different ideas from aspiring entrepreneurs and new business owners every day, and it is amazing to be able to make so many of these dreams and ideas become a reality."