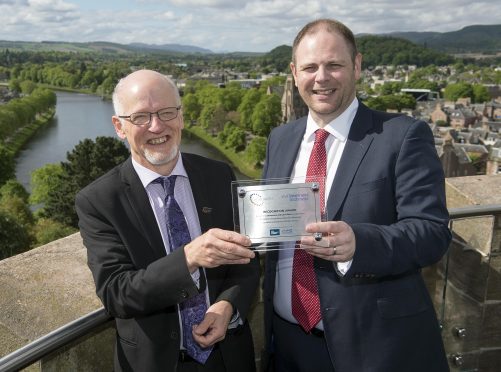 Staff working at more than 50 businesses in Inverness and Loch Ness has been internationally recognised for their exceptional customer service.
The area has been named as a WorldHost Recognised Destination – a global initiative which was adopted and rolled out in Scotland in 2013.
The status is awarded to areas where at least 25% of businesses have trained their frontline staff using WorldHost customer service training.
Inverness and Loch Ness is the second region in Scotland to gain the accolade.
Yesterday Graeme Ambrose, chief executive of VisitInvernessLochNess (VILN), was presented with the award at the Inverness Castle viewing platform.
A huge 53 businesses in the area, ranging from distilleries and visitor attractions to transport and activity businesses, underwent the specialist customer service training to gain WorldHost recognition.
Gillian Lacey-Solymar, owner of Achnagairn Castle and Luxury Lodges said: "The WorldHost training has been simply inspirational. It has provided the platform for us to ensure every client has an 'escape the ordinary' experience during their time with us. Everyone in our team is proud of our WorldHost Recognised Business status and we try to live up to that title every day."
VILN was instrumental in supporting the roll-out of the WorldHost customer service training programme during the past two years. So far, more than 23,000 staff in Scotland have been trained using WorldHost, equating to 640 recognised businesses.
Mr Ambrose said: "By 2020 customer service is expected to overtake price and product as a brand differentiator. We are very grateful to those businesses who helped the area achieve this accolade and take advantage of this great opportunity to raise their game and be better placed to compete."