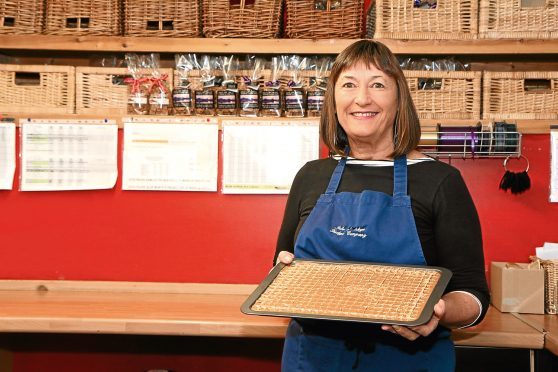 Each week we ask small businesses key questions.
Here, we speak to Carole Inglis, owner of Isle of Skye Fudge Company in Dunvegan.
How and why did you start in business?
Born and raised in Glasgow, I started out as a microbiologist but in 1977, when in my mid-20s, moved to Skye with my husband to run a watermill museum and B&B.
This was my first leap into the unknown. I then got a great job working for Highlands and Islands Enterprise (HIE) as a food and drink project manager – an amazing opportunity.
However, I eventually started to feel constrained by life in the public sector, where the wheels sometimes move exceeding slowly, and wanted to be my own boss once more.
Like many self-employed people, I saw an opportunity and took it in a "feel the fear and do it anyway" moment, establishing Isle of Skye Fudge in 2002.
In fact, we make tablet rather than fudge, following a recipe passed down through the family from my great-grandfather, who owned two sweet shops in Glasgow at the turn of the last century.
How did you get to where you are today?
In many ways my background was perfect for the business but my first big break came in 2006 from Baxters Food Group, which selected my product for Audrey Baxter's Specially Selected range.
The second break was in 2009, when I purchased and redeveloped an existing chocolate business.
Other than that, it's just down to careful planning and hard work – and keeping as many people as possible sweet.
Who helped you?
Working for HIE in the days of the local enterprise companies meant working closely with businesses of all sizes and running a wide range of training courses.
I learned a great deal and grew in confidence. I have also benefited enormously from the professional help and advice provided by the Federation of Small Businesses.
What has been your biggest mistake?
I took the chocolate business over in 2009 and very quickly learned that just because you know one business, it doesn't make you an expert in another.
It was a steep learning curve but great fun, and I grew the business back up over five years before selling it on to concentrate once more on fudge.
What is your greatest achievement?
Being chosen from 18 tablet makers from around Scotland to supply Audrey Baxter's Specially Selected range.
If you were in power in government, what would you change?
HM Revenue and Customs' tax reporting system for micro-businesses. It seems to think a business with less than five employees at the height of the season, when working 70 hour weeks, can find the time to run PAYE and a pension scheme, while also keeping up-to-date with every reporting obligation.
It has no understanding how people like me are chief accountants, HR departments, supply chain and production managers, marketing executives, cleaners and fixers of whatever else crops up, all rolled into one.
What do you still hope to achieve?
Having run Skye Fudge for 15 years, it's time to pass it on to someone younger.
By good fortune, one of my employees, Andrea Dukes, is buying the business and I will be handing over the wooden spoons at the beginning of February.
I will then be in a state of semi-retirement, while working on a new product – Cuillin mint cake.
What do you do to relax?
I have just bought my first proper campervan and am looking forward to getting away for a few days at a time.
There's nowhere better than Skye in good weather, but when it isn't my husband and I love Crete and the Cyclades in May and escape to a traditional village in the south of Spain for a week in winter.
What are you currently reading, listening to or glued to on the TV?
I am currently reading The Poor Had No Lawyers: Who Owns Scotland and How They Got It by Andy Wightman – very relevant, given the Paradise Papers.
I enjoy talkRadio and podcasts, and stay up too late watching current affairs and keeping an eye on Twitter.
I am a bit of a political anorak and closely follow the Brexit negotiations, as a firm remainer, and I'm a long-time believer in Scottish independence.
What do you waste your money on?
I had "recycle" drummed into me from an early age, but I love bargains and sometimes buy two of something just in case.
How would your friends describe you?
Resourceful, creative, busy and always there if needed, I hope.
What would your enemies say about you?
I like to get on with people and tend to be the peacemaker, but maybe that's annoying for people who like a spat.
What do you drive and dream of driving?
I prefer practicality over style and love my five-year-old Peugeot Partner. But my pride and joy is my new Fiat Ducato campervan, with which I plan to use my new-found freedom to visit every last corner of Scotland.