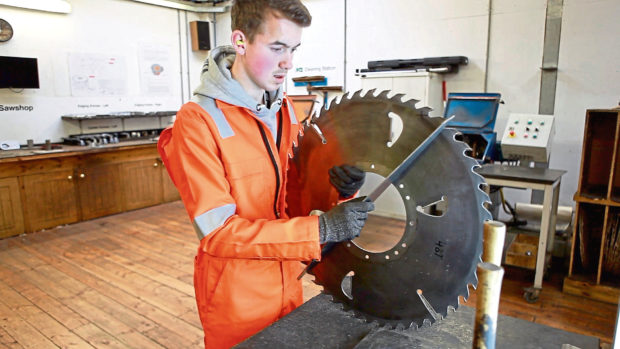 Apprentices from Lochaber, Skye and Wester Ross are the stars of an initiative being launched today to encourage others to follow in their career footsteps.
The Developing the Young Workforce (DYW) West Highland programme is releasing a series of short videos featuring first-hand accounts of the experiences of five young people on apprenticeships with a variety of companies in the area.
The organisation, which is hosted by Lochaber Chamber of Commerce, hopes the new approach will inspire others to explore "earn as you learn" options and help showcase the range of training and career options available in the region.
Interviews with apprentices from the Lovat Hotel Loch Ness, BSW Timber, Ferguson Transport and Shipping, Corpach Boat Building Company and fish farming giant Mowi, formerly known as Marine Harvest, feature in the films, which also highlight the work of their employers.
DYW plans to produce seven more videos this year.
DYW West Highland programme director Lesley Benfield said: "We hope that the videos will encourage more businesses to harness the amazing fresh talent we have here in the West Highlands and realise the potential of using the apprenticeship framework to upskill existing employees."
"Businesses know that apprenticeships give young people the practical skills and qualifications that their business needs and young people are finding they can become valued employees early in their working careers by using the apprenticeship route to qualification.
"Learning while earning has become an increasingly attractive alternative to full time academic study, and employers are reporting that taking on apprentices is resulting in growth and increased productivity in their business."
The initiative was welcomed by Ross, Skye and Lochaber SNP MP Ian Blackford.
Mr Blackford said: "The DYW West Highland programme has done some exceptional work in producing these videos to highlight the magnitude and quality of the apprenticeship programmes available across Lochaber, Skye and Wester Ross.
"As you can see and hear from the young adults featured, there is a diverse range of opportunities available across various professional sectors."
He added: "I couldn't recommend this project enough. I would urge any young person in Lochaber, Skye and Wester Ross to take inspiration from those featured in these videos and consider for themselves the benefits that an apprenticeship programme could have on the rest of their lives."