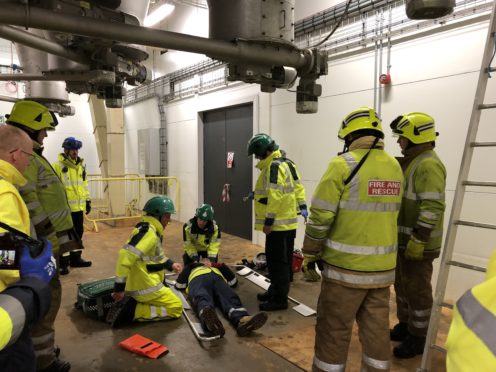 Organisers and emergnecy workers who took part in a major incident training day at the new fish feed plant on Skye have hailed the event a success.
Representatives from the Scottish Fire and Rescue Service, the Scottish Ambulance Service, the Marine Coastguard Agency, Police Scotland and the Highland Council gathered at the Mowi facility where two scenarios were presented to the specialist teams.
The teams were tested with realistic scenarios that could occur at the facility when it opens later this year, with the first seeing a volunteer fall from the sea pier into the open water.
Dave Philips of the Maritime and Coastguard Agency said: "This was a very realistic scenario to test as the pier will be central to the operations at the site. It was extremely useful for us to get on site and understand the layout and access points for us to get a casualty out of the water as soon as possible.
"The operation went well with good collaboration between us and the other emergency services, especially the teams from the ambulance and police."
The second scenario introduced a major head injury occur on the fourth floor of the manufacturing facility, before a fire was introduced, to enhance the response of the gathered emergency services.
Kevin O'Leary, Mowi site manager at Kyleakin, said: "We learned a lot from the day and will be immediately looking at measures to make improvements to our procedures."