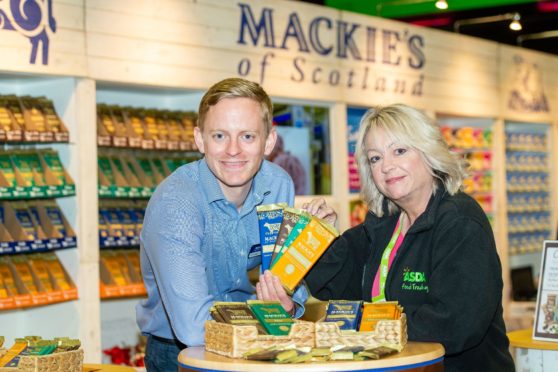 The north-east's most famous ice cream brand has scooped a £100,000 contract to supply Asda stores around the country with it's luxury chocolate bars.
Sweet-toothed fans of Mackie's of Scotland's will now be able to purchase the four varieties of chocolate from 47 of Asda's 61 stores in Scotland, following a successful trial last year.
Stuart Common, sales director at Mackies, said: "We're very aware that around Scotland we're known for our ice cream first and foremost.
"While that may not change completely, we're delighted with this listing in a major supermarket that serves so much of the Scottish population.
"We're perfectionists – and our size has allowed us to continuously refine our chocolate recipes to keep improving them and match them with the tastes of the Scottish population especially."
The family business said it already has a good relationship with Asda having landed successful listings for its ice cream in 1993 and its crisps in 2009.
Mackie's partnered with Scotland's Rural College (SRUC) at last year's Royal Highland Show, to gather feedback on its new milk chocolate recipe from 600 members of the public – using its new mobile sensory lab.
Chocolate is Mackie's most recent diversification. Since 2015, Mackie's bars have been created in its very own chocolate factory, built on its farm near Inverurie, in what was formerly the old tractor shed.
There it uses specialist, industry leading equipment to refine, conche and temper the chocolate that makes up its bars. It currently produces four flavours, honeycomb, traditional milk, mint, and dark 70% cocoa.
The chocolate that Mackie's makes on its farm is also used in its chocolate ice cream recipe.
Heather Turnbull, regional buying manager at the supermarket giant, said: "The new chocolate listing makes a fine addition to our already substantial Mackie's offering.
"We stock more than 1,000 products, from over 100 local Scottish suppliers, allowing customers in all of our stores to enjoy premium products packed full of home-grown Scottish taste, talent and provenance.
"Supporting local Scottish suppliers is an integral part of what we strive to do at Asda and we're delighted to be expanding Mackie's range across our stores."
In keeping with its sky to scoop philosophy, the Aberdeenshire firm produces everything for the running of the farm and production of its products from renewable energy to its own packaging.