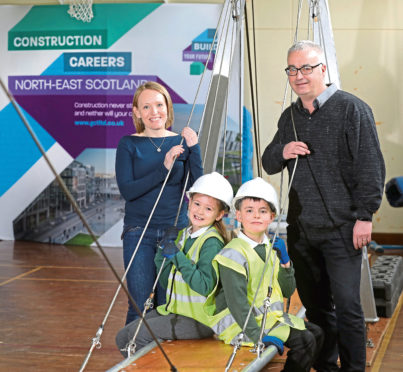 A new north-east scheme aims to showcase construction as a buoyant, exciting and potentially lucrative sector to work in.
The Build Your Future schools challenge is aimed at S2 secondary school pupils as they decide which subjects to take in third and fourth year.
Every secondary in Aberdeen and Aberdeenshire will be invited to submit a team of 10 pupils, meaning there could be as many as 300.
It is being organised by Grampian Construction Training (GCT) and Construction Industry Training Board (CITB), with several key partners.
The scheme is part of a series of challenges designed to inspire young people to consider careers in the sector as well as tackling skills shortages.
GCT, CITB and the other project partners previously launched their Bridge Building construction challenge for primary school pupils.
The latest event involves initial half-day heats, which will take place in October and November at different locations, building towards a one-day final in January.
Several schools have already confirmed they will take part.
Aberdeen Association of Construction Professionals chairwoman Michelle Forth said: "For several years now, different groups have been working on a range of projects to engage with pupils at an early stage.
"Our hope is that this challenge offers one platform for each of these groups to come together.
"This will in turn allow us to demonstrate the diverse and exciting range of career opportunities available within construction.
"It can also familiarise students with different learning and working environments."
CCT chairman Jim Buchan added: "This challenge allows us to bring together schools, colleges, universities and potential employers in a way that allows us to introduce the construction sector in a fun and exciting way, while addressing the stereotypes that are still prevalent."