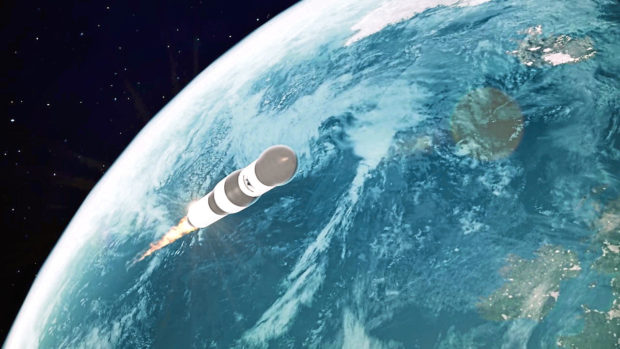 A project to evaluate the suitability of Shetland's northernmost island as a location to launch rockets using air balloons has been given a £15,000 boost.
The funding, from development agency Highlands and Islands Enterprise (HIE), will be used by Shetland Space Centre (SSC) for commercial and technical evaluation of the use of the system from its proposed facility on Unst.
SSC has been working with Bristol-based B2Space, a company that offers access to low Earth orbit for small and micro satellites.
In July, they ran a test from Unst of a system known as rockoon, which deploys large air balloons to launch rockets from the edge of the Earth's atmosphere.
HIE said its funding would go towards assessing current facilities and development plans at the site and providing recommendations on how such operations might be hosted at SSC.
John MacKenzie, a senior development manager with the agency, said: "This is an ambitious and innovative project.
"We are very pleased to be providing support for the commercial and technical evaluation and look forward to the findings of this work."
B2Space is analysing data gathered during last month's test.
Valentin Canales, one of the firm's co-founders, said: "We had a flight to capture some data. It went quite well and we gathered a lot of information that we are analysing.
"We are going to deliver a comprehensive report to Shetland Space Centre that will, hopefully, demonstrate that we can operate from there – which is good news for us and the space centre."
SSC was formed in 2017 and now employs five people. The firm is working towards securing planning permission for the satellite launch facility on Unst.
Last month, businessman Frank Strang, who established SSC, highlighted letters of intent from a number of companies around the world interested in using the facility.
Developing the centre is expected to cost more than £40 million and Mr Strang said work was progressing on raising funding.
The company has signed a memorandum of understanding with aerospace giant Lockheed Martin and Shetland Islands Council.
It is also said to be working "closely" with space flight company AirianeGroup, which is owned by Airbus.
B2Space was formed in 2016, with the aim of providing "reliable, flexible and low-cost access to low Earth orbit for small and micro satellites".
The company is already working with Llanbedr Spaceport, in Wales, to develop a prototype of its launch system.
Last year, the UK Space Agency (UKSA) announced it was backing plans to send satellites into space from a proposed vertical launch facility on the A'Mhoine peninsula, in Sutherland.
HIE approved £17.3m to support the development, including £9.8m from the agency itself and £2.5m from UKSA.
The remaining money is being sought from the Nuclear Decommissioning Authority.