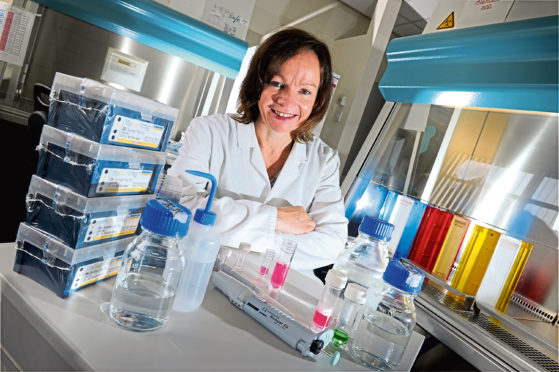 The biotechnology firm NovaBiotics opened a new laboratory in Aberdeen as it prepares for the next key phase in its growth.
New trials of the company's ground-breaking Lynovex medicines for cystic fibrosis sufferers and further work on drugs to combat antimicrobial resistance in humans are planned.
The innovative business has just completed the move into its new 6,000sq ft laboratory and office facility at Bridge of Don Industrial Estate.
Relocation is the first step in a planned expansion of the firm ahead of the opening of a £40 million Bio Hub in Aberdeen, which is on track for completion of its first development phase next year.
NovaBiotics aims to establish a base for clinical operations at the Bio Hub, in addition to its bespoke Bridge of Don laboratory.
Deborah O'Neil, the firm's CEO, said: "The new Bio Hub will be a game-changer for Scotland's life sciences sector, as it will be the focus of the community developing world-changing treatments, diagnostics and devices for modern epidemics.
"We look forward to being a part of this exciting development as we set our sights on ambitious growth.
"Our new location offers NovaBiotics the facilities to continue developing our highly promising pipeline of drug candidates.
"We are busy planning next-step clinical trials for Lynovex, and moving our antimicrobial therapies further towards clinical testing, in particular Novamycin, a novel antifungal therapy for which we were awarded a £1.8m SBRI (Small Business Research Initiative) contract with the Department of Health and Social Care and the NHS.
"Our new premises will also see advancement of our Novarifyn, Nylexa and Luminaderm antibacterials, and allow us to further bolster our already strong patent position."
Ms O'Neil is set to speak on how the north-east life science cluster can address global health challenges at the inaugural Scottish Life Sciences Summit in Aberdeen next month.