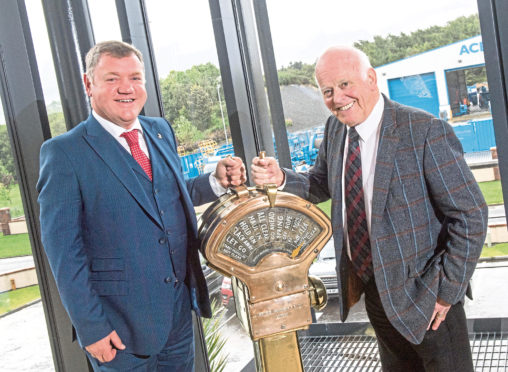 Balmoral Group has said it remains "absolutely com- mitted" to the growth of its Ace Winches subsidiary after announcing major changes at the top of the Aberdeenshire deck machinery specialist.
The group today announced Ace founder and chief executive Alfie Cheyne and his wife, chief compliance officer Valerie Cheyne, have moved to non-executive roles with the company.
Balmoral, which controls 70% of the Turriff-based business, added that Mr and Mrs Cheyne will remain directors and shareholders.
The management changes follow a strategic review, which "identified that changes to the senior leadership were required," according to a statement from Balmoral's chairman and managing director, Jim Milne.
Mr Cheyne's position has been filled by former chief operating officer, George Fisher, and Paul Mitchell has been appointed chief financial officer on a permanent basis.
Two Balmoral directors, Kevin Binnie and Gary Gerrard, are to join the Ace board as non-executive directors.
Mr Milne said: "To ensure Ace Winches stays at the forefront of the market, the board of directors undertook a strategic review of the business which identified that changes to the senior leadership team were required.
"We remain absolutely committed to the growth of Ace Winches, its market-leading position, the power of the brand, its people and our innovative and entrepreneurial approach to business."
Mr Milne confirmed that Ace will "continue to run autonomously with the full corporate support and strength of Balmoral Group behind it".
He added: "At this time, it is important to acknowledge the dedication, commitment and hard work of Mr and Mrs Cheyne in building Ace Winches into the sector-leading business it is today."
Mr Cheyne, who launched Alfred Cheyne Engineering in 1992, rebranding the company as Ace Winches 14 years later, was named Chief Executive of the Year in the 2013 Scottish Business Awards.He declined an invitation to comment.