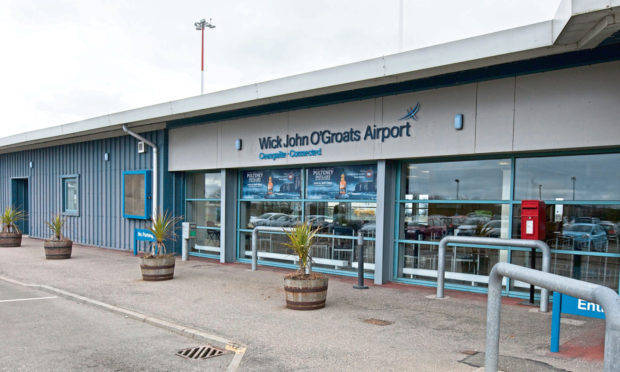 Wick John o' Groats Airport will be left with only one route at the end of this month after Scottish airline Loganair axed flights to Edinburgh.
Caithness, Sutherland and Easter Ross Liberal Democrat MP Jamie Stone called the decision "potentially ruinous" for the far north and local SNP MSP Gail Ross said it was a "devastating" blow for the area.
Trudy Morris, chief executive of Caithness Chamber of Commerce, said it was the result of a "significant market failure which will have serious short, medium and long-term economic impacts".
Loganair announced it was ending the long-standing service because of a "marked deterioration" in the number of passengers using the flights for onward connections to other parts of the UK and overseas, driven by an increase in non-stop services from Inverness.
Passenger numbers on the route fell from 11,357 in 2016 to 7,632 last year, a fall of 33%, the carrier added.
It said the route's viability was, therefore, already "under serious pressure" long before the coronavirus outbreak caused a further drop in demand, with bookings currently down by 17% on a year ago. Loganair's final departure from Wick on March 27 – leaving Eastern Airways as the only operator – affects two staff, who will be offered jobs at other locations or redundancy.
The airline said it would consider operating from Wick in the future, but only if routes are protected by the Scottish Government under a public service obligation.
Loganair chief executive Jonathan Hinkles said: "Loganair has been serving Wick since 1976 but there has been a steady decline in passenger numbers, mirroring the simultaneous growth of non-stop flights from Inverness, and the further drop in demand as a result of coronavirus has dealt the final blow."
Transport Scotland was already considering a business case for that from the Caithness chamber and a spokesman for the department yesterday said it would respond soon.
This is potentially ruinous for the far north.
Caithness, Sutherland and Easter Ross MP Jamie Stone has written to First Minister Nicola Sturgeon seeking her intervention to protect "lifeline" air services to and from Wick.
In his letter, he said: "Loganair have announced the suspension of services between Wick and Edinburgh. This is potentially ruinous for the far north."
Mr Stone said he first made the case for a public service obligation for the airport in July 2018 but had been told it was impossible because of EU state aid rules.
He added: "Now that the commercial service has ceased and given that we are set to leave the EU in December (after Brexit transition) this must be looked at again as a matter of urgency."
Mr Stone said yesterday: "As Dounreay runs down we are trying to put in place high-quality replacement employment, and part of that is about enhancing transport connections."
A Scottish Government spokeswoman said: "It is disappointing that the Edinburgh-Wick route has failed. We are considering carefully a business case from Caithness Chambers of Commerce and will respond to that soon."
Caithness, Sutherland and Easter Ross SNP MSP Gail Ross tweeted: "This is devastating news for the far north. Massive implications for tourism and the economy."
ANALYSIS: Argument for state aid to maintain aviation links now strengthened
The loss of one of its only two routes will inevitably fuel fears about the future of Wick John o' Groats Airport.
It still has flights to Aberdeen, with Eastern Airways continuing to operate these independently following the demise of its former franchise partner Flybe.
Caithness Chamber of Commerce has been lobbying for state aid for the ailing airport in the form of a public service obligation (PSO) – a means of maintaining services for sparsely populated areas through government subsidies.
Chamber chief executive Trudy Morris said Loganair's withdrawal from the terminal at Wick strengthened the case for a PSO for the airport.
She added: "Regular, reliable regional aviation links are critical to our region's continued economic success.
"This is a significant market failure which will have serious short, medium and long-term economic impacts. We need and expect urgent action from the Scottish Government to address these.
"While there are particular external pressures on the regional aviation market at the current time, this is a situation which could and should have already been addressed.
"We provided the Scottish Government with a contingency planning report in June of last year.
"Had that report prompted an active response, we would be in a much stronger position to deal with the issues we are now facing.
"Instead, a major operator from Wick John o' Groats Airport has pulled out of a route providing vital services to communities across Caithness, and we do not have a plan or commitment from government to mitigate the impact.
"We have been proactive and planned for this type of scenario.
"We need government to step up and match our work."