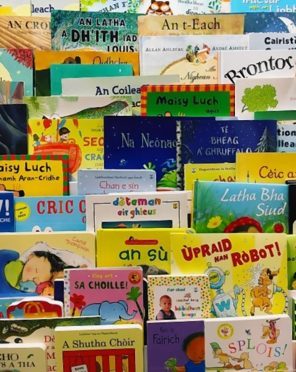 Hebridean book publisher Acair is targeting new markets after seeing increased interest in its Gaelic language titles from all over the world.
The not-for-profit business aims to tap into the growing popularity of Gaelic in countries including the US, Canada, Australia and New Zealand, manager Agnes Rennie said yesterday.
"We believe there could be more demand for our books out there," she said, adding that interest in Scotland and its history in general was also driving the clamour for Acair's titles.
"We are very excited at the prospect of selling a lot more Acair books into the international market place," she said.
Acair has just received a £13,390 grant from Highlands and Islands Enterprise (HIE) to help it take advantage of international markets and increase production.
The Stornoway-based enterprise was set up nearly 40 years ago to provide resources for a bilingual education project.
Today, the company employs four people and often hires sole traders such as designers, editors and translators.
Its books are a familiar sight in Gaelic medium schools across Scotland, while the firm also publishes general interest books in Gaelic, Scots and English.
Acair's small team includes a young island graduate recruited through the HIE-funded ScotGrad placement scheme who is working on developing a marketing strategy across a number of channels.
Major book fairs in London and Bologna will be attended as part of planned activities for the next two years.
In addition, the company will expand its e-books portfolio and undertake new training with industry body Publishing Scotland.
HIE area manager Rachel Mackenzie said: "We have worked with this small but dynamic team for a number of years and are delighted to be able to assist their latest venture.
"Acair has always played an important role in developing and preserving the Gaelic language and culture."
As well as the international sales push, Acair has been developing new partnerships with supply chain organisations, social enterprises and community groups.
Meanwhile, Mingarry Park Guest House in Moidart, on the Ardnamurchan peninsula, has received a £13,800 HIE grant to support it opening year-round.
Four new jobs will be created at the five-bedroom guest house, which is run by Olympic clay pigeon shooter John Macdonald and his wife, Emma.