The trade body for Scotch whisky has welcomed a resurgence in exports which has seen the value of overseas sales rise to more than £4billion.
The Scotch Whisky Association (SWA) said it was "feeling optimistic" as new figures showed the industry's international trade grew by 4% in 2016 after levelling off and recording small declines in recent years.
Released yesterday, the statistics also showed exports of single malts exceeded £1billion for the first time last year.
Among the factors singled out by the SWA as contributing to the export increase was the weakness of sterling in the second half of 2016.
But the organisation warned short-term positive currency impacts should be seen in the context of continuing uncertainties around Brexit and the "seismic changes" the UK's departure from the EU will bring in the longer term.
Acting SWA chief executive Julie Hesketh-Laird said:  "With Scotch whisky exports returning to growth and rising to more than £4billion, and single malts exceeding £1billion for the first time, we're feeling optimistic about the future.
"Demand is rising in mature markets, such as the USA, and newer markets, including China. This confidence is reflected in the number of new distilleries – 14 have been opened in the last few years and we know of about another 40 in at various stages of planning."
Ms Hesketh-Laird said the industry had to be "alert to the challenges, as well as the opportunities" of Brexit and political changes in the UK and abroad.
She continued:  "Industry success can't be taken for granted and we need both the UK and Scottish governments to work in partnership with us to deliver a business environment – at home and overseas – that supports sustainable growth.
"At home, for example, we are calling for a 'sector deal' for Scotch as the new UK industrial strategy develops, recognising  our economic significance to communities across the country. And we have clearly set out our objectives for Brexit to support jobs and growth in the industry in an increasingly competitive global market."
Yesterday's figures showed whisky was directly exported from Scotland to 182 countries in 2016, with EU nations the biggest customers, accounting for around £1.2billion in sales.  Among larger European markets, the value of exports  to Poland rose 19% to £63million, while in Germany they increased 13% to £164million. Sales to Spain saw a rise of almost 10% to £167.
Exports to the second largest whisky market, North America, were worth more that £1billion, followed by Asia at £768million.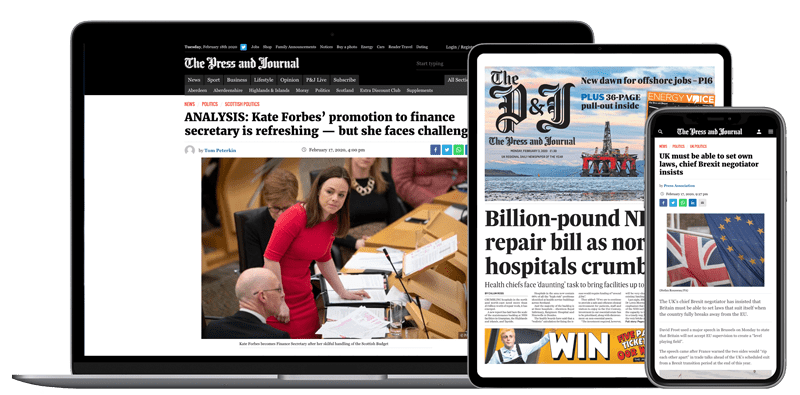 Help support quality local journalism … become a digital subscriber to The Press and Journal
For as little as £5.99 a month you can access all of our content, including Premium articles.
Subscribe