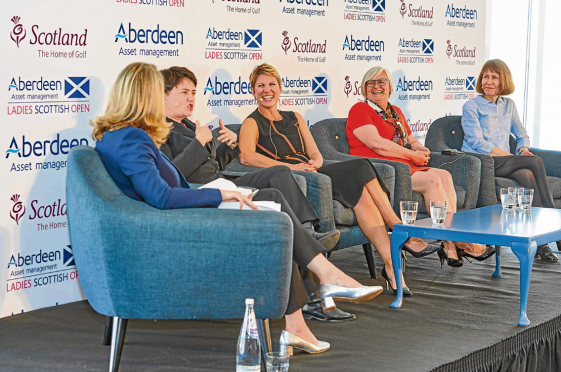 Aberdeen Asset Management (AAM)'s chief economist recalled yesterday how bankers once mistook her for a secretary and asked her to fetch some coffee.
Lucy O'Carroll, who has previously worked for Royal Bank of Scotland, Halifax Bank of Scotland and the Bank of England (BoE), said they also asked her to book them a taxi.
The brush with sexism in the financial services industry came during the early part of her career.
"I just laughed it off at the time," said Ms O'Carroll, who was among the speakers at an AAM leadership forum in Ayrshire.
The subject up for discussion – gender diversity in business, politics and sport – could hardly have been more topical after the furore created by a massive pay gap between the highest paid men and women at the BBC.
Ms O'Carroll said the financial services industry was still largely dominated by men and AAM was keen to bring 21st Century diversity issues "to the fore".
"This event is sending out a positive message about women's role in the industry," she said, adding she wanted her 18-year-old daughter to be able to have the same aspirations as men and not face any glass ceilings.
"Women need to be able to aspire to senior roles and not assume there are barriers in place," she said.
Her own experience of outdated attitudes in the City came when she worked at the BoE.
She said: "I was sent into talk to some bankers about the economy. I went into the room to give a presentation and they immediately asked me to order them a taxi. One of them asked me to get him a coffee. I realised as soon as I had started they had assumed I was the secretary."
Other speakers at the event, which took place ahead of this week's AAM Ladies Scottish Open at Dundonald Links, included Scottish Tory leader Ruth Davidson, actor and comedian Elaine C Smith, brewing entrepreneur Petra Wetzel, Scottish women's rugby chief Sheila Begbie, professional golfer Beth Allen and English rugby lengend Sir Clive Woodward.
AAM currently has three women on its nine-strong board.