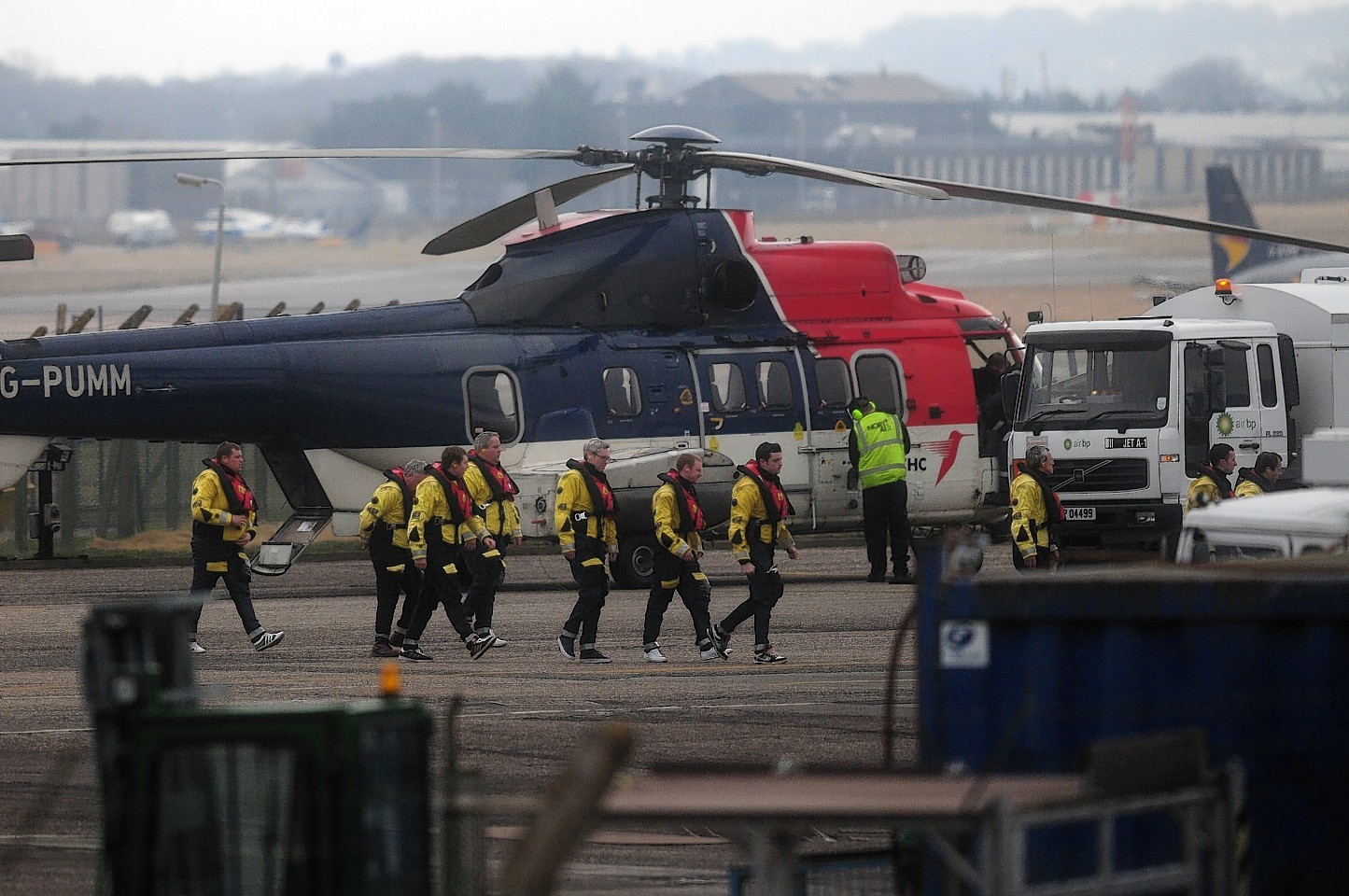 The average weight of men working in the offshore oil and gas industry shot up by 19% between 1985 and 2009, a new report has revealed.
In its latest annual health and safety report, industry body Oil and Gas UK (OGUK) says the typical man employed on North Sea installations rocketed to well over 14 stones.
The increase will fuel growing concern over the health and shape of the thousands of people who are employed offshore, as well as the safety implications of transporting bigger workers by helicopter.
Earlier this year, regulators said that from April 1, 2015, oil workers unable to get through aircraft emergency windows while wearing their survival suits would not be allowed to board helicopters.
But the Civil Aviation Authority later insisted no-one would lose their job for being overweight, and pledged to make sure the problem is "sensibly managed".
According to OGUK, which has commissioned the Robert Gordon University in Aberdeen to carry out a two-year study to measure oil workers' body size and shape with 3D scanners, men going offshore in 1985 weighed less than 12 stone on average.
It adds: "Confined space working and general space limitations are commonplace within the offshore oil and gas industry and it is the workers' size and shape that determines their fit within this environment.
"The last survey of offshore workers' body sizes was completed almost 30 years ago and since then the average weight of the workforce has increased by around 19%."
OGUK says there has been a significant shift in distribution to the heavier end of the spectrum, adding: "The heaviest individuals are proportionally even heavier."
Overall, the report offers a mixed picture of offshore health and safety performance during the past year.
The period covers the ditching of a North Sea helicopter, with the loss of four lives, on its way to Sumburgh Airport.
An Air Accident Investigation Branch inquiry into the disaster is still ongoing.
OGUK also confirms a 49% cut in the number of reportable hydrocarbon releases over three years to the end of March 2013, narrowly missing a 50% industry target.
Robert Paterson, the organisation's health and safety director, told the Press and Journal the industry was "not yet where it needs to be".
He added: "Industry, working closely with the regulators and the workforce through Step Change and other bodies, is refocusing attention on preventative strategies and programmes to maintain and enhance momentum in this crucial area."
Last year also marked the 25th anniversary of the Piper Alpha disaster, in which 167 people died.
Mr Paterson said: "Twenty five years on, Piper Alpha still serves as a shocking and enduring reminder of the inherently hazardous nature of our industry.
"The lessons from Piper Alpha are about the need for effective management of major hazard safety, communication, human and organisational factors and of the need for continued vigilance."