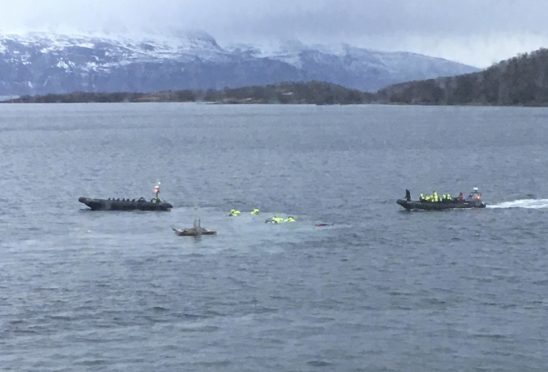 Several UK tourists are in hospital after a sightseeing boat smashed into a fountain at high speed in Norway.
The rubber vessel was moving quickly through the waters off the coast of the town of Harstad in the Arctic Circle when it smashed into a giant water feature close to the harbour.
The incident took place on Thursday afternoon.
Those on board were launched into the freezing cold waters, but were quickly pulled out of the icy sea by the crew of another rigid inflatable boat just moments later.
It is understood that the fountain, which can shoot water up to 57ft in the air, was not on at the time.
It is believed the boat was travelling at around 40mph.
In total, 21 individuals – mostly from Britain – were taken to hospital by the Norwegian emergency services.
Two were described as having severe injuries.
The excursion around the harbour was organised by a London ski travel company.
A spokesman for the the Foreign Office said: "We are in contact with the Norwegian authorities following an incident in Harstad.
"We are ready to support British people affected."