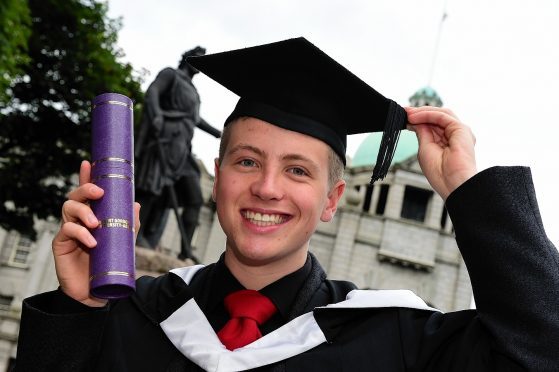 An Aberdeenshire man who developed a love of science at school said it had been "great fun" to pursue his passion over the last four years.
Liam Morrice graduated with a 2:1 in forensic and analytical science from RGU yesterday.
The 21-year-old, from Newtonhill, said the subject had been the obvious choice after enjoying his time at Portlethen Academy's science labs.
He said: "I'm so proud of my time at university and my success at graduating with an honours degree.
"There have been times when I thought I wouldn't be able to complete an assignment or I struggled with a problem but I'm glad to say I overcame those obstacles and it's such a relief."
Mr Morrice said his favourite part about the course was the opportunity to sharpen his skills in a practical environment.
He said: "I can't stress enough how important they were in preparing me for working on real world situations.
"Other courses don't do practicals and I don't think the students will have gained the same amount of experience before they enter the workplace.
"I'm currently applying for jobs with a chemistry background and I'm looking for a laboratory role buy I haven't ruled out continuing my studies and doing a masters to further my education and build on my knowledge, skills and experience.
"I'm lucky because my degree has opened a lot of doors for me, so I'm hoping to get in somewhere with a chemistry and science background."