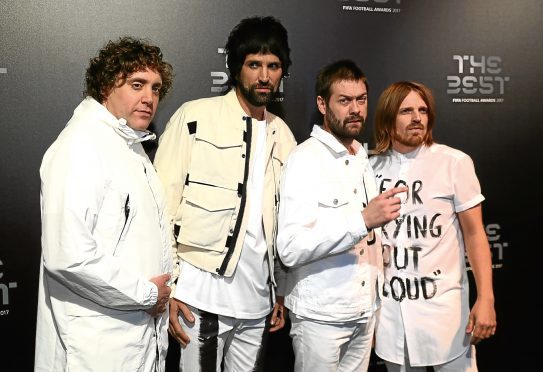 It has been a big week for north-east music fans with US superstars The Killers filling the AECC on Tuesday night and Kasabian playing the same venue last night.
Having kicked off their current UK tour in Newcastle on Friday night then wowing the Hydro in Glasgow on Saturday, it was Aberdeen's turn to be rocked by a band that is the closest this century has come to producing another Oasis.
The Leicester rockers maybe aren't quite on that level, but with a bulging back catalogue boasting an array of hits and a reputation for fierce live performances, an expectant AECC crowd was in for a treat.
Rocking enough white denim to make Boyzone blush, the band kicked off the set with Ill Ray (The King) from their current album For Crying Out Loud – a high-tempo tune that set the tone for the evening ahead. This was followed by the singles Bumblebee and Eez-Eh before a real highlight of the night when the uber-catchy loop of Underdog kicked in and the arena enjoyed a mass singalong.
And there was no let-up as the band blasted out hit after hit including Shoot The Runner, You're In Love With A Psycho and the anthemic Clubfoot, which went down a storm along with an eye-catching light show.
The band were clearly loving the experience and guitarist Serge Pizzorno told his Aberdeen fans that a reception like that is why they are in a band. The crowd responded and lapped up the big hits which included Empire and Stevie.
Capping off the main section of the show was Lost Souls Forever, from the band's first album, along with some noisy audience participation where the band encouraged their fans to break the decibel level for the tour, with a noise counter being shown on the big screens.
The band finished their three-song encore with one of their biggest hits, Fire. The lyric "I'm on fire" summing the band up fittingly. Kasabian are riding the crest of a wave.
Much like their beloved Leicester City Football Club, this band continue to punch above their weight and produce on the big stage. With an album flying high in the charts and live performances like this, there is no sign of that changing any time soon, and long may it continue. Simply put, this was a brilliant performance.