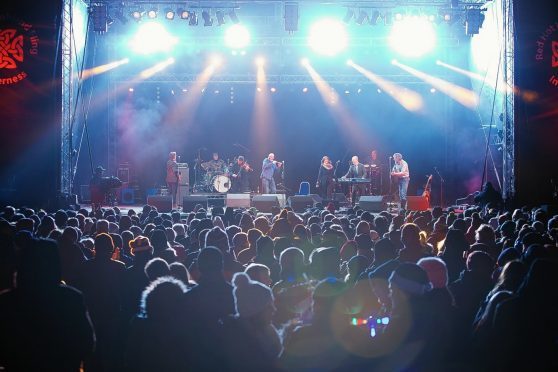 It's often said "first footing" is dying out in Scotland and that rarely do you have a neighbour ringing your doorbell at the stroke of midnight to help you welcome in the New Year.
In Inverness that could well be because no one is at home – they're out bringing in the New Year in style at the largest free Hogmanay party in Scotland – the Red Hot Highland Fling.
The free event, which is suitable for all members of the family, includes a live concert hosted by Scottish comedian and Highland favourite Craig Hill, and features several bands including Ho-ro, Skippinish and folk-rock band Skerryvore.
As the cathedral bells ring out at midnight, there's a spectacular fireworks display by Fireworx Scotland, followed by an emotional singalong rendition of Auld Lang Syne.
Opening the show, which takes place in the Northern Meeting Park Arena, will be Ho-ro, winners of the "Danny Kyle award" at this year's Celtic Connections. Hailing from the Highlands and Islands, Ho-ro are hugely popular on the European music festival scene and visit Inverness after successful tours to Germany, France and Belgium.
The band recently hit the headlines for all the wrong reasons when their van, containing all their equipment, went up in flames following a fire-raising attack in Glasgow. Thanks to the generosity of fellow performers, the band were able to borrow everything they needed to complete their autumn tour and make their debut at The Red Hot Highland Fling.
Ho-ro will be followed by two former winners of the prestigious Scottish Traditional Music Live Band of the Year Award, who have been booked to appear on the night.
Skipinnish have been given the honour of headlining the show in the prestigious middle position, which is a tradition that is unique to the Inverness Hogmanay Show and enables as many youngsters as possible to see the headline act at this family-friendly show.
The band played a string of headline appearances at some of Britain's biggest music festivals this year and their unique mix of traditional and contemporary music has firmly established them as one of the most popular live bands to be found in Scotland today.
Closing the show, and making sure that the music pauses just in time for the fireworks, will be Skerryvore. A firm favourite with the Inverness crowd, Skerryvore are one of the few bands in the world to organise their own annual music festival, Oban Live, which now attracts more than 10,000 visitors each year.
This year's show will see Scott Wood, the newest band member, make his Hogmanay party debut. Scott, who plays pipes and whistles, replaced founder member Martin Gillespie who, in common with many pipers, developed "focal hand dystonia", a neurological condition which affects the hands causing involuntary contractions, spasms and often discomfort.
Alec Dalglish, who sings and plays guitar and mandolin with Skerryvore, said: "It's probably about 15 years since the band started up, so we've been friends for a long time. Amazingly we never run out of things to talk about while we're touring, although sometimes we have to stop and have a laugh about how mundane the conversation topics are – the last big discussion was about what was the best flavour of crisps to put on a crisp sandwich."
Touring extensively throughout the year, the people they meet en route often inspire the lads when it comes to songwriting. Alec said: "I generally try to write tunes that are quite positive, so am often inspired by some of the good things that happen to us while we're on the road."
Fans going along to the Hogmanay show can perhaps look forward to hearing some of these along with favourite numbers performed by the eight-piece band, which has two pipers among its members.
"We have performed at the Inverness Hogmanay party several times and it's always a great night. We always try to get everyone going, singing along and dancing – that can also help keep them warm if it's a cold night," said Alec, 32.
"By the time we get finished it's usually too late to hit the town, so we tend to go back to our hotel for a wee party and spend time with some of the other musicians who are taking part. But we won't be over-indulging as traditionally we play a New Year's Day gig with Manran in Portree, so will be leaving early for that.
"Then, on January 2, we'll be performing alongside Skippinish at the Nevis Centre in Fort William, which brings us to the end of our winter tour.
"We'll use our time off to work on the new album as we want to get that out as soon as we can next year."
The band also play The Barrowlands, Glasgow, on January 20 as part of Celtic Connections.
Meanwhile, they – and around 10,000 others – can't wait for the Red Hot Highland Fling.
No tickets are required – you simply turn up at the Northern Meeting Park, which is close to the city centre. There will be food and drink outlets on the site and it's important to remember that you can't bring your own alcohol along on the night.
The Red Hot Highland Fling in Inverness starts at 8pm on Sunday, December 31, and finishes around 12.30am.