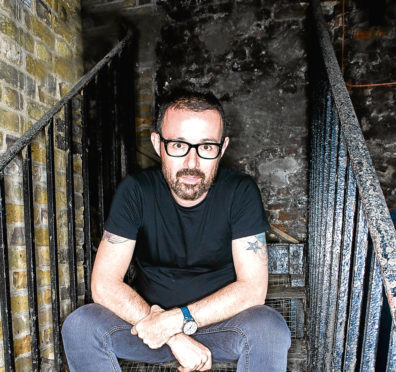 Getting your work/life balance is something everyone hopes to achieve.
International DJ, Judge Jules, aka Julius O'Riordan, who plays Club Tropicana, Inverness, tomorrow, Friday, April 27, feels that at – whisper it – the age of 50, he finally has the balance just right.
"I've been back in the world of law for six years now and DJ at weekends," said Jules, who earned his nickname after DJing while gaining his law degree at university.
"The two worlds, music and law, are not completely disconnected. If you want me to sell your house I'm not your man, but if you want me to stop you getting ripped off by the global musical industry, then I'd be delighted to help."
Currently Jules works as a music lawyer at Sheridan's in London Monday to Friday, 9am-5pm, then at the weekends he's packing them on to the dancefloors as one of the most respected names in dance music.
"When I was DJing full-time I'd be travelling to different places around the world, maybe 25 to 30 times a year. These days I'm more UK based but still do four or five trips. This year I'll go to the US, Ibiza, Dubai, Korea and Australia and that will be about it.
"I'm aware that one deserves scant sympathy complaining about being a globetrotting DJ, but there is no question, travelling around the world is very tiring.
"And, for every hour you spend performing you probably spend 15 hours preparing the music, essential really in order to keep your career going and make people aware of your brand."
Over the past 30 years, Jules has released countless records, performed in every part of the globe, had a BBC Radio 1 residency and won dozens of awards including being named the number one DJ in the world.
The longevity of his career is an inspiration to others.
"When I started out at 16, DJing was at best an enjoyable hobby or part-time occupation. There was no precedent to be a full-time DJ, so I didn't think I'd still be around 30 years later.
"I still get as much pleasure out of it as I did in the early days when house music and the rave scene came together to create the perfect storm, explode and become a huge global movement.
"But as a performer you can't just sit on your brand and think it will survive for ever, you have to work and have an enthusiasm for it too."
Being named best DJ in the world is quite an accolade, so how has he coped with the fame?
"Most DJs have a slow burn to success and that's good because there are many bands who go from nothing to overnight success and that's difficult to cope with, especially if you are young. Over the years I've known various people who have been quite badly affected by that. With me it was definitely a slow burn,"
And it's a relative he has to thank for getting him started – his uncle Rick Stein, the celebrity chef.
"My uncle had been a DJ and owned a nightclub in Cornwall before becoming a chef. My mother was a teacher so from the age of zero to 16, I'd spend all my summer and Easter holidays in Cornwall with my uncle and grandmother.
"In his basement he had loads of old records which I was allowed to play and that really got me into music."
Tomorrow he makes a return visit to Inverness, a city he's played several times previously.
"I've never had a bad time in Inverness. In common with all Scottish cities, there will be a blinder of an atmosphere," said Jules.
"Because I've been DJing for quite some time I try to balance the night by playing heritage records that an older crowd might like but also new tracks – it will be a good, quirky mix."
Judge Jules plays Club Tropicana, Baron Taylors Street, Inverness, on Friday, April 27. Contact: 01463 250900.