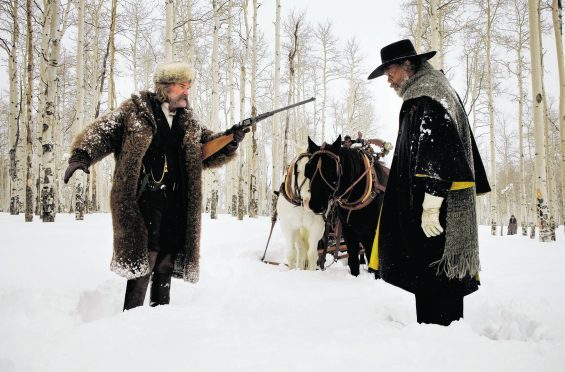 THE HATEFUL EIGHT (18)
Writer-director Quentin Tarantino is no stranger to controversy and he has been gleefully provoking audiences since 1992, when he stormed the Sundance Film Festival with his incendiary debut feature, Reservoir Dogs.
His eighth film, action-packed western The Hateful Eight,
has been making headlines for all the wrong reasons on the other side of the Atlantic: law-enforcement unions threatened a boycott in
response to the filmmaker's comments about police brutality; some critics charged Tarantino with misogyny in their reviews, and selected screenings of a 70mm version of the film were blighted with technical problems, including out-of-focus images, improperly synced sound and failing projectors. Cinemagoers took to social media to voice their displeasure.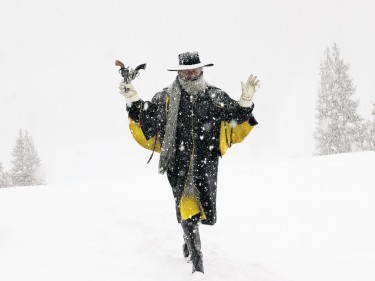 As an ardent advocate of traditional filmmaking techniques, Tarantino shot his film with the widescreen format in mind. Very few cinemas in the UK and Ireland are equipped with old projectors. Only the Odeon Leicester Square in London will show the 70mm Ultra Panavision version of The Hateful Eight from Friday, January 8, which includes an overture composed by Ennio Morricone and a 12-minute intermission.
Technical gremlins aside, Tarantino's film is a gritty period piece set shortly after the American Civil War, which is bookmarked into six blood-spattered chapters and follows bounty hunter John Ruth (Kurt Russell) as he escorts prisoner Daisy Domergue (Jennifer Jason Leigh) to Red Rock, where she will be tried and hanged for murder.
She is handcuffed to Ruth and occasionally feels his wrath, when she dares to shoot off her mouth. As the bounty hunter and Daisy trek through the rural wilds of Wyoming, they are engulfed by a blizzard and seek refuge in a stagecoach lodge called Minnie's Haberdashery. The owner, Minnie Mink (Dana Gourrier), is away visiting her mother, so Bob (Demian Bichir) is running the establishment in her absence.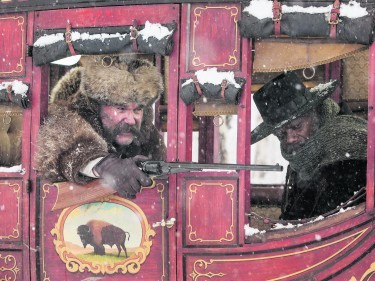 Other lodgers include rival bounty hunter Major Marquis Warren (Samuel L. Jackson), town hangman Oswaldo Mobray (Tim Roth), quiet and unassuming cowboy Joe Gage (Michael Madsen) and former Confederate General Sandy Smithers (Bruce Dern). Town sheriff Chris Mannix (Walton Goggins) is also present, hoping to keep the peace.
With a sizeable bounty on Daisy's head, trigger fingers become itchy and Ruth faces a battle of bullets and wits to cling on to his valuable prisoner.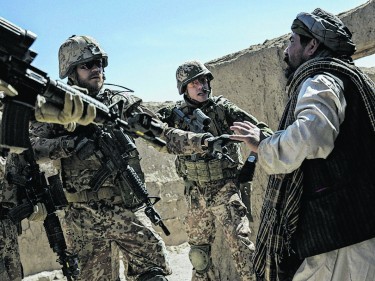 A WAR (15)
Writer-director Tobias Lindholm offers a fresh perspective on the war in Afghanistan in this edge-of-the-seat drama, which has been selected by Denmark as its entry for the Best Foreign Language Film statuette at this year's Academy Awards.
Events unfold through the eyes of Commander Claus M. Pedersen (Pilou Asbek), who kisses farewell to his wife, Maria (Tuva Novotny), and three children to lead his soldiers stationed in battle-scarred Helmand province. During a mission, Pedersen and his company are pinned down by heavy gunfire and the commander has to make a split-second decision which has devastating consequences for troops on the ground.
Meanwhile, back in Denmark, Maria struggles to raise her brood alone, without the physical and emotional support of her husband.