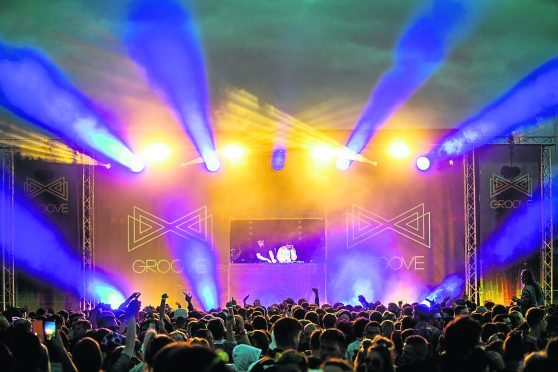 Organisers have received "incredible feedback" from all performers at this year's Groove Loch Ness music festival.
The event also lived up to its billing of a "nightclub under the stars" as the dance music was played throughout a clear night on Saturday into Sunday.
Nearly 3,000 people attended the festival at Dores on the banks of Loch Ness, with about half of those camping overnight.
A highlight was the Faithless DJ set played by group member Sister Bliss, as well as the thousands of multi-coloured balloons being batted about the crowd on Saturday night.
The dance act are best known for their 1995 hit Insomnia.
Festival organiser Dougie Brown said: "From our point of view we've had incredible feedback from all of the artists. They know they are coming to Loch Ness and they are excited already, and they all left delighted.
"We really lucked out on the weather. All indications were that it was going to be a bit of a wet one but somehow it just missed our little spot. We only had a single light shower. Everyone was on great form."
Other performers included Patrick Topping, Skream, Julio Bashmore, Theo Kottis and David Moreno.
And a local contingent of talented performers from the Highlands club scene also played at the festival, which is in its third year.
Advice was also issued by organisers, NHS Highland and police ahead of the event asking revellers to enjoy themselves safely.
Mr Brown said: "We have a zero tolerance drugs approach with our agencies. Obviously, none of these things are full-proof and there are always instances at any festival, but I think the service we had in place, with the Red Cross and Scottish Ambulance and police, was very good.
Mr Brown also said that they will be looking to grow the festival a little more for next year, adding: "We are taking the approach of Belladrum which has grown slowly and organically. We were up 400 tickets on last year.
"We are of the belief that it's not going to be a replacement for Rock Ness but a much more manageable festival."