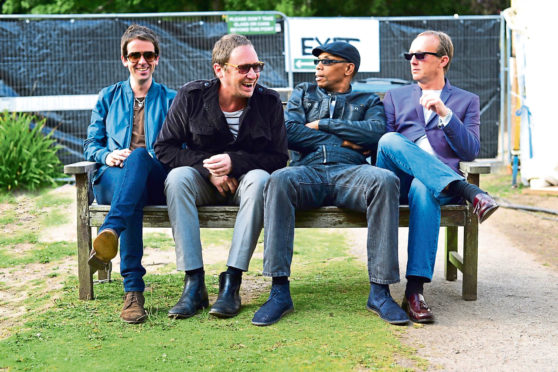 Ocean Colour Scene (OCS) rekindle their special relationship with fans north of the border with their Summer in Scotland tour.
It's a tribute to the Celtic welcome that always awaits the Brit-popping four-piece, that the six-date jaunt, incorporating shows in Aberdeen and Inverness, is not being replicated elsewhere in the UK.
The tour follows a stunning one-off show at Glasgow's SSE Hydro in December, one of many landmark Scottish gigs the Birmingham band have notched-up in their 30-year career – including their turret-trembling, three-night stint at Stirling Castle in 1998.
Derided by sections of the music press "down south" as retro slaves to the music and style of the 1960s and latter-day mod idols The Jam, appreciation of OCS's anthemic hits continues unabashed among Scots.
"I don't know why," admitted the band's singer Simon Fowler, when asked to explain OCS's Caledonian calling. "We've played there consistently, playing Scottish venues bands wouldn't normally play. Glasgow Barrowlands is like our spiritual home. I think we've played there over 50 times. So I don't know," he concludes, before adding mischievously: "Perhaps it's because we do a lot drinking songs."
Boasting three top-five albums between 1997 and 1999 and nine successive top-20 singles during a golden 18-month period, Ocean Colour Scene are bonafide Britpop royalty. They mixed it on and off stage with the movement's founding fathers, Oasis and Paul Weller, while their 1996 single The Riverboat Song provided the era's unofficial theme, thanks largely to its riff-roaring intro being inducted as a signature for TFI Friday – the switched-on TV show which reigned supreme at "Cool Britannia's" height.
Fowler said the experience during those heady days was comparable to another fab foursome. "It was pretty insane when it really kicked-off for us in the Nineties," he recalls. "We were pop stars for a bit and used to travel with three security men. It was pretty full-on. I remember once in Dublin, we were doing a signing and our coach was surrounded by about two thousand people. It was actually really frightening, and like being in The Beatles for 18 months."
OCS currently comprises original members Steve Cradock (guitars) and Oscar Harrison (drums). They also have a Scot in their midst, Raymond Meade, who joined full-time in 2016 as replacement for founding bassist Damon Minchella. The band convenes when Cradock's stellar tour commitments – Paul Weller, The Specials – allow. Recent downtime has allowed Fowler space to compose new OCS material for an album, which if it arrives as planned in the new year will be their first studio release since 2013's Painting.
Writing commitments aside, the singer says he's been "living a life of leisure" at his home near Stratford-upon-Avon. "Walking the dog by the river – it's about as un-rock 'n' roll as you can get," he says of his serene routine.
"I enjoyed every minute of the Nineties, but I've just turned 54," he said. "There's only so long you can go around making a twit of yourself before it starts to get embarrassing."
Fowler said a limp he's currently saddled with is the result of more mid-life mundanity – he slipped while using a running machine. Fortunately, he wasn't planning to bust any stage moves on the upcoming tour. "I don't dance as much these days, especially with my bad leg," he said. "When you're 30 you can turn on the Mick Jagger, but he's the only person who can really get away with it."
He said walking, let alone dancing, became a chore on the band's most recent tour: "Once you get on stage, the pain sort of disappears, but as soon as you come off you find yourself hobbling to the dressing room."
The singer's pinning his hopes on "Doctor Stage", the phrase applied to the adrenalin pick-me-up performers purportedly experience, carrying him through the summer in Scotland tour. When the gigs commence – aches and pains permitting – Fowler may find he has more room to throw a performing shape or two. OCS's stage number will be limited to its hardcore quartet, rather than the nine players who appeared at their previous Scottish outing. Their leaner, meaner presence is designed to complement the more intimate venues on the upcoming itinerary.
Asked to precis Aberdeen, where OCS play the Music Hall on July 29, Fowler opines somewhat knowingly: "It's a great city, as long as the weather doesn't turn grey, 'cause then the place kind of disappears."
He admitted old habits have robbed him of more meaningful recollections of the Granite City. "I haven't got a very good memory. I smoked it away in the Nineties."
He's more certain, however, of the treat in store for fans when the band returns to Scotland. Once more referencing his fab-ulous idols, he said: "We're going to play a more rock 'n' roll set. We're going to be like a loud Beatles."
The boys are "getting back" to where they've always belonged.
Ocean Colour Scene play Aberdeen Music Hall on Monday, July 29, and Inverness Ironworks on Tuesday, July 30.
For ticket information, visit www.oceancolourscene.com/summer-in-scotland