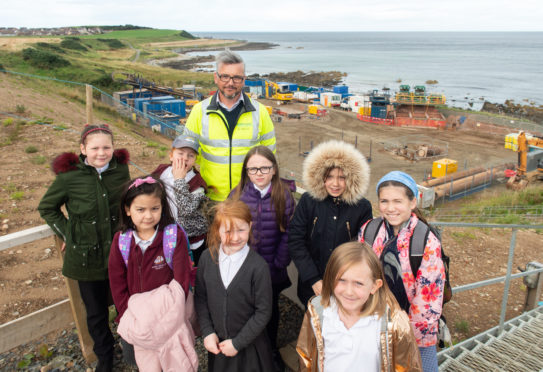 The barrier surrounding the cables which will bring electricity ashore from a new windfarm has been decorated with artwork by local school pupils.
Moray East Offshore Wind Farm challenged youngsters from Banff and Whitehills Primary Schools to get creative, and use the Moray Firth as their inspiration.
Now, their pieces are being displayed around the perimeter fencing of the area where underground cabling carrying the power generated at sea will come to land.
Moray East asked the schools to create artwork to win three prizes of £500 for their schools, in addition to individual art supply prizes for the winning entries.
Eight-year-old Hannah Leemyles, from Banff Primary, drew inspiration from the work of Japanese artist Hokusai for her winning piece.
She said: "I drew the big wave which I learned about from the picture. I tried to copy it as much as I could.
"I'm not sure how I won, I thought I had done quite good so I'm happy."
Moray East project director Marcel Sunier was "amazed" by the volume and quality of entries they received.
He said: "The children's work demonstrates a remarkable awareness of the activities taking place in their community and how they relate to their country and the environment.
"The creativity, imagination and work which they have brought to this project is an inspiration which can be enjoyed by the whole community.
"I would like to thank the children and their teachers for engaging with Moray East to make this art project possible and to congratulate the winners for their work."