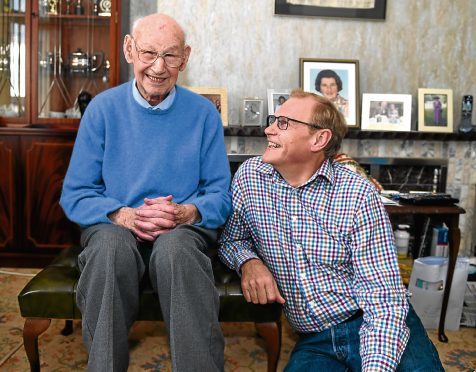 George Whyte can still remember the moment he set eyes on his wife Nelly, whom he met at a Highland Fling 65 years ago.
He had been sent to photograph the event at Pittodrie House in Aberdeenshire, and Nelly's pictures now adorn the mantlepiece at his home in Inverurie.
Some weeks after her death earlier this year, George came across a ticket stub to that very first meeting, a scrap of paper Nelly had kept safe for decades as a reminder of the night they met.
Having just celebrated his 95th birthday, George is still every inch the dapper gentleman who Nelly fell for with his ironed shirt collar sat perfectly underneath his jumper.
But were it not for the Royal Voluntary Service (RVS), George would be left alone with his memories and the only social interaction he previously experienced came in 15-minute care slots each day.
Having given up driving two years ago, George was effectively a prisoner in his own home – a situation which thousands of elderly people face throughout the UK.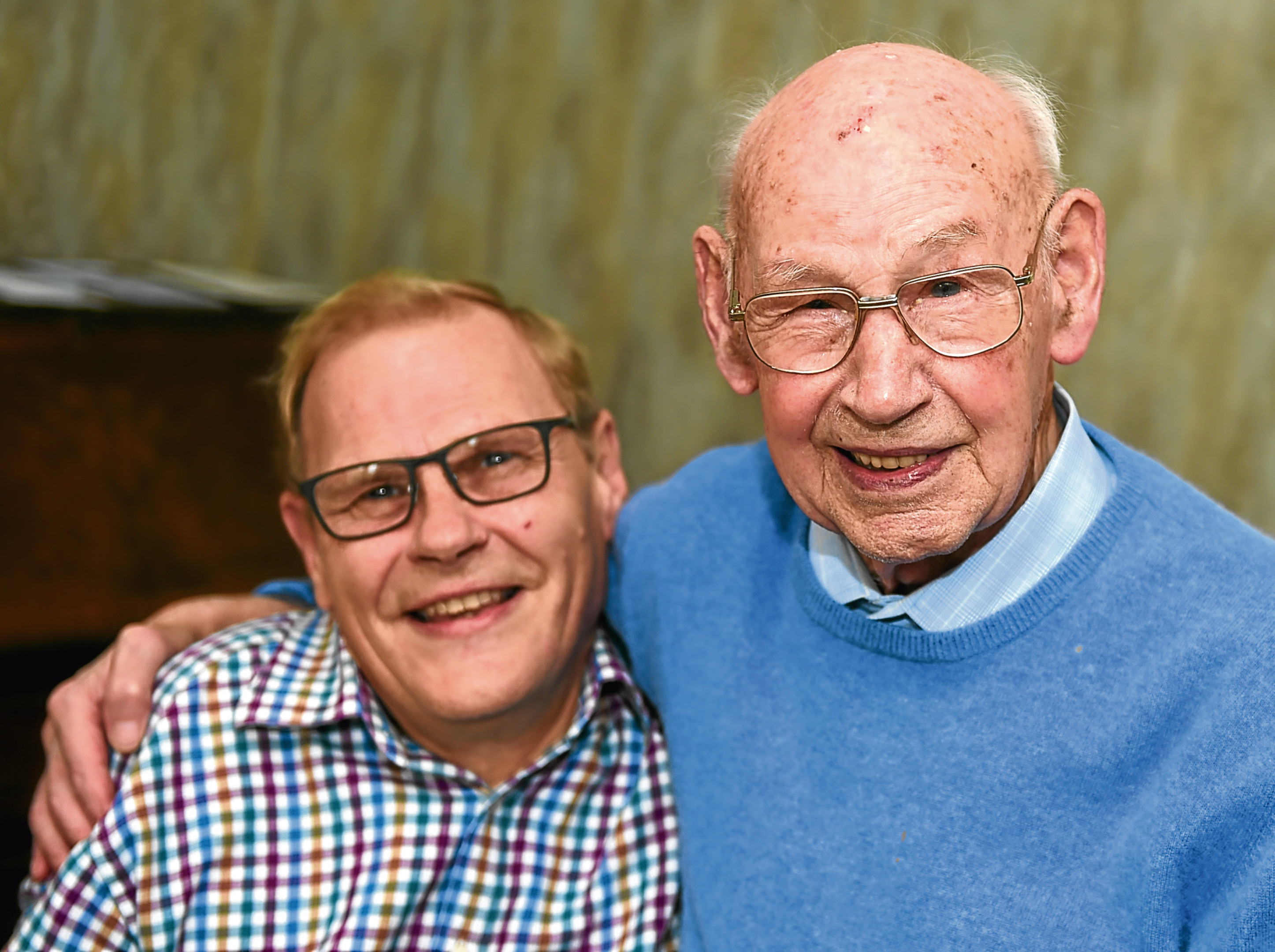 A major study earlier this year found that loneliness kills more people then obesity, but George is now looking forward to his next birthday after striking up a remarkable friendship.
To watch George with volunteer Mark Johnson is to watch two men with a deep understanding and respect of each other, perhaps formed over many years.
It was Mark who surprised George with a cake complete with candles, and a day trip to George's original home village of Inverallochy where his childhood home still stands unchanged.
Yet Mark and George have only known each other for five months, after Mark contacted the Aberdeenshire branch of RVS when he found himself unemployed.
The national charity provides several services including befriending, where volunteers are matched with those in need and encouraged to help out with food shops, transport to hospital appointments and general socialising.
There are more than 500 service users in Aberdeenshire alone, and the charity emphasises the need to form real friendships as opposed to quick visits.
Volunteers come from all walks of life, and George can not speak highly enough of Mark who takes him shopping every week.
"Meeting Mark has been life-changing for me; I have been retired for 29 years and after I lost Nelly it would have been very easy to retreat into myself," he said.
"We never had children and I only have a cousin in the area; she has to get three buses to come and see me while my niece lives in London.
"It can be incredibly lonely because there is no one at home, no one to talk to in the evenings.
"I look forward to seeing Mark every week. I said my preference would be for a male volunteer and we struck up a friendship quickly after our first meeting.
"I didn't realise that Mark knew it was my birthday last week and I honestly had a wonderful day, he is one in a million."
It would seem the feeling is mutual and Mark describes George as "incredibly organised".
"George is a fascinating man and I love hearing his stories, I've already learned so much from him," said Mark. "I only live 20 minutes away so it's easy for me to nip round; we both have our own lives and George likes to keep to our schedule but that suits us both perfectly."
Order is apparent in every aspect of George's life, and although he struggles with mobility he still loves to get out and about.
Basic outings such as food shopping have not only restored choice to George's life but dignity in being able to prepare meals he will actually enjoy.
"Although I had meals supplied the food wasn't always terribly good and I had no choice as to what meal I wanted," said George.
"Now I can go shopping with Mark and choose a few things, then I simply take them out the freezer when I need them.
"That's something you take for granted, but it has made such a massive difference.
"I feel like I have independence again and Mark is someone to chat to properly.
"Having a carer nip in and out just isn't the same thing, I have a bond with Mark."
George also goes to a day centre to socialise, and service manager for Aberdeenshire Margaret Gill believes his positive attitude has made the partnership work.
"Although George and Mark's friendship isn't unusual, it's a perfect example of the difference volunteering can make to both parties," she said.
"We have people from all walks of life who volunteer, we even have mums who have a few hours spare while their little one is at nursery.
"I think people are quick to say they are too busy, but giving up just an hour a week can make a huge difference.
"Both people have to be open-minded though; many elderly people find they don't like the idea of a stranger coming into their home.
"It can seem quite scary and they need to overcome that, while a volunteer must be prepared to invest in the partnership.
"This is about companionship and it's amazing how simple things can change lives.
"One lady got in touch to say all she wanted was someone to take her to the beach so she could have an ice cream and stare at the sea.
"Can you imagine that, something so basic giving so much joy."
The next big event for Mark and George will be Mark's 59th birthday this coming December.
"I got a nine and a five for George's birthday cake so all I'll need to do is swap the numbers around," joked Mark.
"Listening to George is an education, we couldn't believe it when we found the ticket stub from that very first dance with Nelly.
"It was a bring your own sandwiches affair and I think the ticket cost something like two shillings.
"Memories like that are invaluable and I feel very privileged to look back on George's life with him."
The service is also on offer in Aberdeen city centre, where it is headed by Shonagh Ferguson.
"We find that volunteers can actually help elderly people stay independent and it even reduces the chance of getting re-admitted to hospital," she said.
"People can be very anxious upon leaving hospital and just knowing that someone is looking out for them is a major help.
"Volunteers provide a line to the outside world and we currently have 150 people on our books.
"You can never underestimate the importance and value of companionship, both for the volunteer and the person they support."
For more information about the RVS, visit https://www.royal voluntaryservice.org.uk/ or phone 01467 626012.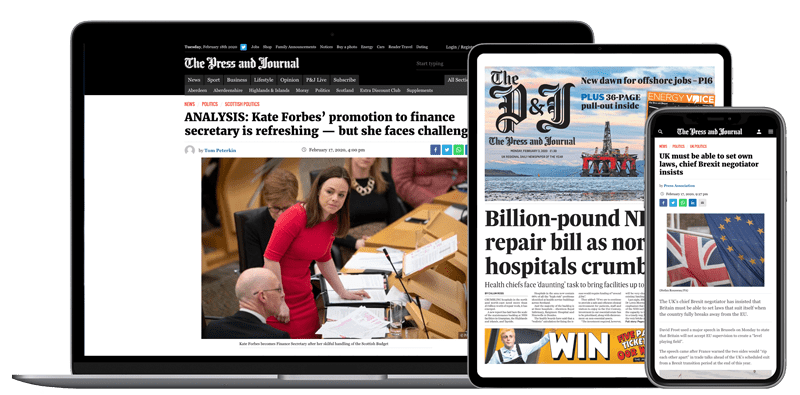 Help support quality local journalism … become a digital subscriber to The Press and Journal
For as little as £5.99 a month you can access all of our content, including Premium articles.
Subscribe