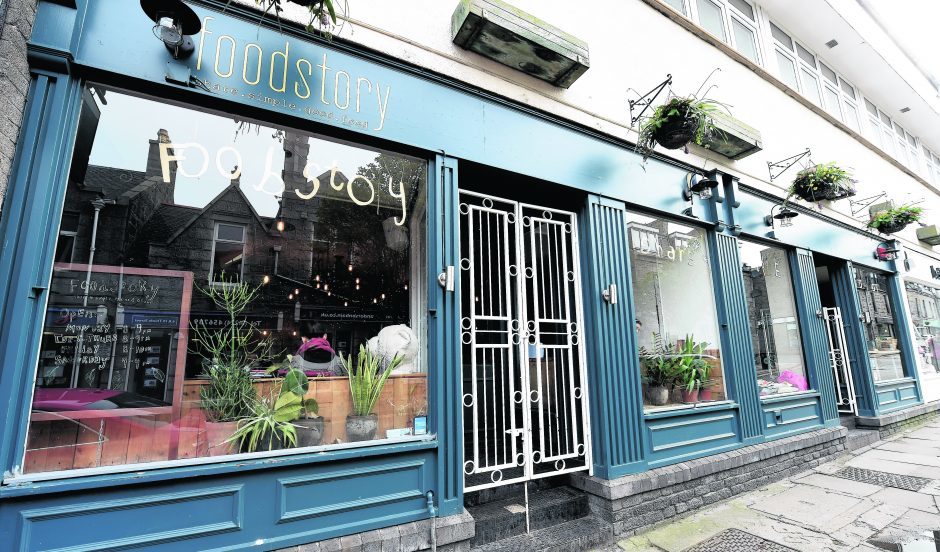 I had just come back from a holiday in Australia visiting my student daughter who is now a vegan.
We'd enjoyed a few vegan brunches (they're massively into brunches Down Under) and I fancied trying something different in Aberdeen as a change to a traditional pub lunch.
Walking in to the Foodstory Café in the city's west end at Saturday lunchtime, we could not believe how bustling it was. Much bigger than it looks from the outside, we scanned the place for a table not knowing what the format was.
Thankfully a customer standing in a queue at the serving area noticed our predicament and said you can either grab a table or just queue, then find one when you have your tray. Spying a vacant table we sat down and took in our surroundings.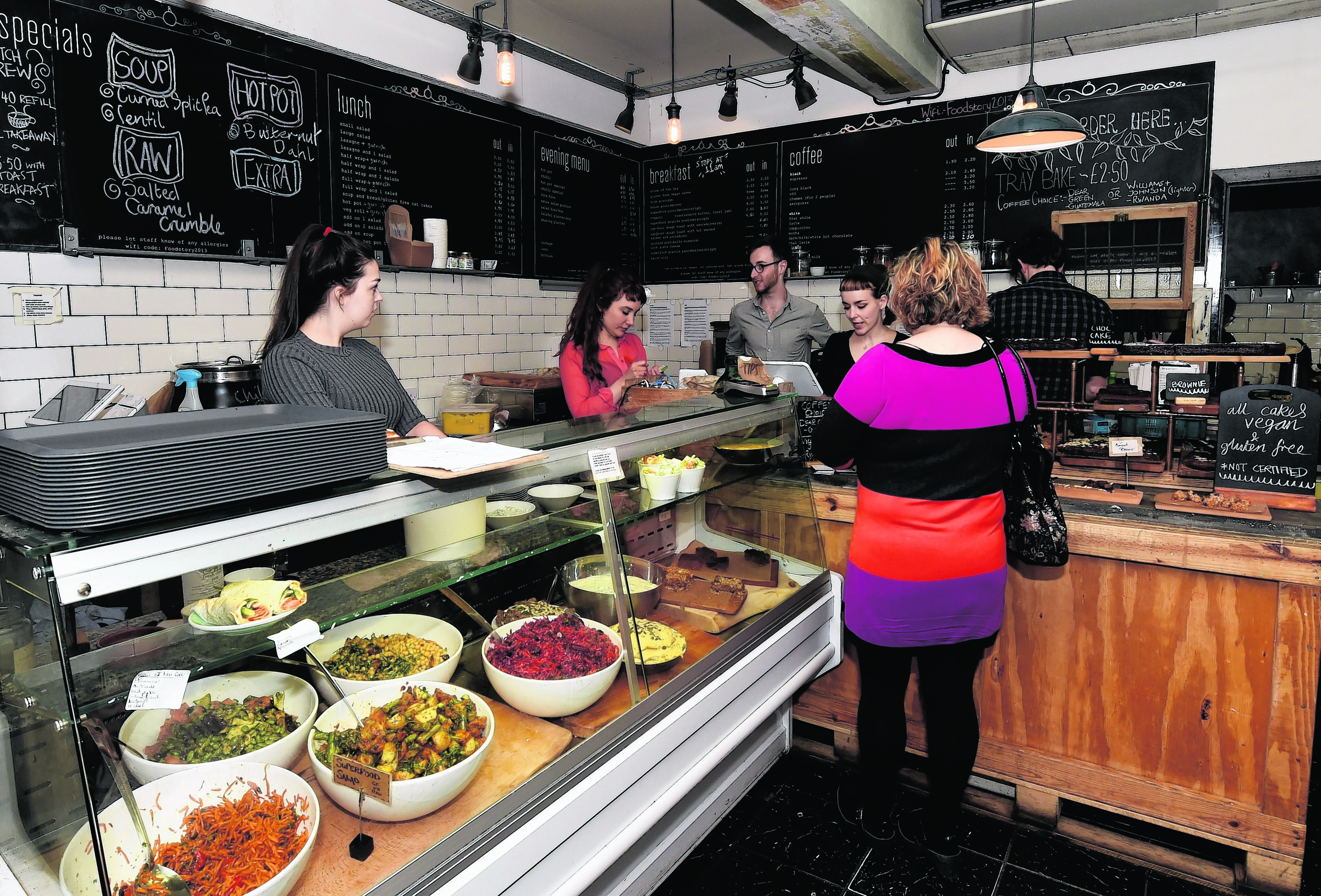 The best way to describe the décor is shabby chic; exposed brick walls and an eclectic collection of wooden tables, benches and chairs. Scattered cushions and fairy lights give the place a charming, cosy feel while customers of all ages seemed to be enjoying lunch or coffees and cakes in the relaxed atmosphere. They even have a piano, and welcome diners to play a tune if so desired. Considering the only tune I can play is Kumbaya My Lord – and that's with just one finger – I decided to give that a miss or risk emptying the place.
We joined the fairly lengthy queue at the service counter, once again a little confused by the format. A large chalkboard at the back revealed some tasty home-made soups and a vegan lasagne. In the display cabinets in front of us were plates of different filled wraps and enticing looking salads all with small stickers listing the ingredients.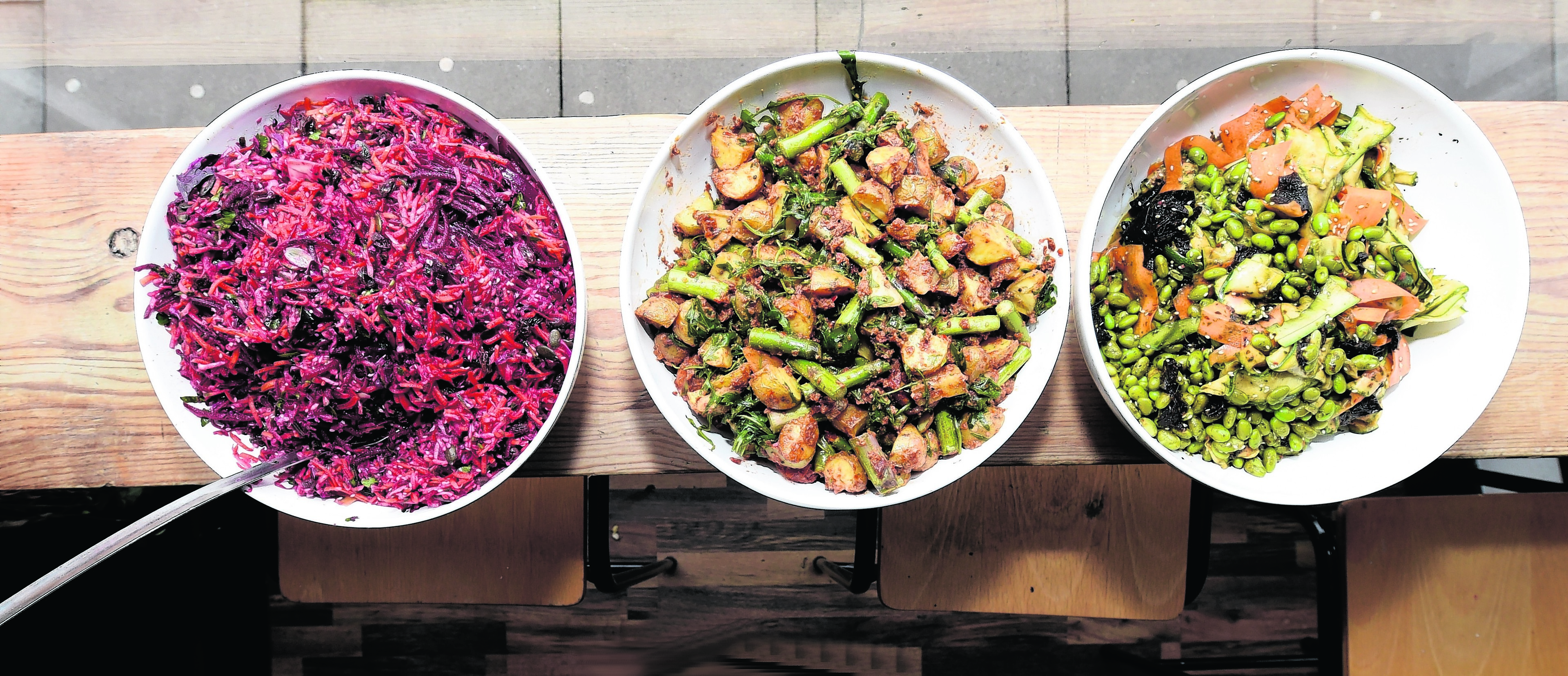 This all got a bit stressful as others in front of us were still looking at the different wrap fillings while the staff behind were asking us all what we wanted to order – and the writing on the stickers was too small!
We all ended up doing a bit of a merry dance, shuffling to get a view of everything that was on offer.
The food is predominantly vegetarian or vegan and a blackboard sign in front of the cake stand states that they are all vegan and gluten free, however this didn't stop us wanting to come back for a taste later.
Eventually, after having made our decisions and clutching our trays, we paid and returned to our table with a sigh of relief. Then we remembered we didn't buy a drink, and neither of us wanted to join the queue again. However, fresh water and glasses are provided for customers to help themselves to, so problem solved.
My husband tucked in to his tomato and red pepper soup and his half wrap filled with chilli jam, avocado, roast aubergine, tomato, carrot and rocket. I chose the half wrap and two salads option which consisted of an aubergine, chickpea, feta and pepper salad and a broccoli, feta, hazelnut and tomato salad with a wrap filled with falafel, hummus, chilli jam, roast aubergine, tomato and spinach.
And boy those salads were good! Packed full of light, fresh flavours every mouthful was a different taste sensation. Anyone who thinks that a salad is boring must visit this place. I just wish I could have tried them all. My wrap was also top-notch and bursting with a divine mix of healthy raw ingredients while hubby devoured his tomato and chilli soup which had the right amount of flavour and a bit of a kick to boot.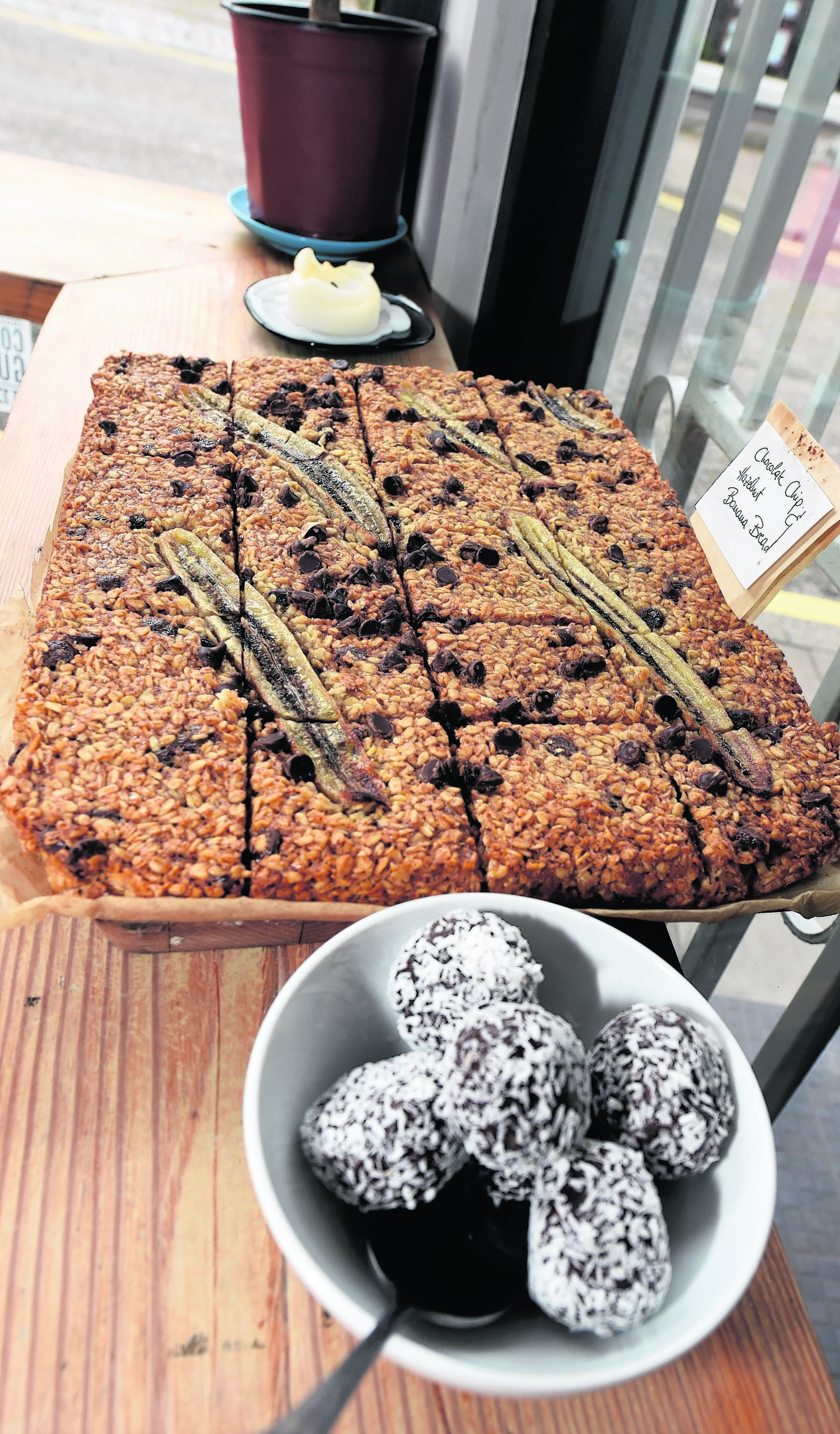 Still feeling rather peckish we remembered the enticing cake stand from earlier and queued again (we know the drill now) for a coffee and a sweet treat. I chose an almond crisp tray bake which had a luxurious gooey nutty base and was drizzled on top with a layer of chocolate.
After much deliberation between a scone, a cheesecake or a brownie, hubby plumped for the raw coconut cheesecake. This no-bake sweet had quite a crumbly base compared to baked cheesecakes and although it was enjoyable, he felt that it just wasn't quite sweet enough for his taste buds – after a quick taste I had to agree.
But what a wonderful gem of a place Foodstory Café is. It had quietened down after the lunchtime rush and the place had a lovely, laid back ambiance that made us reluctant to leave and browse the shops.
Their menu is designed to welcome almost any dietary requirement and they thrive on using only local produce and organic vegetables as much as possible.
They also run informal evening events such as jazz evenings and cheese or whisky tastings, with a bring your own wine policy. With refurbishments now going on upstairs, an exciting new chapter lies ahead for Foodstory with plans for the new space to include an artist's studio, food shop and even a yoga area which will no doubt encourage even more visitors through their door.