With a fabulous castle, good shopping and visitor centres and a luxury hotel awaiting, who cares if the weather is bad while in Stirling, writes Susan Welsh
The rain was battering down, in fact it hadn't stopped since I'd left Inverness. I had dodged huge puddles on the A9 and equally large raindrops which seemed determined to soak me as I made the final leg of my journey, a quick dash across the car park of the Hotel Colessio in Stirling.
It was a shame I'd had to run in, as it's the sort of place you want to stop and have your photograph taken because it's a beautiful Victorian building complete with grand staircase and pillared entrance. A landmark building in the town and just a few minutes' walk from the iconic castle, in a previous life the building was the site of the local hospital.
Stepping through the bespoke glass doors into the beautifully perfumed entrance hall, it's impossible to imagine what it must have been like. The immediate impression is one of sheer opulence and luxury. It's the latest addition to Steven McLeod's award-winning Aurora Hotel Collection, and the boutique-style hotel is very glamorous.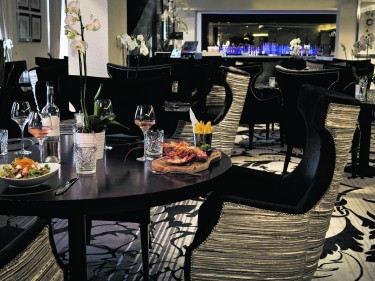 The reception area, lounge bar and restaurant are all on a semi-open-plan basis – a haven of luxury that has been dressed very stylishly in a stunning black and white theme and is awash with sparkling details, including mirrors and seating studded with faux diamonds. Recent guests here include pop star Kylie Minogue, who stayed for two nights, along with her 30-strong entourage of dancers and band members, before performing at the SSE Hydro.
The hotel was packed with everyone from family groups to couples and well-dressed groups of young women, clearly enjoying a fine dinner before heading out to enjoy the Stirling nightlife.
Our plan was for dinner and an early-ish night as we had a full plan of action planned for the following day, weather permitting.
Our first-floor room was large and opulent and came complete with a large plasma TV, coffee machine and kettle, full-size ironing board and iron, while the luxurious en suite bathroom had enormously fluffy bathrobes, slippers and upmarket complimentary toiletries. The beds were large and very comfortable, so much so that I actually took a note of the name of the firm which made the mattress topper, and have since ordered one for myself. Very nice it is, too.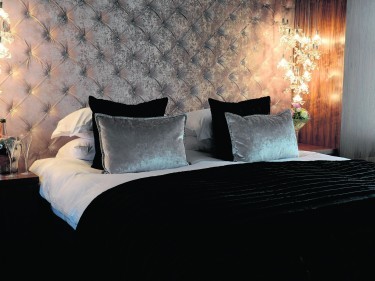 Rather than head out into the rain again, we opted to dine in the restaurant and were rewarded with a fabulous dinner created by the hotel's executive chef, Linsey Scott. Our friendly waitress, Holly, recommended we start with a cocktail, a French martini for myself and an elderflower cosmopolitan for my chum. Both hit the spot nicely and set the tone for a superb dining experience that included treats such as duck bon bons, steamed Glencoe mussels, tandoori-marinated salmon and Thai salmon fishcakes, a flavoursome steak and a shared dessert of salted caramel delice which was just as good as it sounds.
After a good night's sleep and a very hearty breakfast – why is it that you can always eat after having a big meal the night before – we set off on our travels, making the short journey up the hill to nearby Stirling Castle, where we signed up for a guided tour. Thanks to our very knowledgeable local guide, I now know a great deal more about the iconic castle. The rain poured nonstop during our visit, which cut short any time we might have spent admiring the fine views from the castle ramparts, but because there's a host of fabulous buildings within the castle you can visit, we had no problem filling several hours there.
Between the palace, great hall, historic kitchens, cafe and military museum there's plenty to do here, so make sure you allow several hours if you're planning a visit. Admission to the castle includes admission to another nearby historic property: Argyll's Lodging, a superb 17th-century house which is a five-minute downhill walk from the castle and also worth a visit.
Our next stop was somewhere a little more modern, the Thistles Shopping Centre, a splendid large shopping mall that seems to cater for all tastes with more than 80 stores ranging from big high-street names to speciality shops. Outwith the mall, Stirling seemed to offer shoppers a good variety of options, with numerous eateries and independent stores on hand. We would have lingered, but now we were soaked to the skin so walked back to the hotel, which was waiting to envelop us in its warm, comfortable embrace.
With 40 bedrooms, a cocktail bar, restaurant and ballroom, the hotel is always busy and that was the only minor flaw in our stay as our room was right above the front entrance and so slightly noisy. We mentioned this in passing and were immediately asked if we'd like to be moved to another room. We didn't, but it was lovely that we were offered that option.
After yet another good sleep, we awoke to . . . more thunderous rain, which put paid to our plans of signing up for one of the city's many organised walks. But rain or shine, if you're spending a few days in Stirling there are numerous visitor attractions to visit, including the new Bannockburn Heritage Centre, the Stirling Smith Art Gallery and Museum – which is free to visit – and the Wallace Monument, a tower built by the Victorians which you can see for miles around. It celebrates one of Scotland's great heroes, William Wallace, while other great Scots such as Robert Burns and Robert the Bruce are honoured in the hall of heroes. If you feel energetic, climb the 246 steps and be rewarded with breathtaking views, which even in the rain, look good.
Hotel Colessio, 33 Spittal Street, Stirling. B&B rate is from £149 per room, per night while the DB&B rate is from £199 per room, per night.
P&J readers can take advantage of special prices which start from £139 per room and include overnight accommodation in a club room, afternoon tea with a glass of fizz and full Scottish breakfast the following morning. Available on selected dates in 2015, subject to availability and allocation, based on two sharing. Price varies depending on date of stay. Call 0844 800 4000 and quote Press and Journal or book online at www.hotelcolessio.com