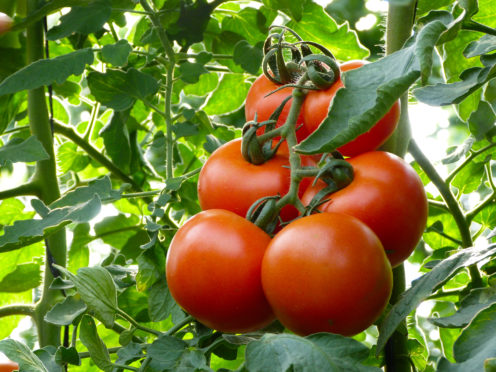 As the weather hots up and we inch towards summer, it's time to shed our woolly layers, turn off the heating and swap stodgy foods for something a bit more refreshing.
It doesn't just have to be the obvious choices of salads or smoothies either – how about a bowl of cool Gazpacho?
A signature dish in the Spanish region of Andalusia, this cold soup made of raw, blended vegetables might be something you'd normally only consider ordering on holiday.
But with lockdown scuppering our travel plans for this summer,  you may have to get creative and bring the holiday vibe to your home instead.
Granted, a back garden in Scotland isn't quite the same as sitting at a poolside in Spain, but an al-fresco lunch or candle-lit dinner during a warm spell can still lift your spirits and help you relax.
Gazpacho makes a perfect starter, snack or even a light meal by itself and it's very easy to prepare, using simple every-day ingredients. There are many versions of this classic dish but the most popular consists of a mixture of tomatoes, garlic, olive oil, water, vinegar, onions, cucumbers, and green peppers.
Not only is it tasty and fresh, but it also contains a large portion of your five-a-day and immunity-boosting vitamin C.
Although Gazpacho is most commonly associated with southern Spain, the dish actually goes back a long time in history and was first mentioned in Roman and Ancient Greek literature – although the recipe has changed considerably since then.
The original was much less appealing than the modern versions and amounted to a gruel of bread and oil, which was thought to be popular in Rome. It was much later, in the 16th century, that vegetables such as tomatoes and peppers were introduced when they were brought to Europe from the New World.
Over the centuries the dish became the preferred lunch choice of agricultural labourers toiling in the heat of Andalusia's vineyards, olive plantations and citrus forests, who were served bread and oil rations that they combined with water, garlic, salt, and fresh vegetables to make a cooling snack.
Due to its versatility and ease of preparation, Gazpacho grew in popularity and was adopted into the mainstream cuisine of southern Spain. These days it is a staple of any tapas menu, whether it's at a streetside cafe, an elegant restaurant or a tourist beach bar on the Costa del Sol.
And with almost a quarter of a million posts tagged #gazpacho on Instagram alone, the dish is clearly popular with food bloggers, influencers and foodies around the world.
It's easy to make your own Gazpacho at home with this simple recipe…
Gazpacho Recipe (serves 4)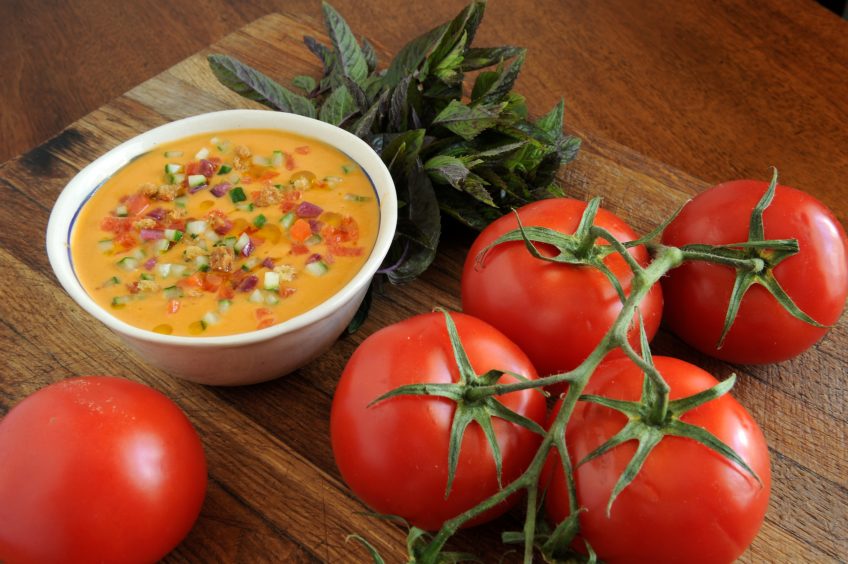 Ingredients
6 vine-ripened tomatoes
1 green pepper
1 cucumber
½ white onion
1 clove of garlic
¼ cup Extra Virgin olive oil
A tbsp of vinegar (red or white)
Optional: Croutons
Method
1.      Set aside half a tomato for the topping. Dice the rest of the tomatoes and peppers, getting rid of the core and seeds of the peppers.
2.      Slice the garlic in half and remove the core.
3.      Dice the onion.
4.      Peel the cucumber and cut it in half. Set one half aside for the topping.
5.      Blend the vegetables until they are pureed.
6.      Add the salt, vinegar and olive oil, while continuing to blend on slow speed.
7.      Dice the tomato and cucumber halves into tiny bite-sized cubes  and add as a topping.
8.      Refrigerate for half and hour and serve cold, adding the croutons.
Tip: If you prefer the Gazpacho thicker, blend a tbsp of croutons together with the vegetables.