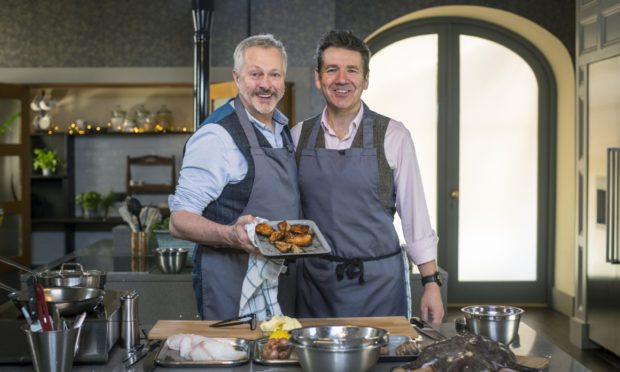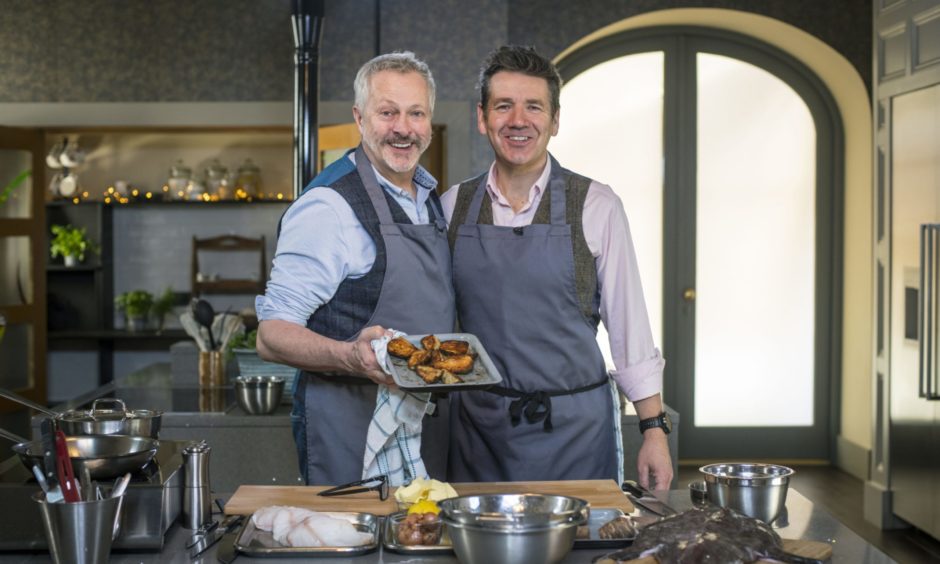 Chef Nick Nairn and presenter Dougie Vipond are back on the small screen again and loving it, writes Susan Welsh
Thanks to their hit TV show, Nick Nairn and Dougie Vipond are known as The Great Food Guys, but they're also great friends in real life.
In fact, Dougie stays four doors down from Nick in the same village, Bridge of Allan.
And as Nick revealed, he may well be seeing more of Dougie in the future, but not in a way he really wants…
"We have a huge tree in our garden which is rotten and unfortunately has to come down, and when it does it will mean I can see right into Dougie's bedroom," said Nick.
"Joking aside, we are genuinely good mates and I think that comes across in the programmes.
"We learned a lot from making the first series, which attracted 1.4 million viewers.
"I think it's because people like hearing a Scottish voice; enjoy hearing back stories of the producers and seeing the Scottish countryside.
"Series two is even better as we had more input ourselves – we wanted it to be very informal with the banter forming part of it," said Nick, who has kept his fans entertained during lockdown by presenting live cookery shows via Facebook Live.
"Lockdown has inspired a huge rise in people wanting to learn more about cooking from scratch, which is great.
"Dougie and I have been doing a bit of lockdown cookery together which was a bit tricky to do, but fun."
Recording of the new series ended a few days before lockdown restrictions took effect.
Guests who made it along to their country kitchen in Fasque Castle, Fettercairn, included actor Greg McHugh (Gary Tank Commander), crime writer Val McDermid, comedian farmer Jim Smith and Call The Midwife's Laura Main, from Aberdeen, to name but a few.
The shows also feature clips of the lads out on the road with the Landward van, visiting locations including Anstruther, Oban, St Andrews, Ullapool and Stromness.
"I'd never been to Ganavan Sands near Oban and thought it was absolutely stunning," said Nick, who provided these recipes.
The Great Food Guys starts on BBC Scotland on Thursday July 9 at 8pm. A repeat can be seen on BBC1 on Saturday July 11 at 11.30am.
---
Roast rack of lamb with miso, aubergine and sauce vierge
(Serves 2)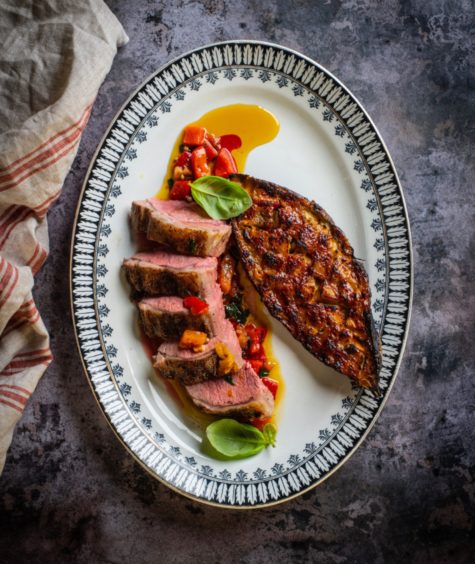 Ingredients
1 whole 8-bone rack of lamb
1 large aubergine
2 tbsp white miso paste
2 tbsp mirin (Japanese rice wine)
2 tbsp honey
4 cloves garlic
2 red chillies
30ml olive oil
1 red pepper
1 large tomato
2 shallots
1 tsp coriander seeds
1 handful of fresh basil
Method
For the aubergine:
Cut aubergine in half lengthways.
Slash the flesh in a diamond pattern, making equal sized cuts to a depth of half a cm approx.
Press in big bits of chopped garlic (approximately 2 cloves, depending on taste) and chopped red chilli to open up the spaces.
Mix the miso paste, mirin and honey together until smooth, then spoon on top of the aubergine and work into the cuts.
Put into oven at 200C for 25 minutes.
For the lamb:
Drizzle the lamb with olive oil and season generously with salt and pepper.
Put into a pre-heated pan to colour and render the fat.
When it starts to go brown, put in oven at 200C for 20 minutes.
Take out and rest for a further 20 minutes.
For the sauce:
Heat the red pepper with a blow torch or over gas ring to burn the skin all over.
Once black, wrap in cling film and cool.
Rinse under a cold tap to remove the skin.
In a pan, warm some good-quality olive oil, adding in 2 cloves of chopped garlic, shallot rings and coriander seeds.
Chop red pepper and tomato into chunks and add to the pan with chopped basil leaves.
To serve:
Cut the lamb off the bone and cut into steaks.
Put the roasted aubergine on a plate and spoon some of the sauce vierge alongside.
Place the lamb on top and drizzle with more sauce.
---
Monkfish and mussel sauce with bacon and artichokes
(Serves 2)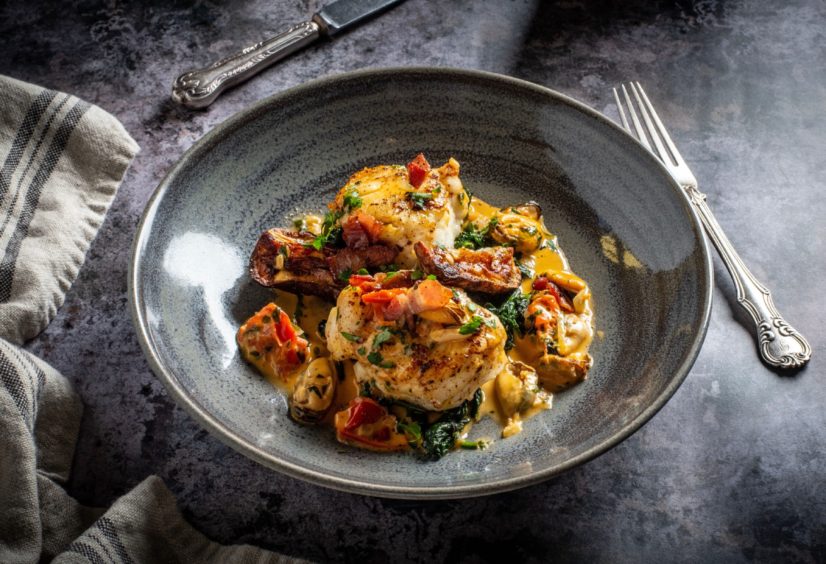 Ingredients
1 x 500g monkfish tail
70g bacon lardon
200g fresh mussels in their shells
Butter
2 shallots
50g cherry tomatoes
100g spinach
50ml chicken stock
30ml double cream
50ml white wine
3 Jerusalem artichokes
1 handful fresh parsley
Method
For the artichokes:
Quarter the Jerusalem artichokes and put on an oven tray.
Drizzle with olive oil and season with salt and pepper.
Roast in the oven at 180C for 35-40 minutes.
For the monkfish:
Fry the bacon lardon until crispy then set aside in a bowl.
Chop the monkfish tail into chunky steaks then put in the same pan with some butter.
Leave to caramelise, turn a few times.
When the monkfish is golden, remove from the pan and place on a tray to rest.
Use the same pan to cook the spinach over a medium heat to soak up and dissolve the caramel.
For the sauce:
Clean and de-beard the mussels. Add to a dry, hot pan then add a good splash of white wine. Steam until the mussels are all open. Discard any that don't open.
Drain the mussels (reserving the stock), then remove meat from the shells.
Fry a finely chopped shallot until translucent then combine with quartered cherry tomatoes.
Pour in the cream, mussels, stock, chicken stock and juice from the rested monkfish.
Reduce down and add butter, chopped parsley and finally the de-shelled mussels.
To serve:
Make a base with the spinach, then place the monkfish on top and surround with roasted artichokes.
Spoon the sauce on top and finish with crispy bacon and fresh parsley.
---
Further reading…
How to cook along with top chefs Nick Nairn, Jamie Scott and Craig Wilson on social media
'The world has changed, there's no going back. What comes next, nobody really knows': Scottish chef Nick Nairn on opening and then closing a new restaurant amid the pandemic