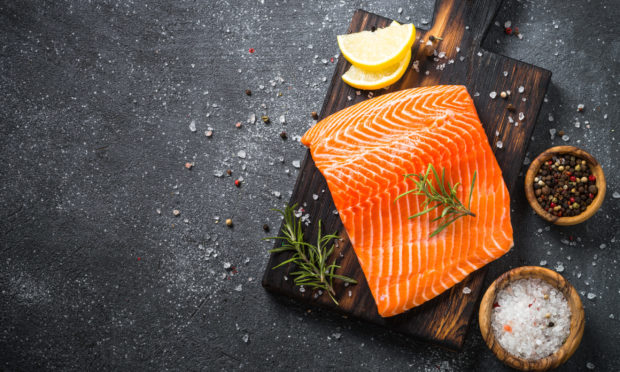 Innovation is the vital ingredient when it comes to cooking at home, says food columnist Deborah Ratcliffe
My daughter said I was a nightmare when I tried to teach her to cook – patience was not my strong point I gather! Same goes for my husband when he occasionally takes over the cooking.
He says I pretend I'm not remotely interested in his efforts, but watch like a hawk, ready to swoop down if anything appears to go wrong.
Hands up! Guilty!
Actually both are excellent cooks and need no help from me, as is my granddaughter, Phoebe, aged 11. She's become quite accomplished and rustles up delicious meals for the family. She uses recipes as a guideline and tweaks them to add the Phoebe touch.
Today's yummy salmon risotto is an example.
She didn't have all the ingredients required for the original recipe so made a few substitutes, and the end result was delicious.
Although following a recipe is necessary for certain staples such as a sponge or sauce, on the whole your innovations are the vital ingredient which makes the dish your own.
Do remember though, the overall balance of the end result – extra jalapeños in a chilli or slug of rum in a chocolate mousse can kill flavour and tastebuds.
Keeping with the innovative theme I've put my own spin on the fishcake recipe below, swapping mashed potato for sweet potato and using panko crumbs instead of flour to dip them in.
---
Phoebe's salmon risotto
(Serves 4)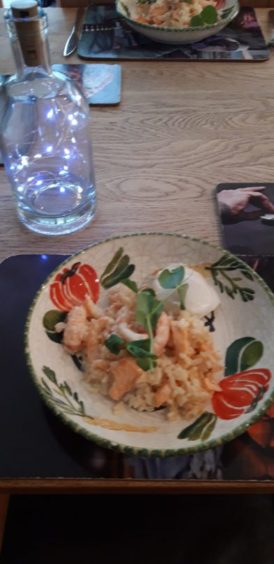 Ingredients
750ml fish stock – you can use a fish stock cube
300ml dry white wine
2 tbsp sunflower oil
1 large, finely chopped onion
2 well-crushed garlic cloves
225g arborio rice
Juice of ½ a lemon
300g thinly sliced fresh salmon fillets
3 tbsp crème fraiche
3 sprigs fresh, roughly chopped tarragon
25g grated Parmesan cheese
Salt and black pepper to taste
225g cooked langoustines (or king prawns)
Method
Pour the stock into a pan and gently warm with the wine.
In a large frying pan add the oil and when hot, add the onions. Cook till softened, stirring occasionally. Add the garlic and rice, stir constantly for a minute. Add a large ladle full of stock/wine; simmer and stir constantly.
When all the liquid is absorbed add another ladle full and stir for a few minutes. Gently simmer for 20 minutes or until the rice is almost cooked. Watch carefully and top up with stock to stop drying out, stir occasionally. Add the lemon juice and any remaining stock.
Next mix in the salmon, crème fraîche, tarragon and Parmesan. Cook until salmon is ready and stock absorbed.
Finally add the langoustines (prawns) and warm through. Season to taste.
Optional: Garnish with pea shoots and extra Parmesan.
---
Sweet potato, salmon and prawn fishcakes
(Makes 4 large fishcakes)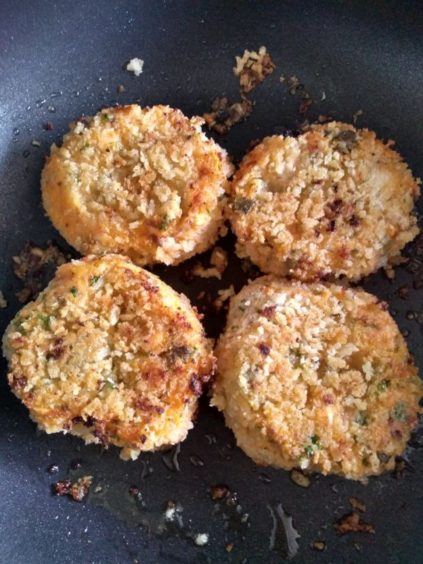 Ingredients
300g mashed cooked sweet potato
100g roughly chopped cooked prawns
100g cooked flaked fresh salmon
2 tbsp roughly chopped capers
Good handful well-chopped parsley
2 tbsp plain Greek yogurt
Seasoning to taste
Panko crumbs
Method
Place all the ingredients, apart from the breadcrumbs, into a large bowl. Mix well together. Divide the mix into four round fishcake shapes.
Sprinkle a chopping board with panko. Put one fishcake on top, shove over some more panko and press in firmly. Once well covered, place on a lightly oiled tray. Repeat with each cake. Cover and chill for minimum 30 minutes.
Heat a few tbsp olive oil in a frying pan large enough to fit all the cakes. Fry on each side until golden. Drain on kitchen paper.
Optional: Serve with cocktail gherkins and a plain yogurt dip mixed with fresh herbs.
---
Read more in this series…
Food Columnist: Beeting about the bush with two seasonal recipes