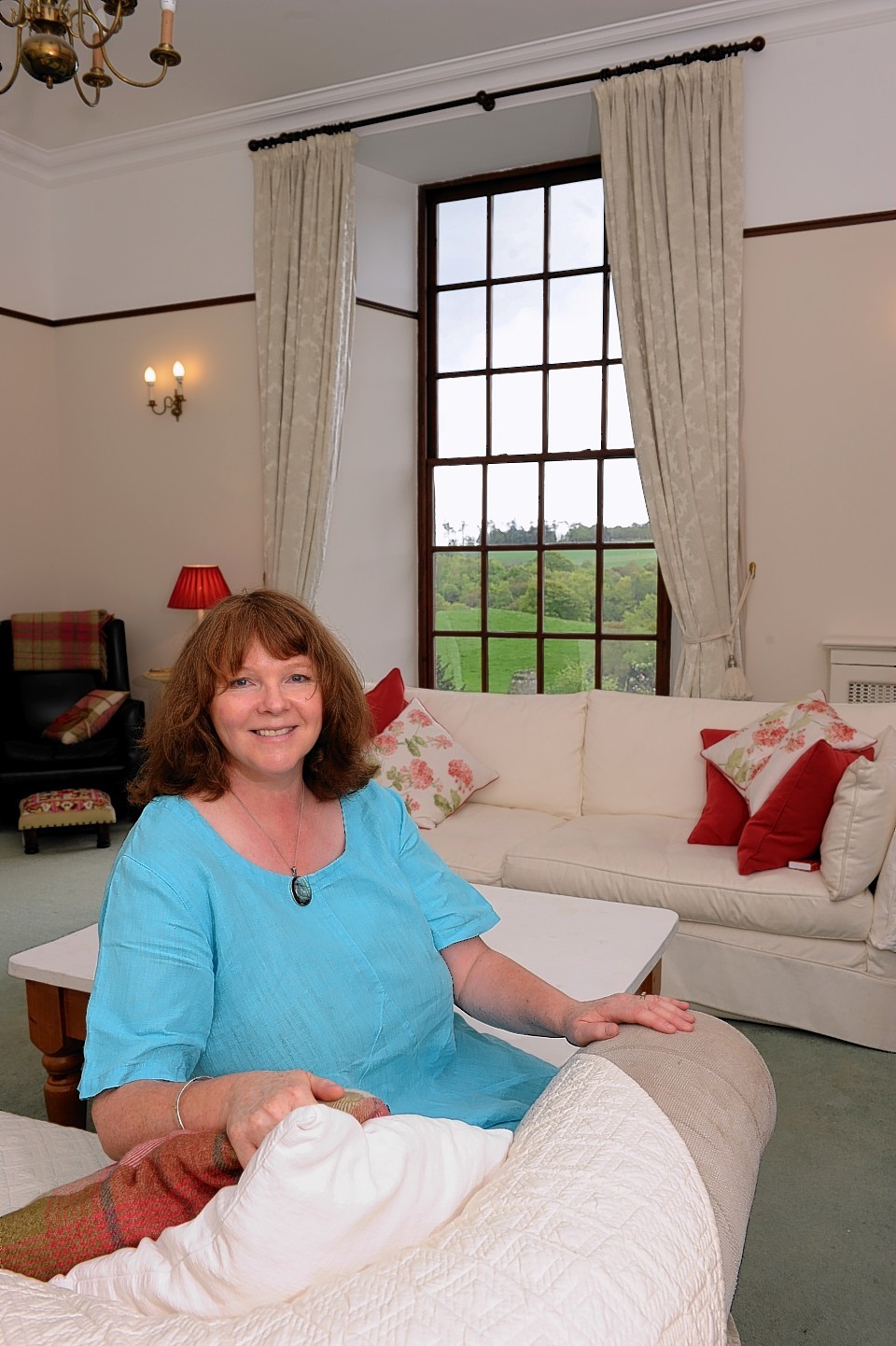 The Collinsons are no strangers to living in exotic places, having previously lived in Norway, Alaska and now Mumbai in India.
It was in Alaska that they fell in love with the natural environment claiming they would never find another home with such stunning views.
But to their surprise, it was a move to Aberdeenshire where they found themselves recounting that statement – in Stonehaven to be exact.
Fiona and Stephen Collinson moved to the north-east with sons Maxim, now 24, and Aidan, 20, 14 years ago. As Stephen works for BP and would be based in Dyce, the family had initially been looking for their new home in Cults, Bieldside or Milltimber.
But when no 2 Fetteresso Castle in Stonehaven came on the market, the family decided to go have a look.
Fiona, 52, said: "My husband worked in Dyce so people might not think to live in Stonehaven if you work there and, to be honest, the town wasn't on our radar at first.
"My family have a great love of historical architecture so when this house came on the market, we decided to go visit for a nosey. We fell in love with it then and there.
"It was the space, the beauty that surrounded it and the fact that my children would have a degree of freedom here. There was just a nice feeling to it."
The house is one of seven individual homes, each with its own unique character, that once formed Fetteresso Castle.
The castle's records date back to the 12th or 13th century and was, for a time, the seat of the 10th Earl Marshall. The Old Pretender, James Stewart, is reported to have visited the castle during the 1715 Rising and was proclaimed King James VII of Great Britain at the entrance gate.
There is also an apocryphal story that there was once a tunnel leading from the castle to nearby Dunnottar Castle.
An extension was added to Fetteresso in 1808 by the Duff family, re-roofed in the 1950s and later sympathetically converted into seven homes in the 1990s.
During its history, it has also been a home for soldiers during World War II and was once a country house hotel.
There are many reminders of this home's vast history dotted around the Collinson's home; from doocots in the front garden to the original vaulted and wine cellars at the front of the house.
It was this history, combined with the space and brightness of the rooms, beautiful views outside and an abundance of wildlife that has made this home so special for the Collinsons for more than a decade.
The ground floor, once a playroom for Maxim and Aidan, is now used as a study while upstairs the gorgeous living-room boasts a large sash window where you can sit and look out to the amazing views.
There is also a delightful dining room, cosy kitchen, and five great sized bedrooms.
Fiona and husband Stephen decided to wait to move until their children were grown up and had flown the nest before leaving this beautiful home. They have since moved to Mumbai and are making trips back to Scotland until the house, which is on the market for offers over £550,000, is sold.
"The reason we waited so long to move was because of the kids. They were really attached to this place, particularly Aidan, it's been great fun here," Fiona said.
"We've had wonderful Christmases here and parties. It's a lovely big house to have guests over, especially the dining room. We've had lots of people around the table in there.
"The children had so much freedom here, it's very safe and they can just roam around outside. They had a very idyllic childhood. It was a lovely place for them to grow up.
"There is just lots of opportunities for adventures here."
The family's dog, Finbar, was also a fan of the home, and seems to be missing it since moving to Asia.
"Finbar loved it here, we trained him so he was able to just run about outside on his own but he loved coming for walks with us too," Fiona said.
"Fetteresso was heaven for him. He is not enjoying being away from here at all. I think Mumbai is too noisy for him, it looks like he is putting his paws over his ears. He likes going on the rickshaws, though, he likes the wind in his ears so I take him on them for a treat."
Fiona admitted that this is not the first "unusual" home that they have lived in – a fact that has become a bit of a joke among their friends and family.
"When our friends see an unusual house, they say that looks like a house the Collinsons would buy," she laughed.
"We don't go looking for interesting houses. Stephen and I both really like natural beauty so we look more at the location than the house. That's more important for me. The location is the priority. You can change a house once you buy it but you can't change the locations or the views from that house."
And Fiona and her husband have definitely picked a house surrounded by natural beauty.
From any direction from the house you will find lovely walks and the Carron water great for wading in, while Stonehaven's picturesque harbour, beach and Dunnottar Woods are also nearby.
The views from the house are absolutely stunning and as Fiona tells me, remain beautiful all year round.
"I just love the natural environment, so this was perfect for me," she added.
So, having moved halfway across the world, what are they missing most about their historic home in the north-east?
"This is definitely a family home and it needs a new family for it. It would also suit a couple who maybe have a grown up family and need the space for visitors and guests.
"I will miss the space and the beauty, definitely my roses and the views.
"And I love my door step as well. I never get tired of opening the door and seeing this amazing views."
Contact: Simpson and Marwick on 01224 622622.