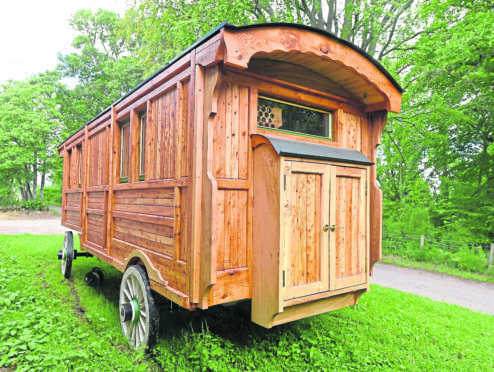 Apart from being immediately striking visually, it's the aroma of the home, called Wagon Mark 1, that takes you by surprise.
Heading up a sturdy set of wooden steps into the huge wagon, you not only get the "wow" factor but also the delicious, gentle smell of warm wood, aromas that are being slowly released from a host of different types of wood used in the creation of this unique holiday home.
It has been created, from scratch by brothers Graham and Fraser Whyte, who live on the family croft in Croy, and who dedicated three years to the project.
Their dream is that this home, one which takes inspiration from the old covered wagons and trains that crossed America's Wild West, will be the first of many similar mobile homes that they build.
Graham, 26, said; "Dad had a sawmill business on Holm Rose Estate near Croy and we started building garden sheds, chicken huts, dog kennels, etc, while I was a pupil at Culloden Academy.
"I left the Academy during a bit of a recession and no one was keen to take on apprentices, so I started work in the sawmill and became a self-taught carpenter."
Meanwhile, Fraser, 28, followed a similar route, becoming involved with the family business at an early age.
Over the years they established their own sawmill business on Kilravock Castle estate, close to Croy and between Inverness and Nairn, where they offer bespoke timber buildings and products to individual clients.
But of late, they've become their own best customers, because for the past few years, the majority of their time and skills have been devoted to the creation of the wagon.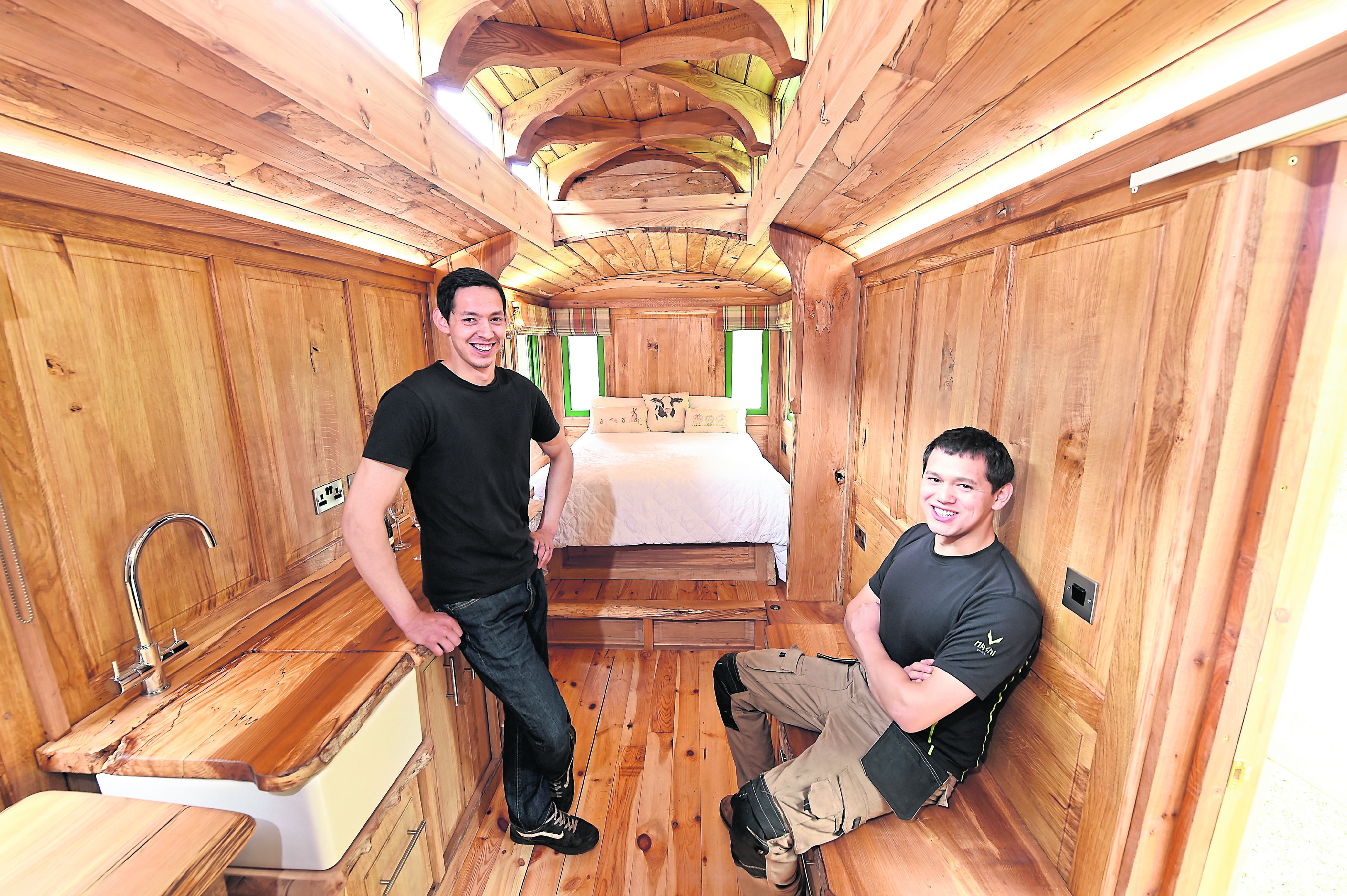 "What we've built is a Western-themed showman's wagon with an overhang and roof lights that you'd find on old-style Western wagon trains," said Graham.
"We first got the idea three years ago to build something that was portable, so began by making cartwheels – just to see if we could make wheels."
After a few trials, they mastered the ancient craft of cartwheel building, and can now happily make 14-spoke dished cartwheels, complete with metal trim.
"A lot of folk who would have been able to show us how to do things years ago aren't around anymore," said Graham.
"Those skills are gone. So instead, I had to turn to the library and online resources to learn, but it's not the same as seeing it done in person."
Once the wheels were made, they could then turn their attention to building the wagon from the base up.
"Almost everything is made of wood, and each type was selected for the way it performs," said Graham.
"The Caledonian Pine, for example, is really strong and dense. Originally this type of wood was used for timber houses. In this case, the wood came off a local hillside and we used it to build the main framework.
"The Elm came from Kilravock Estate and the Oak from Geddes Estate near Cawdor, and all the timber used was either wind-blown, damaged or the tree, such as the beech we used, was a tree due to come down anyway.
"Some people would have taken this type of wood and turned it into firewood but we air dried it, then kiln dried it on site and selected the best bits to use on the wagon."
Standing at about 14ft high, 26ft long by eight and a half feet wide, the wagon weighs some six and a half tonnes and is a hugely impressive, well crafted and designed mobile home.
Open the stable-style front door with glass window – the brothers also made all the windows and furniture – and you'll step into a good-sized open-plan area.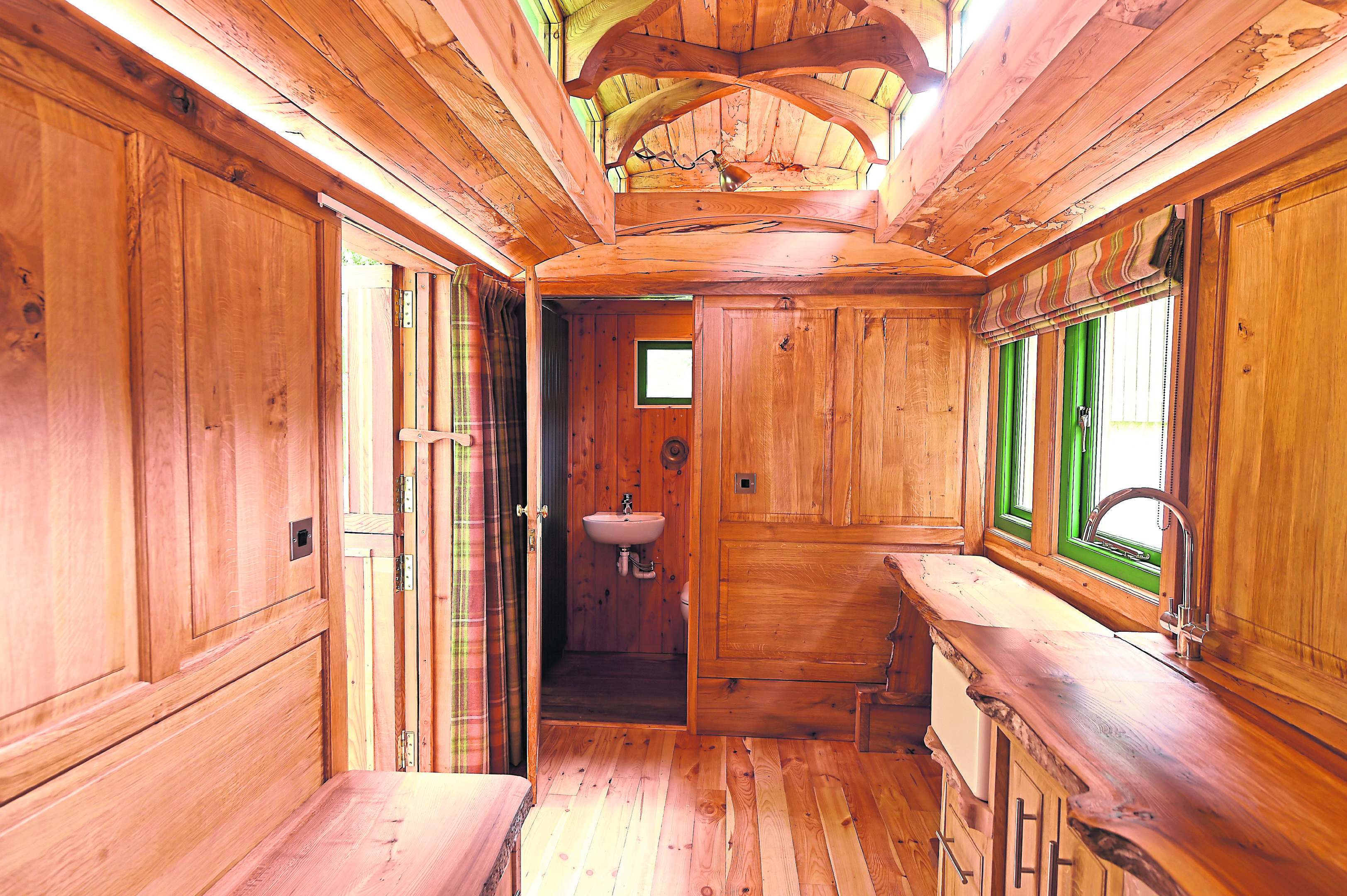 To the right, there's a large raised bedroom area, surrounded by windows, nicely dressed with muted tartan blinds, and with plenty of space for a big, comfortable double bed.
In the centre is the main living space. It has a substantial wooden seating area and dining table, while the kitchen worktop is made from a beautiful piece of wood with a live, or natural, curved edge.
Hidden under one end of the worktop is a Belfast-style sink with swan-neck tap. Appliances include a small glass-fronted fridge/wine cooler and a two-ring ceramic hob. There are plenty of sockets and storage space too.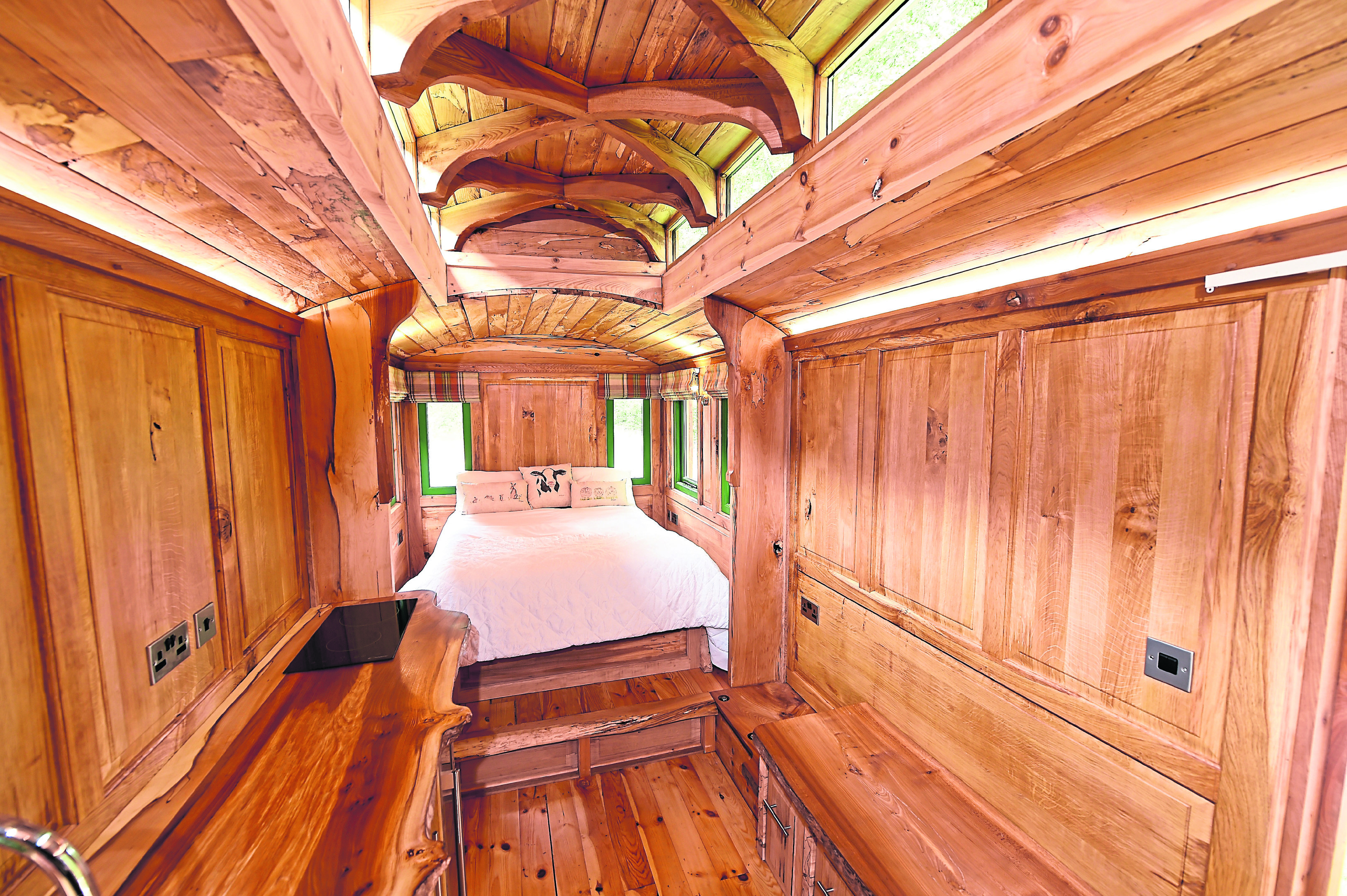 Thanks to the high ceiling, there's at least three feet of space above your head when you're standing, so you'll never feel cramped or enclosed.
Turn left and there's a stylish shower room with full-size shower featuring a modern moulten copper wet wall along with a WC, sink and full-height black wall radiator.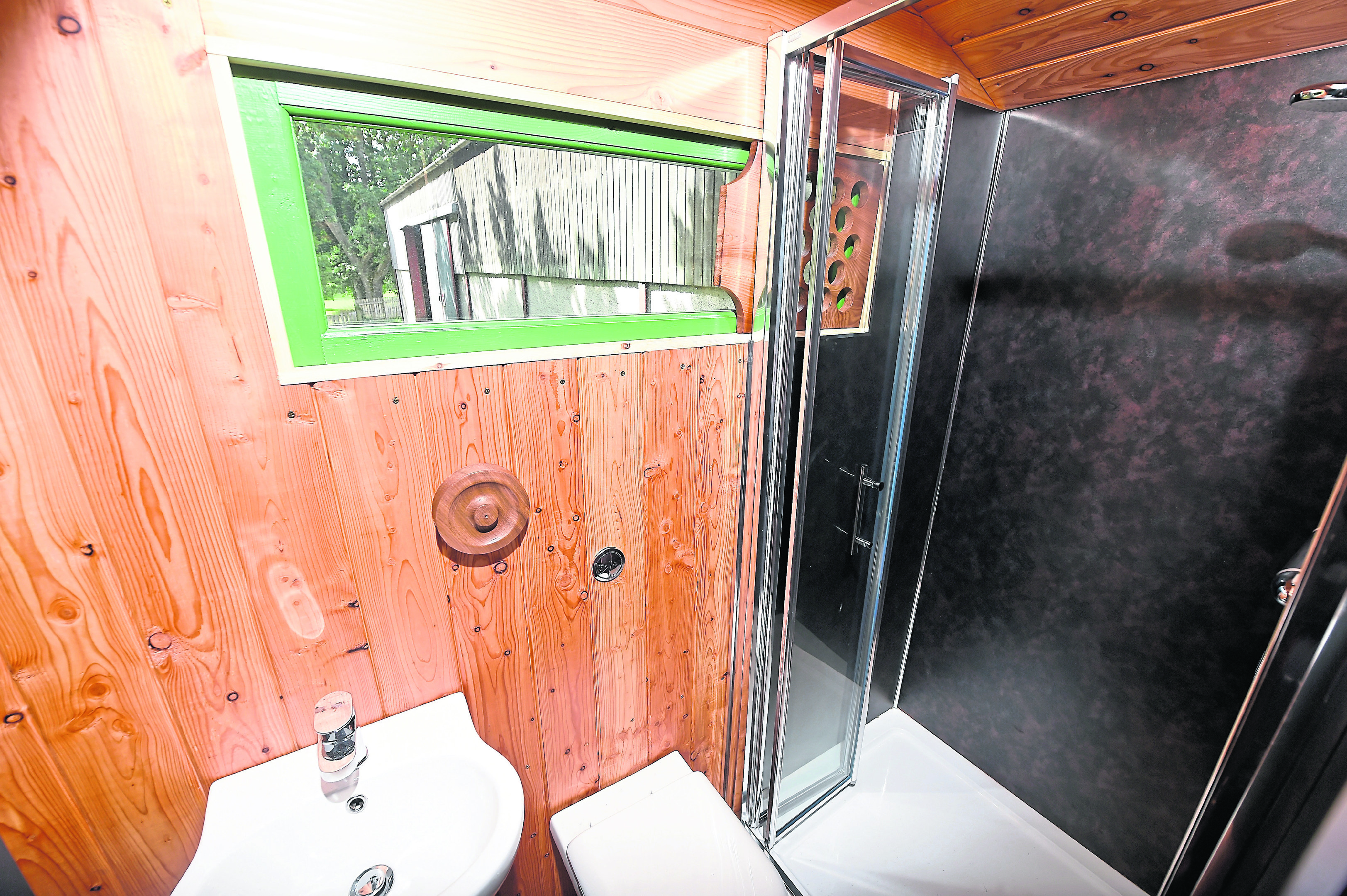 The wagon has full double glazing, and propane-powered central heating. With well-insulated walls that are nearly nine inches thick, the wagon is cool in the summer and warm in the winter.
Years of hard work have paid off, but these siblings are not happy to sit back and relax.
"Father would always say, the next build you do must be in some way better than the last one you did," said Graham. "We will apply that to the next project, so the next wagon might be slightly different."
The brothers consider this wagon something of a showhome and say they'd be very reluctant to sell it.
However, if someone was to offer them around £57,000 they say they would certainly consider it.
"If you look at how much glamping pods and caravans cost, it's good value for money, especially when you consider how much we spent on it and how much time we dedicated to it," said Graham.
"We are absolutely delighted with the end result – how could you not be?" he said.
"I'd like to think of us building more of these and for them to be bought by people who would either use them as a holiday home or for an usual property to let out.
"Now we have made the first one, we have all the skills and equipment in place, so any further wagons we make would only take a few months for us to build."
If you think this would make the perfect holiday home for you, contact Graham on 07522 107371 or visit the Whyte Sawmill Facebook page.