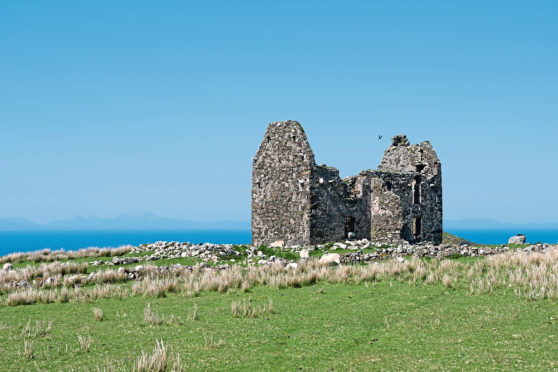 The first episode in the new, and final series, of the cult television show Game of Thrones was shown this week.
Plots full of dark deeds, murder, intrigue and romance have made this a must-watch show for millions of fans across the globe.
The storylines could have their roots in Highland history – and in particular, one piece of land for sale in Skye.
Strutt and Parker is marketing a spectacular piece of coastal land at Unish, Trumpan, along with the remains of the now derelict Unish House.
The house dates from the 17th Century and has remains of former blackhouses and a steading nearby.
Unish, on Skye's Waternish Peninsula, is steeped in history and an area that's witnessed clan feuds, battles and the harsh Highland Clearances.
The most notable of these took place close to the land at Unish, Trumpan Church, scene of the Battle of the Spoiling Dyke.
The Macdonalds of Uist barred the door of Trumpan Church and then set fire to the church which was full of Macleod worshipers.
On hearing the news, the chief of Clan Macleod and his men set off to Ardmore Bay where a battle ensued.
The Macdonalds were killed almost to a man and their corpses dragged and buried in a turf dyke, now remembered as the Battle of the Spoiling or Spoiled Dyke.
The Battle of Waternish also took place in the area – one of many battles between the Macleods and Macdonalds.
It is thought that it was also around here that Bonnie Prince Charlie first attempted to land on his trip from Benbecula in 1746 – but was reputably warned off by some of the militia raised for Macleod's independent company taking a few pot shots at the boat.
Now, there's a chance for a new owner to write their story on the pages of the history book.
On the market at offers over £475,000, the ancient ruin comes with more than 400 acres of coastal farmland located at the north-west tip of the Waternish Peninsula, which is around eight miles long.
A mixture of pasture and moorland, it also includes a spectacular coastline measuring around three miles long, and enjoys sweeping views to the Outer Hebrides.
It's thought the building/site may have the potential to be redeveloped.
Euan Crimmon, from Strutt and Parker, said: "Subject to the appropriate planning consents, this is a truly special opportunity to redevelop the ruins of Unish House and create a stunning coastal estate in an area rich with historical associations and which exemplifies the romance conjured up by the Scottish Highlands and islands.
"It is rare for such a significant acreage on Skye to come to the market and should attract widespread attention."
Contact: Strutt and Parker on 01463 719171.