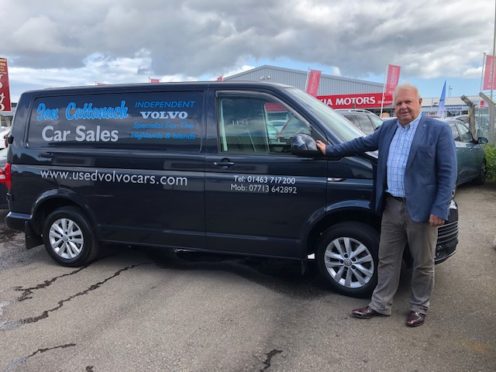 Ian Cattanach Car Sales, an independent Volvo Specialist in Inverness, has been attracting customers from across Scotland for over 20 years. They credit a personal approach to customer service for their continuing success.
The independent dealership in Inverness regularly welcomes customers from the highlands and islands to Argyll and Aberdeen, and sells around 120 cars every year.
Owner Ian has spent most of his life in the motor industry, working first as a mechanic before launching his own Volvo dealership in 1996. His experience makes him a valuable and reliable expert when it comes to Volvo.
As an independent garage, Ian and his team get to know all customers, so personalised and friendly service comes as standard – it's this approach that Ian credits the dealership's 20 years plus of success to.
"Customers talk to me most of the time. That personal touch is the secret to it all," says Ian.
"We know customers by first name and look after them. We don't sell cars, people buy them from us."
Ian travels across the UK to find the best used Volvos for his customers. Back at the dealership in Inverness, mechanic John – who has worked closely with Ian for 18 years –uses the latest Engine Diagnostic Systems to service cars.
"We're learning every day. Things change with the electronics of the cars every day and we have to keep up with them," says Ian.
"From 20 years to now, there have been massive changes to the cars."
Expertise and quality
What's not changed over the past 20 years is Ian's dedication to providing customers with the best deal and best service possible.
He knows that value for money and reliability is important to customers, so every car purchased comes with a comprehensive package of 'promises' that ensures the highest of standards are met every time.
This includes:
One year's full MOT
Six month's standard Scotsure warranty
Full Volvo diagnostic service
Comprehensive Volvo service history check
HPi checks for mileage, damage, plate change and more
Competitive finance available
Plus, Ian is committed to finding the right Volvo for each customer.
His personal approach to service means he gets to know each customer. If you visit the Ian Cattanach dealership, you can trust that your specific budget and requirements will be treated with the utmost importance.
At the same time, Ian's years of experience and Volvo expertise also leaves him in a unique position to offer trustworthy and personalised recommendations.
If you're hoping to buy a car with as little stress as possible, Ian's friendly and helpful approach might just be exactly what you're looking for.
Find out more about independent dealership Ian Cattanach Volvo Specialist online here, or call 01463 717200.