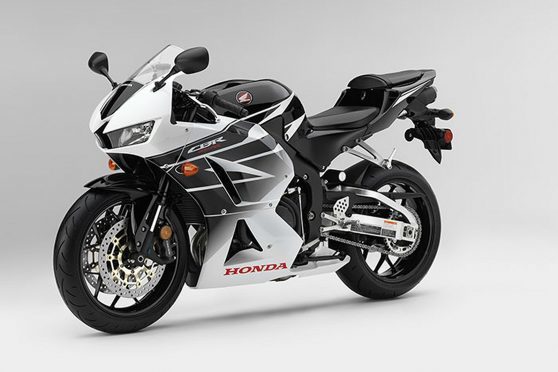 Previously, if you wanted a cutting edge Supersports 600 then maybe your local Yamaha dealer was the place to go, but not recently.
Honda brings its latest uprated CBR600RR to the party with a few added goodies and a redesigned face. This latest Honda will continue to be a bike that you can live with day in and day out yet will still be at the high end of the performance scale for track days at the weekends.
It remains plenty focused and includes a few well-judged improvements in both style and ride.
The CBR600 is a model that's been around for sometime now. There have been some great examples down the years like the F2 and there have been some average models.
Never a duffer, mind you. The current version, the CBR600RR for 2016 that we look at here, offers 41mm fully adjustable inverted Showa Big Piston forks up front and a Unit Pro-Link with gas-charged remote reservoir damper with adjustable spring preload, compression and rebound damping. These provide greater stability and a much smoother ride than before.
Buying this sort of expertise doesn't come cheap and you can expect to pay £8,999 to get your hands on this latest CBR.
That's quite some investment if you're the sort of inexperienced rider liable to throw it up the road the first time you deal with its astonishing power delivery.
Insurance will also be a problem if you live in certain higher risk post codes, as the CBR600RR is rated a pretty high risk by the policy providers.
The latest CBR600RR has a redesigned skin with re-styled headlights set back into the fairing. The effect of this is not just cosmetic as it also reduces the drag.
The Honda engineers have improved the CBR600RR's balance by adding a lighter sub-frame and moving as much of  the bike's weight as possible nearer to its centre
of gravity.
The 118bhp 599cc engine has been remapped for efficiency and a smarter response. It gets the job done effectively and Honda's build quality is evident throughout, especially on the controls and factory paintwork.
The comfortable riding position allows you to bully the bike into submission rather than it imposing its will on you. The throttle action is now much smoother making this middleweight sportster the one to choose.
There are no real layers to the CBR's personality. What you see is what you get and this is, depending on your experience, either its abiding strength or a damning weakness.
A Supersports 600 is never going to be a wholly pragmatic choice but if you want a fractionally bigger proportion of head than heart compared to its rivals, the latest Honda CBR600RR will still be the logical pick.
THE FACTS
Bike: Honda CBR600RR
Price: £8,999
Engine: 599cc 16v liquid-cooled, in-line four-cylinder, four-stroke
Weight: 196kg
Seat height: 823mm
Power: 118bhp @ 13,500rpm