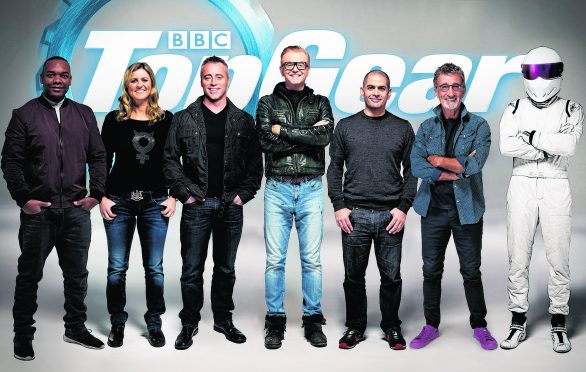 It's almost a year since Chris Evans was confirmed as the new host of Top Gear following Jeremy Clarkson's exit. But that was just for starters.
After much speculation, the full-line up was revealed – introducing into the fold Friends star Matt LeBlanc, German racer Sabine Schmitz, YouTube star Chris Harris, BBC F1 pundit Eddie Jordan, motoring journalist Rory Reid and, man of few words, The Stig.
The grand reveal didn't stop the gossip-mongering and scandal however, with rumours of an (unsubstantiated) acrimonious relationship between Evans and LeBlanc taking centre stage, and that infamous Cenotaph stunt.
Now the series is ready to return, it's time to find out what the new team has in store, and exactly why they're such passionate petrolheads…
CHRIS EVANS, 50
Can you explain the set-up?
There are six faces and one helmet, The Stig, but Matt and I co-host the show every week, and other people make films and then come in and talk about those films. It's a two-hander with a back-up cast.
What can viewers look forward to?
Brilliant locations and amazing vehicles. We wouldn't be putting one second of it out if we didn't think it was worth watching, so hold onto every moment.
Which locations were the most exciting to drive in?
I'm not a big traveller, so going to South Africa was amazing and The Ring of Kerry in Ireland was glorious too, where Matt and I compared old and new Rolls-Royces.
What's your earliest car memory?
When my dad changed a car for a Ford Anglia and the rear screen slanted the wrong way. This was a freaky car, so people on our street were interested in us for about a minute. That was a big deal.
Why do you think people are so passionate about cars?
Cars are like an unofficial diary for our lives. They've seen everything we do, or are part of something we do, or are the results of some things we did.
MATT LEBLANC, 48
Aside from cars, what do you and Chris have in common?
We both like to have a laugh and we're both aware we're not working on the cure for cancer. You leave your ego at the door, and you come on in and collaborate.
What happened when you broke down en-route to Blackpool?
My car spent it's time on the back of a truck, as did I. We took selfies with everyone while they were changing the radiator and the water pump, which then blew up again immediately.
How taxing has filming been?
The hours are long but I always say, 'Find something you love to do and you'll never work a day in your life'. It doesn't ever feel like work when you're driving cool cars, having a laugh.
What's the fastest you've ever gone?
On a Ducati 999. It has a big digital display and I happened to glance down and I'll never forget, it said 173mph.
Are you surprised by how big Top Gear is?
It's such a monstrous entity and it's bigger than we are. Chris had a great analogy that we're just babysitting it. All Chris and I can do is make the best show we can. There's no sense worrying about something that's out of your control.
EDDIE JORDAN, 68
Of the six of you, who is the quickest around the TG track?
Sabine. She walks all over us.
What's your first car memory?
Slipping up the Dublin mountain in my dad's Morris 1000. We all had to get out and push. There was smoke billowing out, but we were just so proud of it.
What was the best drive of your life?
It was on the Circuit of Ireland in Kerry. It's memorable because I stopped in a lay-by and asked an 18-year-old girl to marry me – and she did. I'm still married to her 38 years later.
What's the biggest mistake you've made in a car?
When I was 14, I nicked the car keys out of my dad's pocket and took our Anglia 1200 out for a spin to Powerscourt, near Bray. I hit the kerb, went into the bank and put this car on its side.
SABINE SCHMITZ, 47
Has filming Top Gear taught you something you didn't know about cars?
"Sure, there is so much to discover. There is no limit… you will see!"
What was your very first day of filming like?
"It was in California with Chris. Like a first date with plenty of cameras. Just natural, talking while driving on one of the best roads in the States, in a superb car."
Any particular highlights that viewers should be looking out for?
"A couple of sick people in my passenger seat…"
What's your earliest car memory?
"When I was around five, I had to ride on the back seat in my Dad's car around the Nordschleife (Nurburgring). It was a purple Ford Granada. The scariest moment in my life.
What is it about cars that fascinate you?
"I really don't care how a car looks, the fascination is the response you get while driving it. A car can be very human."
CHRIS HARRIS, 41
What was your first day of filming like?
"Hard work, but an amazing experience in a £5m Ferrari 250 TdF. I'll take the memories to my grave."
What was your dream location to film in?
"Yas Marina, Abu Dhabi. Great circuit for oversteer. You can film all night under the floodlights, and the hotel has a night club which stays open 'til 4am."
Has filming Top Gear taught you something you didn't know about cars?
"That if you jump a Mini 4ft in the air, it tends to dislodge all the audio equipment that was supposedly bolted down."
How many cars do you own?
"I think I have 12. You'd need a gun to separate me from my 1957 2CV, but my all-time dream car is a Ferrari F40."
RORY REID, 36
What was your first thought when you heard you'd got the Top Gear job?
I was ecstatic, and a little apprehensive. I didn't know what they had planned for the new series, but I was convinced I was the right person to help drive it forward.
What was your very first day of filming like?
I was testing the new Ford Mustang up in the Western Highlands of Scotland. I've been making car films for years so, apart from the bigger budget, it was a normal day at work.
Has filming with Top Gear taught you something you didn't know?
The Stig taught me a few tricks behind the wheel. He made me a better driver, so I'm looking forward to showing off those skills on the new series.
What is it about cars that fascinate you?
It's possible to have an emotional connection with a car. I also love the way they make other people react. The smile on a kid's face when he or she sees me driving something nice warms my heart.
Top Gear returns on BBC2 on Sunday.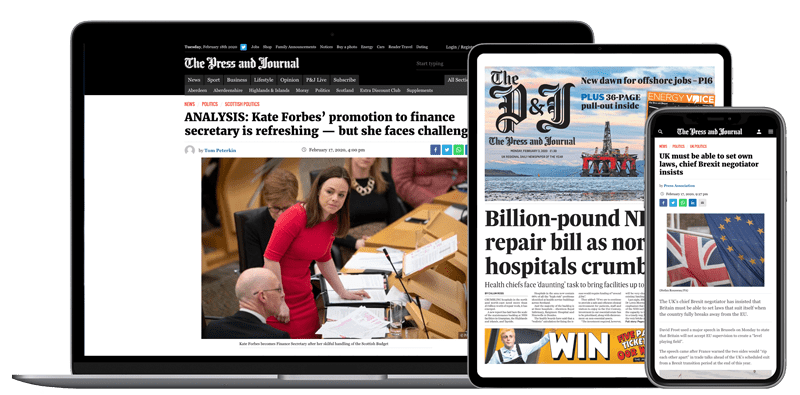 Help support quality local journalism … become a digital subscriber to The Press and Journal
For as little as £5.99 a month you can access all of our content, including Premium articles.
Subscribe