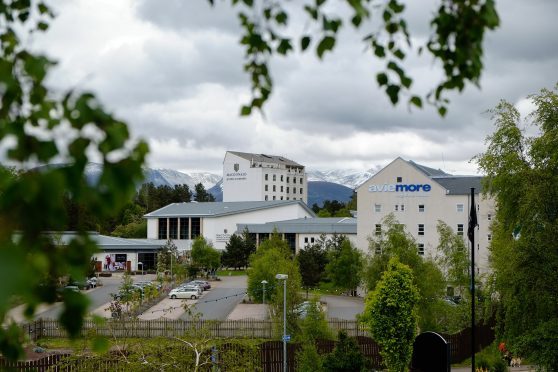 For a fun-packed family holiday in stunning surroundings, it doesn't get much better than Aviemore, writes David Dalziel

While it seemed as if half the north-east jetted off to sunny Florida to get their fix of Disney during the recent school break, my family and I opted for a holiday destination closer to home – but just as much fun.

We made the comparatively short journey – through some breathtaking autumn scenery – to Aviemore, for a couple of nights at the Macdonald Aviemore Resort, which is currently celebrating its 50th year.

To celebrate this milestone, the company has invested a whopping £7million across its facilities in Aviemore, bringing all of its accommodation up to four-star standard.

A six-figure sum has been spent on the Aviemore Activity Centre, a seven-room, state-of-the-art, fully registered childcare centre boasting the largest supervised play area in Scotland. Not to mention the fantastic swimming pool. But more of this later.

After our spectacular journey through Royal Deeside, we were excited to see our room – one of the recently refurbished bunk rooms. The clever design of this room is perfect for families as it houses a large double bed in the main area and a bunk bed partitioned off so both parties can do their own thing. The bunk-bed area also has a wall-mounted TV, so if the kids wake early, they can amuse themselves until their parents feel ready to get out of bed.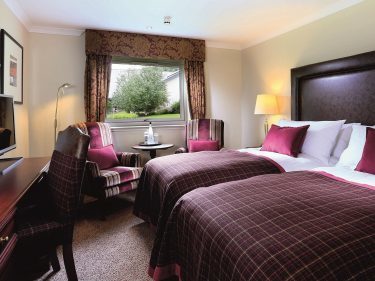 Our two rascals loved the novelty of the bunk bed and slept soundly in their little annexe as we watched TV and enjoyed a glass of wine just feet away from them on the other side of the partition wall.

Another area to benefit from the upgrade is the dining experience at the Macdonald Aviemore Resort. Guests can now choose between the Scottish Steakhouse, Giovanni's Italian Ristorante and the new Spey Burger. So plenty of choice to suit most tastes.

We chose to visit the Scottish Steakhouse on our first evening and liked the fact children can help themselves to the buffet straight away, thereby giving the adults time to choose what to order without listening to cries of: "I'm hungry, when's my food going to be here?"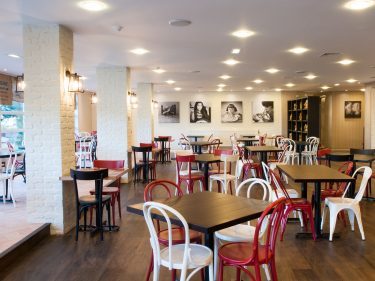 My starter was particularly tasty – haggis and black pudding bon bon served with an Ardbeg whisky and honey dipping sauce. Both the bon bons and the sauce were delicious. My only complaint was they were so delicious that my son ate half of them.

My wife enjoyed her starter of asparagus, truffle oil and poached egg, and followed that with a market vegetable shepherd's pie, while I couldn't resist the rump steak marinated in chilli and garlic.

We retired, with full bellies, to our room.

To build up our appetites for that feast, we had visited the swimming pool at the resort. It's a great size, with areas suitable for all ages, and the water slide went down a storm with both my seven-year-old son Charlie, and three-year-old daughter Beth. Fast enough for thrills, but slow enough to be safe for youngsters, they both loved it and must have been down it 50 times during our stay.

Away from the pool, we took in The Little Mermaid live show that was performed by the children's entertainment team in the resort's impressive cinema.

My son was somewhat reluctant as he thought the show would be "too girlie", but within a couple of minutes he was joining in with the fun, singing along to the songs and giggling hysterically at the gags. The team put on a fantastic show, and at £20 for a family ticket, this was good value for money.

One of our main reasons for heading to Aviemore was so the children could visit Landmark Forest Adventure Park. Charlie had been begging us for months to take him – ever since he went with his cousins – so we finally relented and he got his way (as he invariably does).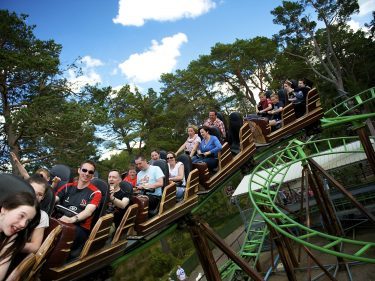 And what a day we had. There is so much to do, and it is very varied as well; from a terrifying-looking skydive, to the tree-top trail, to Bamboozeleum, to the Butterfly House, Landmark offers fun activities for all ages.

For my adrenaline-junkie son, however, there was only one place he wanted to be as soon as we arrived – the Runaway Timber Train rollercoaster. He managed to drag me on and I was surprised at how fast it went. It was great fun, and exciting too, and we took the trip several times throughout the day.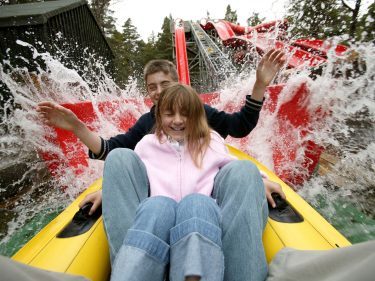 We also made our way up the tall wooden tower to experience the thrill of the Wildwater Coaster water slides many times. And The Chazza Man – as he likes to call himself – was over the moon when he discovered he was old enough and tall enough to go down the slides on his own (I was delighted too because I could wait at the bottom while he climbed all those stairs). After that, there was no stopping him.

When my wife and I swapped the children around, my daughter and I enjoyed the more sedate surrounds of the Butterfly House, which was fascinating. Some of the creatures were enormous, and we enjoyed watching them feast on pieces of fruit, and looked on with interest at the hatching area.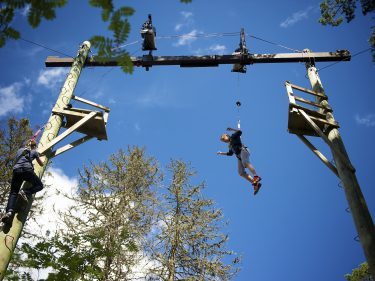 Away from the thrills and spills of the rides, we loved the Wonder Wood, the Vortex Tunnel and the Tilted Room. Some very clever science has gone into these displays and they really play tricks on your brain.

There is so much to do at Landmark and we didn't get round everything despite spending the entire day there, so we'll certainly be back again – and again and again.

Back at the Macdonald Aviemore Resort, we took in the children's entertainment before our meal, and the kids really enjoyed all the games and dancing – while the adults managed a well-earned drink from the bar.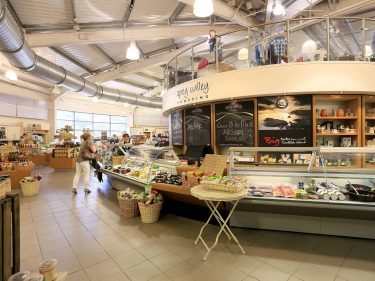 After the fun, we chose Giovanni's Italian Ristorante where, once again, the kids helped themselves to the buffet food and I devoured my seafood salad starter of prawns, squid, mussels, gem lettuce and cherry tomatoes. The texture of the seafood was beautiful, and the flavours were enhanced by the lovely selection of oils at the table.

The following morning saw us tuck into another great selection of breakfast fare before a final trip to the pool, soft play, chill zone and one last game of air hockey before it was time to leave Aviemore behind and head back home.

For a family holiday destination, it doesn't get much better than Aviemore. Beautiful scenery, plenty of activities, a wonderful theme park a mere six miles from the centre of the town – and luxury four-star accommodation at the Macdonald Aviemore Resort. Memories that will last a lifetime.

TRAVEL FACTS
Macdonald Aviemore Resort is currently offering the following packages:
Santa Weekends – from £176 per night for a family of four
Family Christmas Breaks – December 24, three nights from £299 per night for a family of four
Family Hogmanay Breaks – December 30, three nights from £333 per night for a family of four
Visit www.macdonaldhotels.co.uk
Landmark Forest Adventure Park, Main Street, Carrbridge PH23 3AJ
www.landmarkpark.co.uk