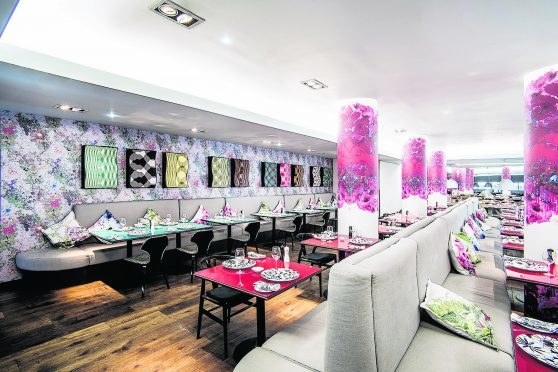 Quorvus Collection's G&V Royal Mile Hotel Edinburgh took over from the Missoni family three years ago and has just won the creme de la creme in the Scottish Hotel Awards – a Gold Laurel for its environmental policies.
As you've read here before, the hotel's had a serious style makeover and some environmental additions under the leadership of new general manager Martin Scott, and the cherished Gold Laurel is a nod to his green credentials.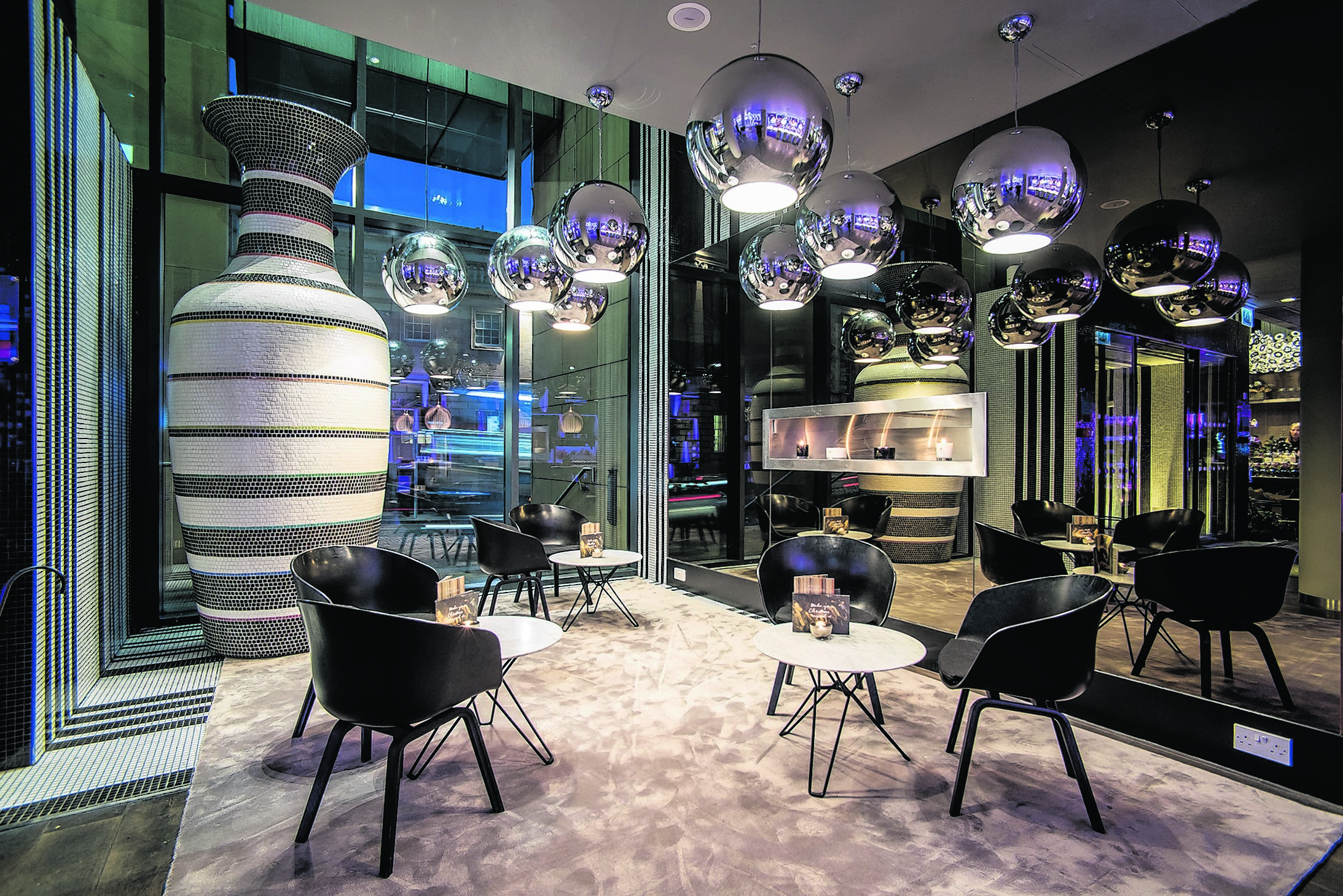 The hotel is big on saving the planet, with a reduce, reuse, recycle ethos throughout. Its water system recycles and minimises water consumption where possible, and double-glazed windows, motion sensor lighting and highly efficient heat pumps and boilers help reduce its carbon footprint.
But it's on the rooftop where it's all happening, as under Martin's leadership, G&V installed three beehives to boost the local bee population and provide delicious home-produced honey for the hotel's bar and kitchen. The 'G&Bees' provide all the honey for guests to enjoy with breakfast each day, and the hotel also uses it in cocktails and dishes in the restaurant. You can't get better provenance than that.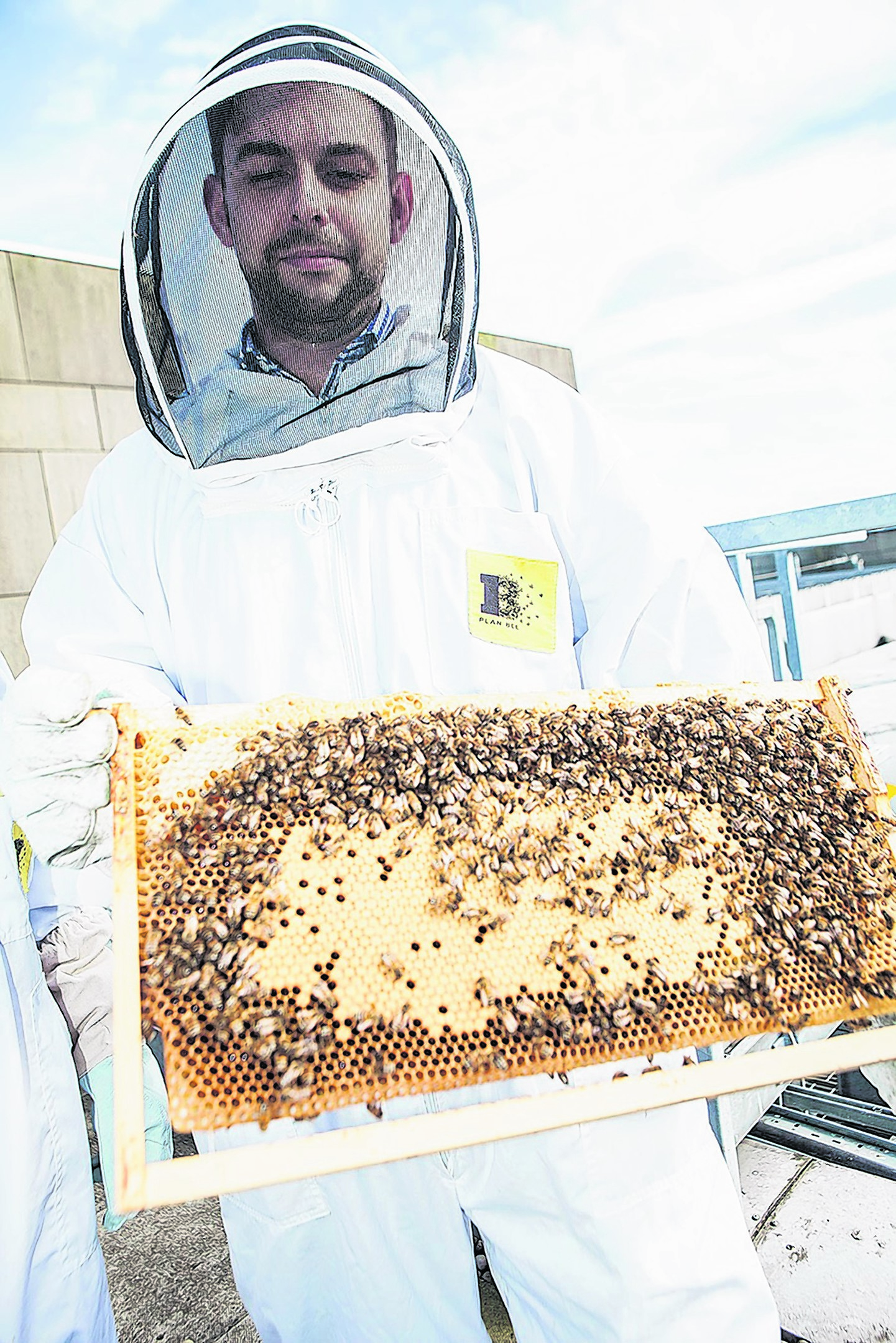 Bees are essential to the health of our eco-system and vital to the world's agricultural economy – did you know one third of the UK's food is pollinated by bees? The hotel was kind enough to let us see the bees at work, and manager James Archer explained how things work.
In three hives, 180,000 honeybees collect flower nectar from a 10-mile radius around the hotel, including the gardens on Princes Street. A firm in Motherwell called Plan B looks after the welfare of the beehives, and the G&V's own chef goes up to the rooftop (suited and booted) to harvest the honey.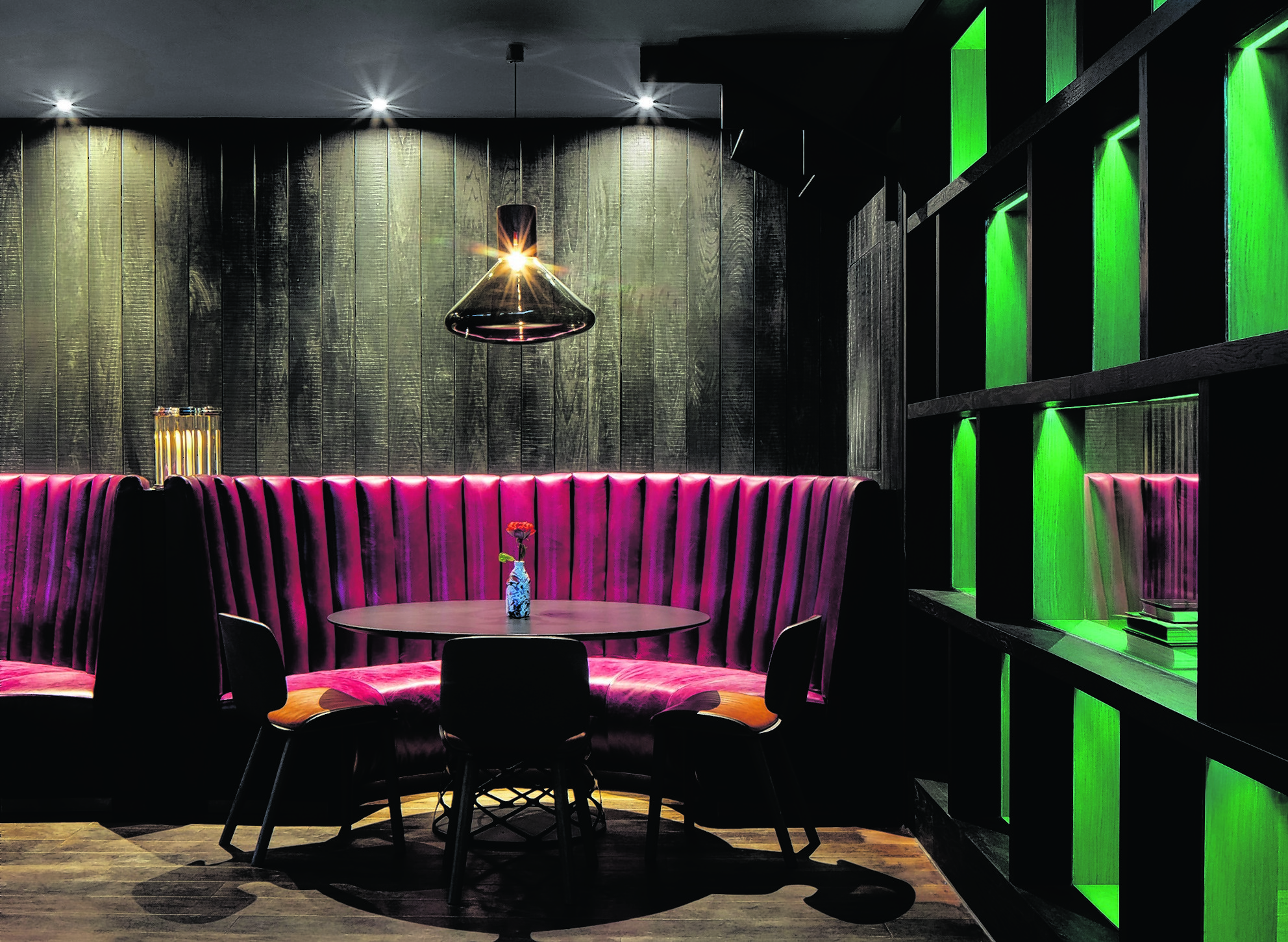 Moving on to the second award, and Matthew Wakeford was named Bar Manager of the Year for Epicurean, the hotel's very chic and vibrant bar where top mixologists shake and stir the finest cocktails inspired by the Scottish Colourists, Scotland's most cherished artists.
Green & vibrant cocktails with bursts of colour are reminiscent of the movement's engaging paintings, and are made using home-grown herbs from the EvoGro hydroponic (fridge) in Snapdragon.
Located in the hotel's lobby, Snapdragon is an exquisite shop selling coffee, beautiful fresh flowers, candles and cupcakes. This is an unusual service and not one I've come across in Edinburgh before, but it's ideal for wedding parties and last-minute gifts.
Fresh bouquets are available every day and guests can book florist masterclasses, complemented with Epicurean cocktails. The bar team juice fresh herbs, fruits and vegetables on site to ensure everything is fresh and of the highest quality. Gin & vodka anyone?
Also worthy of a mention are the walls of the lobby which are covered with a dramatic line drawing of Edinburgh's top attractions, which made our seven-year-old (and me) want to grab a packet of crayons and colour the pictures in. Not that the hotel needs more colour, for the G&V's makeover is stunning in itself. Each new suite has been created by local designers, and the work of Glasgow-based Timorous Beasties, a firm renowned for surreal and provocative textiles and wallpapers, is a sight for sore eyes around the hotel.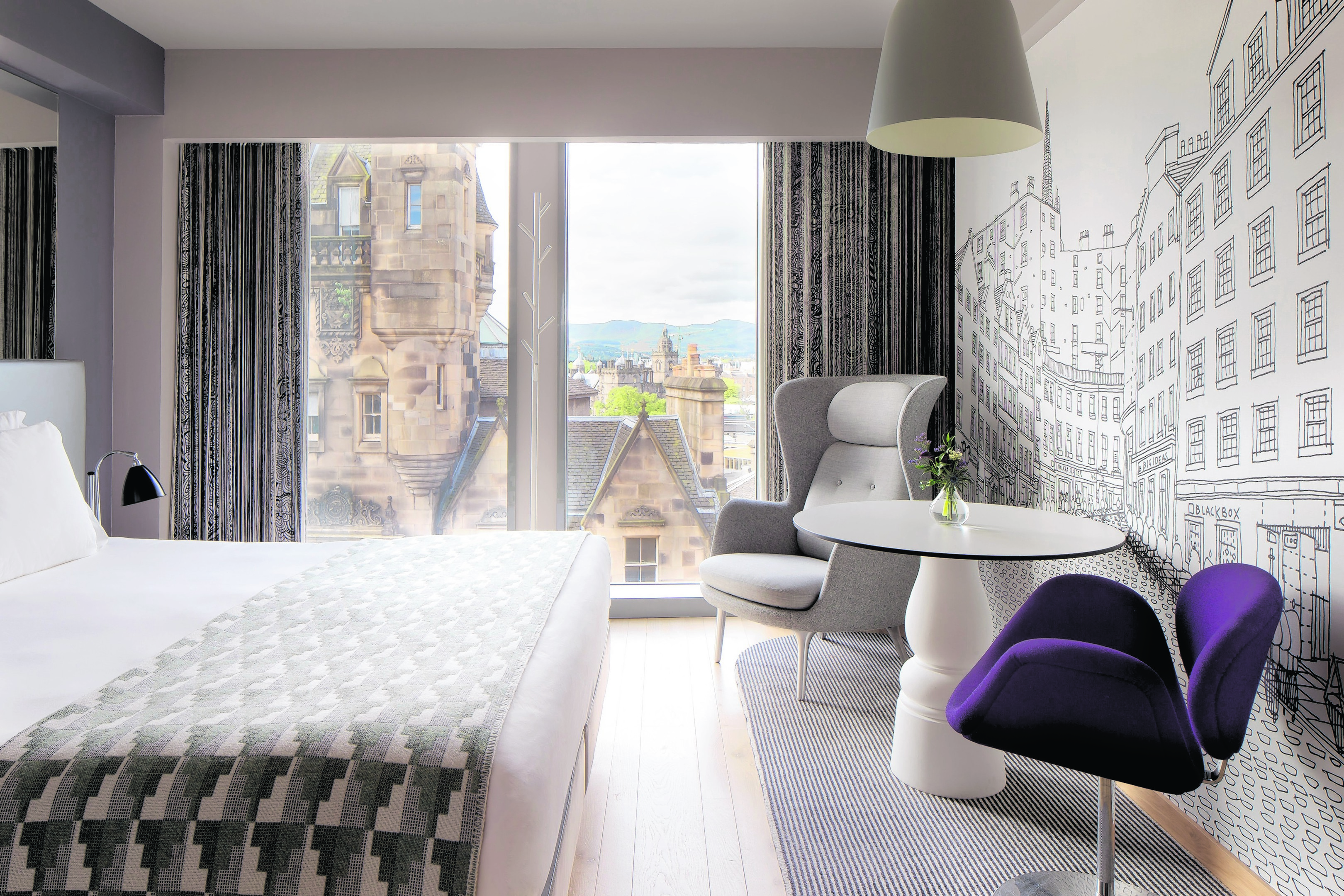 From our room we had dramatic views over the National Library of Scotland, Calton Hill, St Giles' Cathedral and as far as the Firth of Forth, and we were so close to the Royal Mile that we could hear bagpipes but with the windows closed you could hear a pin drop. The hotel is a stone's throw from
Edinburgh Castle and all the tourist attractions of our capital city.
Rooms are rather reasonable, with nightly rates in a variety of styles from just £209 with breakfast. We got number 501, which is one of four luxurious junior suites starting at £550 for B&B.
501 has splashes of bright raspberry, flat TV screens buried in the walls, steel pendant lights and mirrored doors, one of which hides the wetroom and shower, with separate bath and "floating" toilet and bidet. Mosaic smoked silver tiles, black floor tiles and shiny pink walls give an uber-modern, super clean feel, and there are plenty of Arran Aromatics Feel-good Formulas for bath, hair and body to use or, ahem, steal.
On to the dining, and award-winning Cucina offers stylish food created by celebrated Bolognan chef Mattia Camorani, whose flair and passion brings together Italian flavours and the freshest ingredients. The menu is surprising, but it's the wines and top-class service that make Cucina stand out from the crowd.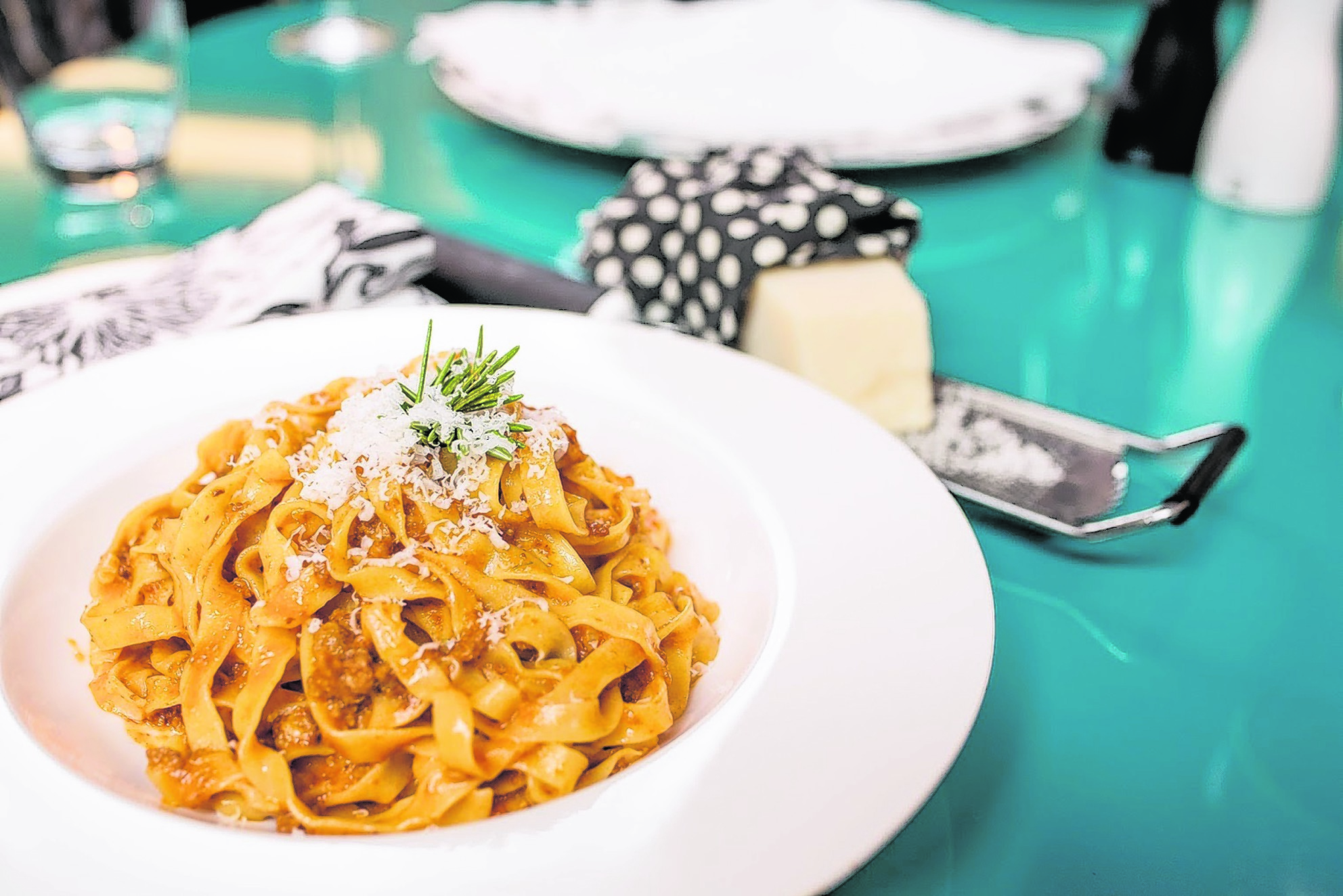 For dinner we chose the sea bass with sun blush tomato crust, globe artichoke puree, tomato and green olives, and the cod fillet, carrot puree with sauteed mixed mushrooms and parsnip crisps. It was all very tasty indeed, and paired with wines suggested by the sommelier, made for a memorable evening. To round off we had a plate of biscuits, grapes and selection of Italian cheeses, all from nearby I. J. Mellis Cheesemonger. They were out-of-this-world tasty, especially drizzled with the hotel's delicious honey.
At night Cucina is atmospheric and alive, but in the morning transforms into a kaleidoscope of colours, with stunning Timorous Beasties wallpaper and artworks to feast your eyes on – and a pretty outside terrace to die for.
"All happiness depends on a leisurely breakfast" (John Gunther) and I couldn't agree more. Cucina serves it from 7am to 11am at weekends, ensuring you have plenty of time for a lie in.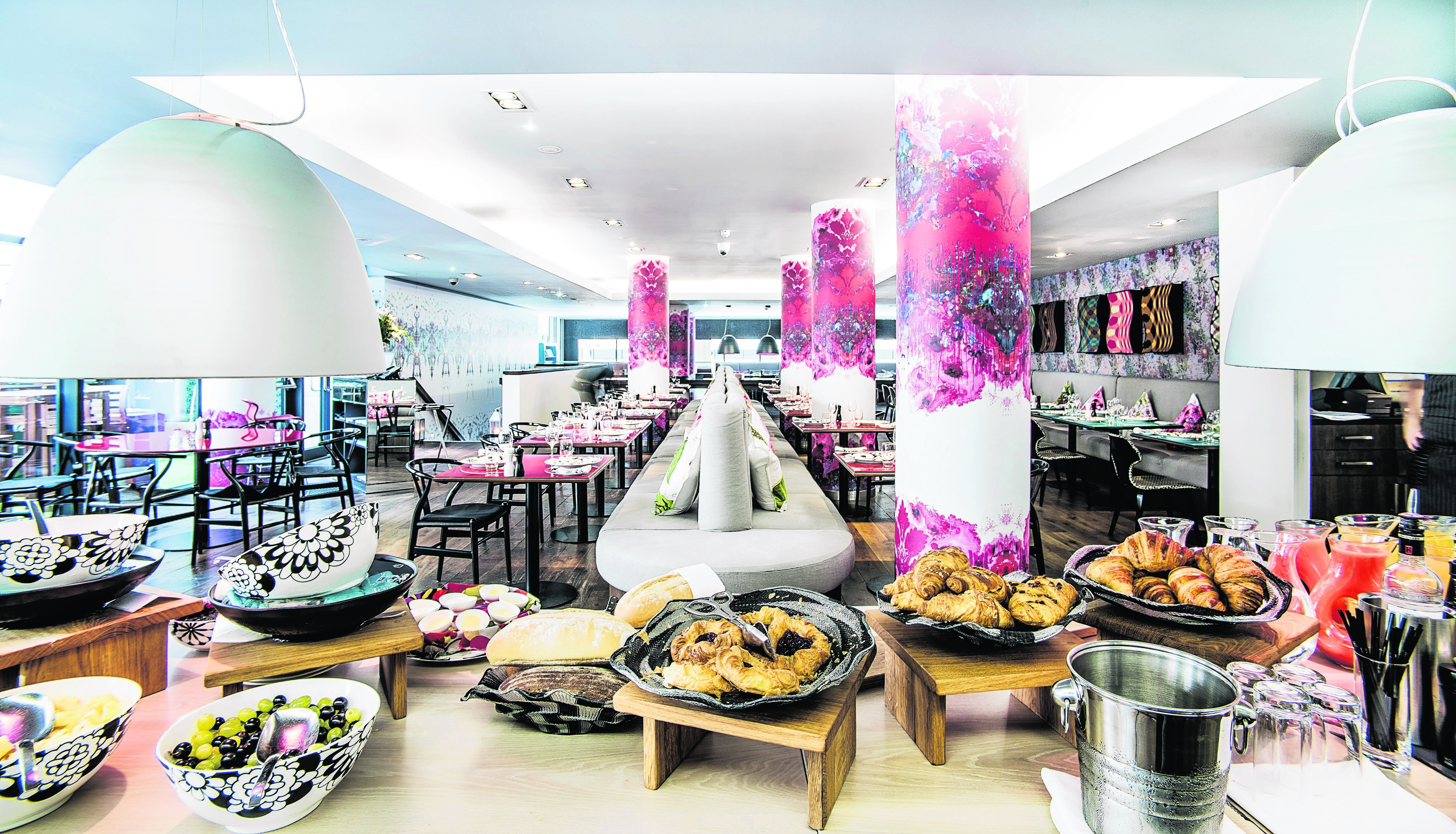 The breakfast buffet is fully loaded with all the traditional favourites, and our personal extras of a cheese and tomato omelette, and a 'Scottie' – the full Scottish cooked breakfast – came very fast, perfectly cooked to order. The honey was there to scoop off the honeycomb, fresh as the day it was harvested.
The hotel is all about using local produce, with bacon from Ayrshire, sausages from Dumfries, haggis from Campbell's of Linlithgow and Ellis free-range eggs.
There's a spa where you can experience luxurious pamper packages, or if it's a swim you're after, you can use the pool at nearby Radisson Blu which is available to G&V guests. There's even parking beneath the hotel.
Wi-fi is free, and children are well looked after, too. Young guests are handed a passport on arrival, which involves a search for a mysterious wee Scottie dog called Pippin, who may turn up in their room later . . . but mum's the word, I don't want to spoil the surprise.
Finally, I suppose the clue was in the location – George IV Bridge – but any confusion over what G&V stands for was soon explained by the friendly staff . . . it's George and Victoria, of course.
But in my book, G&V translates as glorious and vibrant, as that's exactly what it is.
THE HOTEL
To make a reservation contact +44 0131 2206666; info@gandvhotel.com; www.quorvuscollection.com/gandv-hotel-edinburgh
THE AWARDS
Two wins and four commendations at the Scottish Hotel Awards 2017:
Winner: Gold Laurel for environmental policies
Winner: Matthew Wakeford – Bar Manager of the Year
Highly commended: Martin Scott – General Manager of the Year;
Epicurean – Bar of the Year;
Carla Sanchez Playa – Reservations Manager of the Year;
Clair Lund – Sous Chef of the Year