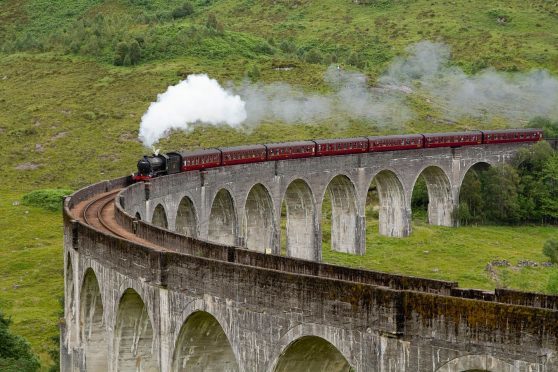 It really will be a magical trip for the family.
A ride on a "Hogwarts Express" in Scotland has been named as one of the best family travel experiences to be had on the planet this year.
In fact, the rail journey in the Highlands was third on the "hot list" of top travel guide Wanderlust.
"Often described as the greatest railway journey in the world, the Jacobite Railway out of Fort William is certainly spectacular. The 135km (84 miles) round trip starts at the foot of the highest mountain in Britain (Ben Nevis), and passes Britain's deepest freshwater loch (Loch Morar), before arriving next to the deepest seawater loch in Europe (Loch Nevis)," said Wanderlust.
"Your kid, however, will be more excited that they are riding the train that was used as the Hogwart's Express in all of the Harry Potter movies.
"Indeed, before they even board the train, there's the opportunity to spot Hagrid's hut. Crossing Glenfinnan viaduct is a treat as well. It's 380 metres long and 31 metres high, and was used as the bridge to Hogwarts. Sadly, flying cars are rarely seen. The 'Hogwarts Express' runs from April to October."
The train, called The Jacobite, is used for excursions on the West Highland Railway Line, crossing the iconic Glenfinnan Viaduct that also features in the movies.
The Jacobite runs a distance of 41 miles between Fort William and Mallaig, passing through an area of great scenic beauty including Glenfinnan Viaduct and Arisaig.
The route is also the same shown in the Harry Potter films.
The company running the Jacobite service provided Warner Brothers with the train used as the Hogwarts Express in all of the movies and allowed them use of the Jacobite's route for filming.
The locomotive used to pull the Hogwarts Express in the films, the GWR 4900 Class 5972 Olton Hall, is presently located at Warner Bros.
The Glenfinnan Viaduct on the route has been used as a location in several films and television series, including Ring of Bright Water, Charlotte Gray, Monarch of the Glen, Stone of Destiny, German Charlie und Louise, and four films of the Harry Potter film series.
Top of Wanderlust's family hot list was a trip to South Africa, followed by a family-friendly trek in Chilean Patagonia.
The Hogwarts experience did beat swimming with whale sharks in Western Australia, mountain biking in Queenstown in New Zealand, riding the famous 28 tram through Lisbon, Portugal, and a bog walk in Estonia.
THE LIST
The seven best family adventures:
1: Follow Nelson Mandela's footsteps in South Africa
2: Take a family-friendly trek in Chilean Patagonia
3: Ride the 'Hogwarts Express' in Scotland
4: Swim with whale sharks in Western Australia
5: Mountain bike in Queenstown, South Island, NZ
6: Ride the 28 tram in Lisbon, Portugal
7: Bog walk in Estonia