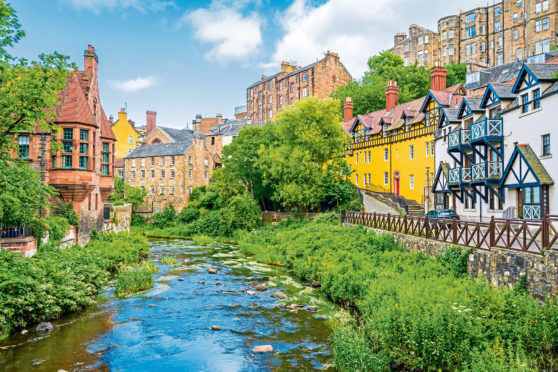 Each time I visit Edinburgh I cram in visits to galleries, museums and visitor attractions.
This time, I wanted to experience a different, more slower-paced side of the city, so where better to base myself than the landmark Balmoral Hotel on Princes Street, where you start to relax as soon as you step into the glamorous reception hall.
Nothing is too much trouble for the staff at the hotel, which started life as a railway hotel – originally you could access it directly from Waverley Station.
Now, liveried doormen – and sometimes a piper – greet you, sweep up your luggage and escort you to the check-in desk.
From here on in, you're looked after and pampered every step of the way.
Having dropped off our luggage, we left the upmarket hotel and did something probably few other guests have done – caught a public bus from a nearby stop which took us to Dean Village.
It's long been on my list of "hidden" places in Edinburgh to visit, and didn't disappoint.
Under the shadow of Thomas Telford's classic Dean Bridge lies this magical old-world village that's postcard-pretty and filled with wonderful old houses and buildings, some of which have been transformed into cool urban spaces.
It's a green oasis with tubs of flowers and hanging baskets everywhere, along with interesting statues and features such as a neoclassical-style temple pump room, St Bernard's Well.
The Water of Leith, the city's main river, flows through Dean Village as it makes its way towards the Port of Leith and the Firth of Forth.
Running alongside it is the signposted Water of Leith Walkway, an established pathway that's pretty easy to follow and could have you convinced you were in the heart of the countryside rather than in Scotland's capital city.
It's handy for reaching venues such as the Royal Botanic Gardens, Scottish National Gallery of Modern Art, and is used by visitors and locals alike.
We spent a couple of hours walking the riverside path, enjoying the wildlife and parks en route before emerging in Leith where a refreshing pint was enjoyed at seafood restaurant and bar The Ship on the Shore, Leith.
Duly refreshed we walked from here to the area around Ocean Terminal before catching the bus back to The Balmoral and our room.
I can thoroughly recommend room 508, as through the arch-shaped window there's splendid views of the castle, Scott Monument and Princes Street to be enjoyed.
They even supply a set of binoculars for you to fully enjoy the views.
A luxurious suite with lots of extras, such as a selection of hand-made chocolates, fruit basket, small bottle of whisky and high-end toiletries, it was the perfect place to chill out before going down to the hotel's Brasserie Prince by Alain Roux – son of legendary French chef Michel – for dinner.
The style in this restaurant is very French and tres chic; think gleaming, polished brass and mirrors teamed with soft leather seating and art deco lighting.
The service and food are first class too. Olive tapenade to start, a warming fish soup and Shetland mussels in cider, followed by monkfish with wild rice, perfectly cooked venison and a flavoursome rum baba to follow.
Next morning we were up bright and early to take advantage of the hotel's swimming pool and spa with Finnish sauna and steam room before tucking into a rather extravagant breakfast – the options on offer included a fabulous seafood, charcuterie and fresh fruit selection.
A bit of pre-breakfast exercise was essential as we needed to work up an appetite as we'd booked in for the hotel's famous afternoon tea later that day.
It's offered in the stylish Palm Court, a beautiful high-ceiling, elegant room filled with real palm trees, soft furnishings and luxurious hand-painted wallpaper.
The experience is pure theatre as you're presented with menus offering a wonderful selection of loose-leaf teas which are stylishly described and poured for you.
Feel free to try as many teas as you want, or swap some for Champagne.
And the food keeps coming…
Dainty sandwiches you can eat without smudging your lipstick, buttery pastries and an endless supply of cakes, all enjoyed while, from a gallery above, a talented harpist played beautifully.
It was a sublime, delicious experience from start to finish and it was with heavy hearts we left the room to finally check out of the hotel.
But our city break wasn't over yet. Having allowed plenty of time for our afternoon tea to settle, we headed next for Holyrood Park, close to the Palace and Scottish Parliament building, to follow the paths which lead from the park to the top of Arthur's Seat.
An ancient volcano sitting high above the city, the paths are clear but in places, pretty steep, and it can be crowded – several hundred others were walking the same day as us.
I needed a hand and a bit of persuasion to drag myself up the final section, but my red-faced efforts were rewarded with fabulous views across the city and Firth of Forth, making me feel on top of the world.
On Monday November 11, two of the UK's most up and coming chefs, Ian Scaramuzza (Roux Scholar 2015) and Mark Donald (ex Hibiscus), will jointly take the helm of Michelin-starred Number One restaurant at The Balmoral.
They are offering a bespoke eight-course tasting menu showcasing fine Scottish produce and dishes inspired by their unique experiences in kitchens all over the world.
For details visit: numberone.balmoral@roccofortehotels.com Bed and breakfast at The Balmoral starts from £229; Dinner at Brasserie Prince is around £44 a head (excludes drinks) and afternoon tea is £45 per person or £55 with Champagne. Contact: 0131 556 2414 or visit www.roccofortehotels.com