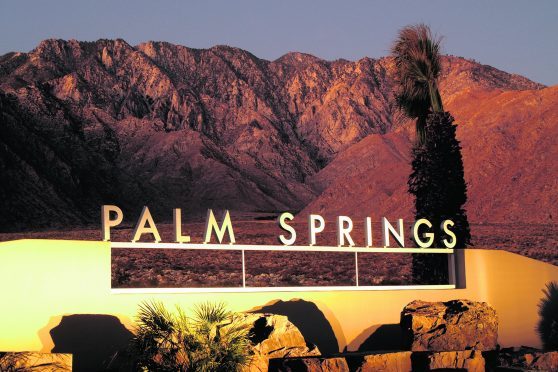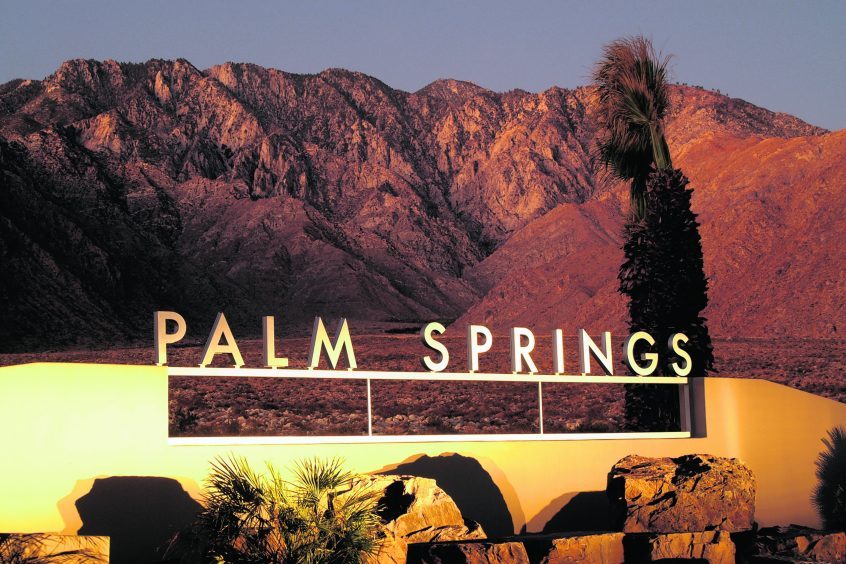 On December 12, Frank Sinatra would have celebrated his 100th birthday. Laura Ivill visits his favourite holiday haunt, Palm Springs
Come fly with me, let's fly, let's fly away," sings Frank Sinatra on the speakers of my red open-top Jeep as I zip along the Californian highway to visit one of his desert homes.
It may be a century since Ol' Blue Eyes was born on December 12, 1915, in the rough end of New Jersey, but he will always be a legend, one of the greatest singers of all time; and it was here, in his playground of Palm Springs, that he lived the life that millions around the world envied.
It's still a playground – golf, tennis, horse riding, hiking in the mountains, cocktails and pool parties – with desert-dry, year-round sunshine. But it's also a global hotspot for lovers of architecture (it has the biggest concentration of Modernist architecture in the world) and the golden age of Hollywood.
It once attracted the biggest names in entertainment, eager to enjoy a post-war lifestyle that had nothing to do with conflict and austerity, and everything to do with prosperity, growth, glamour and fun.
Located at the western end of the Coachella Valley, surrounded and protected on all sides by mountain ranges soaring from the desert floor to 3,300m, the city claims 350 days of sunshine a year. Native palms spring from the aquifer, a vast natural reservoir beneath the dust, and the drive into the ultra-low-rise city feels like a journey back in time.
At the wheel of my red Desert Adventures Jeep is friendly tour guide Bob Gross, who shares anecdotes about Frank Sinatra's life in the desert as we tour the neighbourhood where he lived, Vista Las Palmas. Frank made the desert his home and was a generous benefactor, hence a street – Frank Sinatra Drive – has been named after him.
Twin Palms was Frank's first desert home, and Bob drives me to the kerbside. Gardeners are re-seeding the front lawn under a cloudless blue sky, 28C in November, with soaring, rocky mountains etching the skyline and bougainvillea bursting over hedges of manicured gardens up and down the un-gated street.
Twin Palms is an architectural peach. As early as the 1940s, teenage girls were going wild at Frank's shows – he was in the movies, and success brought big bucks. The story goes that in May 1947, he showed up at new Palm Springs architecture firm Williams, Williams & Williams having made his first million. Frank wanted a house, a grand mock-Georgian pile as a badge of his arrival. The young architect, E. Stewart Williams, had a different idea, but gave Frank the choice of the Georgian estate versus his Modernist low-slung, steel-and-glass, inside-outside bungalow. Frank chose the latter and Twin Palms, with its piano-shaped pool (rent it at www.sinatrahouse.com), was ready for his wife, Nancy, and their three children to move into that Christmas.
You name it, Frank sang it – Strangers in the Night, New York, New York, I've Got You Under my Skin, My Way – earning him a huge number of Grammy Awards and even more nominations, spanning a career of more than seven decades, until his death, aged 82, in 1998.
His reputation as a drinker, a womaniser and a gambler, prone to violent outbursts when drunk and with connections to the mob, which he always denied, only added to his appeal. He was a hard-living "man's man", happiest when hanging out with his Rat Pack pals whose Vista Las Palmas homes Bob and I stop outside.
He was also extremely generous and a big tipper. At one of his favourite hangouts, Melvyn's at the Ingleside Inn, the maitre d' tells me that he liked to sit in a booth by the kitchen (he was as fussy about his food as he was about his cleanliness) and would pop back-of-house to hand out 100 dollar bills to the staff.
Melvyn's was a favourite nightspot, and Frank held a pre-wedding dinner here before marrying his fourth wife Barbara. Proprietor of Melvyn's, Mel Haber, 79, will happily chat about the times he hosted Frank, and every other celebrity in town.
I go for a midweek lunch and order a hilarious fresh crab and avo salad in the shape of a wide-mouthed frog. It's quiet but I'm told by a Palm Springs' resident – an uber-successful LA-based interior-decorator-to-the-stars – that the hip crowd love it exactly because it's the Melvyn's of yesteryear, and it's heaving at the weekends.
After its mid-century heyday, Palm Springs lost ground as its stars migrated to other cities in the desert and beyond. In the past decade, however, the area has shaken off its "golf and
retirees" reputation, when it was known as God's Waiting Room.
Cool, laid-back, small-scale boutique hotels have opened, such as The Saguaro, which has given a pop new look to an old Holiday Inn, in a paintbox of colours inspired by the desert's flowers, and recreated the Palm Springs' pool-party vibe.
Historic buildings all over the city have been saved from the bulldozer and are being given a new lease of life; downtown is buzzing – there's a funky market, Villagefest, on the main street (Palm Canyon Drive), every Thursday evening – and uptown, once deserted, is now the Uptown Design District of boutiques, specialising in vintage and modern-retro homewares, furniture, clothes and jewellery.
Take the aerial tramway or a hike up into the mountains for the views, go horse riding in the desert, visit the jaw-dropping splendour of Sunnylands Center & Gardens, and enjoy authentic Italian dishes at Johnny Costa's, family-run by Frank's own personal chef.
Or just hang out by the pool, as Frank did. As it says on his headstone, "The best is yet to come", and if you haven't been to Palm Springs yet, then that is certainly true.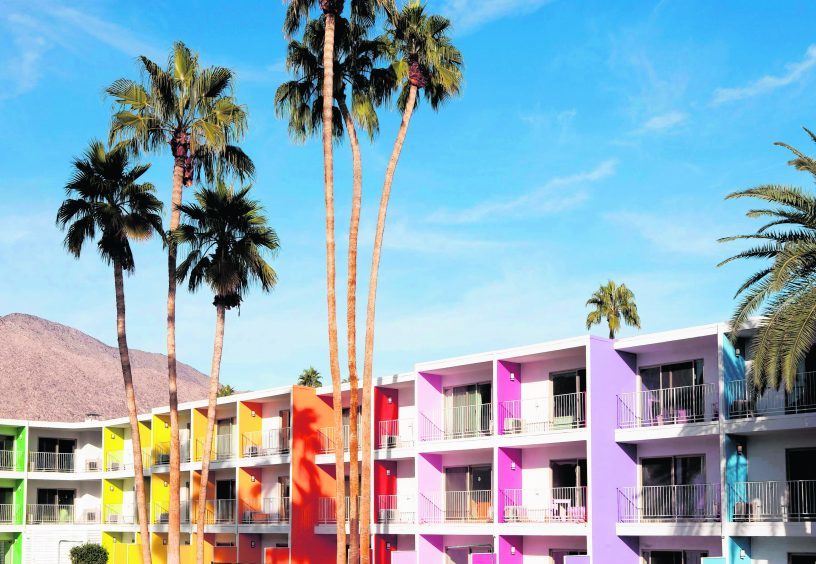 ---
Laura Irvill was a guest of the Palm Springs tourist board. See www.visitpalmsprings.com
Air New Zealand (www.airnewzealand.co.uk/
cheap-flights-to-los-angeles) flies daily from London
to LA, from £404 return in economy and £961 in premium economy
Doubles at The Saguaro Palm Springs start from 89 US dollars (£59) room-only (www.thesaguaro.com)
For Desert Adventures Jeep tours, visit www.red-
jeep.com; for Palm Springs Historical Society walking tours, visit pshistoricalsociety.org and for architecture tours, go to www.palmspringsmoderntours.com