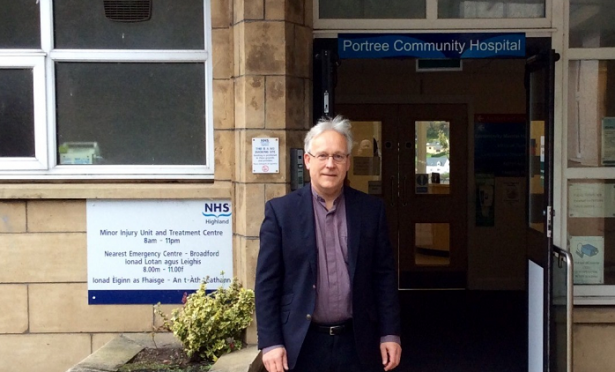 A healthcare campaigner on Skye has warned Portree hospital will "wither on the vine" with only seven beds available for a population of thousands.
Rev John Murray, the parish minister of Kilmuir and Stenscholl in North Skye, highlighted the paucity of in-patient beds available for the north of Skye.
He maintains locals are concerned as the Portree unit is well used and, with the majority of the 10,000-plus Skye residents living in the north of the island, this is a "poor state of affairs".
Rev Murray spoke out prior to the Scottish Parliament Petitions Committee meeting on Thursday where concerns about NHS Highland's plans for healthcare redesign on the island will be discussed.
He said: "Last November we were told by NHS Highland that bed availability at Portree hospital had been almost halved due to staff illness. But recently, there were still only seven beds available for use. This is a poor state of affairs. They said that service provision would not be affected until the new hospital at Broadford is built. Last year they had five nurses off sick and had to cut back because of 'patient safety'. What has been done since to recruit alternative staff?"
He added: "Under the healthcare redesign, Broadford hospital will be the hub and Portree the spoke. But what will the spoke contain if there are no in-patient beds? It will just wither on the vine.
"Islanders in the north will face a long journey to Broadford if they don't have cars and have to rely on buses. There is also the large number of visitors, particularly to Portree, to consider. "
Kate Forbes, MSP for Skye, Lochaber and Badenoch, said: "Some of the concerns raised are legitimate and I would rather spend an extra few months discussing the issue than railroading something through that would damage local trust. People must have confidence in the consultation process."
Ian Blackford, MP for Ross, Skye and Lochaber said reassurance was needed on the provision of step up/step down beds as well as on-going A&E capabilities at Portree.
He added: "We also need to be satisfied that there are sufficient beds provided at Broadford and for the spoke at Portree. NHS Highland must be able to guarantee an excellence of care."
An NHS Highland spokesman said: "We are unable to open all the beds in Portree on the grounds of safety due to insufficient qualified staff caused by long-term sickness and being unable to recruit for existing vacancies. It is unlikely that visitors would be admitted to Portree hospital as the patients mainly attend for rehabilitation as opposed to requiring acute or immediate care."