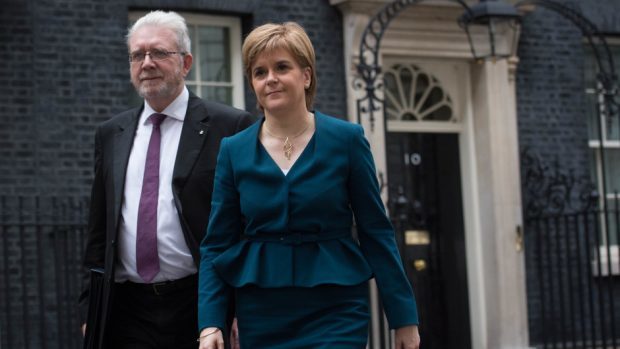 Nicola Sturgeon will demand a place at the Brexit negotiating table if her party wins a majority of Scottish seats at next month's General Election.
The First Minister's proposals to keep Scotland in the single market after Brexit were rejected out of hand by the UK Government in December but Ms Sturgeon believes victory at the polls will give a mandate to her plans.
"At the end of the Brexit process, when the terms of Brexit are clear and people can compare that with the terms and implications of independence, Scotland should have a choice," she told the BBC's Andrew Marr Show.
"But in this election, there is actually a more immediate priority and opportunity for Scotland, and that is about making sure our voice is heard in the Brexit negotiations."
She added: "The Scottish Government previously published proposals that would have accepted we were leaving the EU, but protected our place in the single market.
"The Prime Minister dismissed those proposals out of hand. She didn't look at them seriously, so this election gives the Scottish people the chance to give real democratic legitimacy to those proposals."
The SNP leader also reaffirmed her commitment to holding a second referendum on Scottish independence but said next month's vote should be seen as an opportunity for Scots to give her a mandate on proposals to keep Scotland in the single market.
She said: "My message in this election on Brexit is, whether you vote Leave or whether you were Yes or No in 2014, if you vote SNP you're strengthening my hand to make sure that Scotland's voice is heard in these negotiations, that we don't sacrifice jobs and the economy, and that we can press the case for Scotland's place in the single market."
Ms Sturgeon confirmed the her government will continue to pursue "full EU membership" – without joining the euro.
"We don't want to go into the euro – no member of the EU can be forced into the euro and Sweden is one of the examples of that," she said.
However, the First Minister conceded that an independent Scotland could face a "phased approach" if it attempts to rejoin the trading block.
She added that "by necessity" Scotland might have to pursue membership of the European Free Trade Association (EFTA) before achieving full membership.
"Now we have to set out, if we're in an independence referendum – and we're not in that right now – the process for regaining or retaining, depending on where we are in the Brexit process, EU membership.
"Now it may be that we have a phased approach to that by necessity," she said.
Scottish Conservative deputy leader Jackson Carlaw responded to Ms Sturgeon's comments by claiming her position on Europe had descended into "complete chaos".
He added: "She claims we must have a referendum on independence because we're leaving the EU.
"Now, in a cynical attempt to win back Leave voters who have deserted the SNP, she now refuses to say whether an independent Scotland would go back in.
"And her flirtation with EFTA would leave us with all the obligations but no voice in decision-making.
"Nobody is going to be fooled by these political games."
Scottish Labour leader Kezia Dugdale said: "Nicola Sturgeon is trying to use Brexit as the excuse for another divisive referendum, but won't be straight with people about her position on EU membership.
"The reality is the Nationalists have quietly shifted away from a policy of immediate EU membership if Scotland leaves the UK. Nicola Sturgeon claims Scotland must leave the UK because of Brexit, but won't even commit to rejoining the EU straight away.
"People in Scotland can see through Nicola Sturgeon's contortions on Europe, which is why a majority don't want another divisive referendum."
Scottish Liberal Democrats leader Willie Rennie said: "Nicola Sturgeon is selling out pro Europeans to win back Brexit supporters with this watered down policy on Europe.
"The SNP are using the EU as their excuse to call another independence vote but won't guarantee Scotland in the EU will be a result of their vote."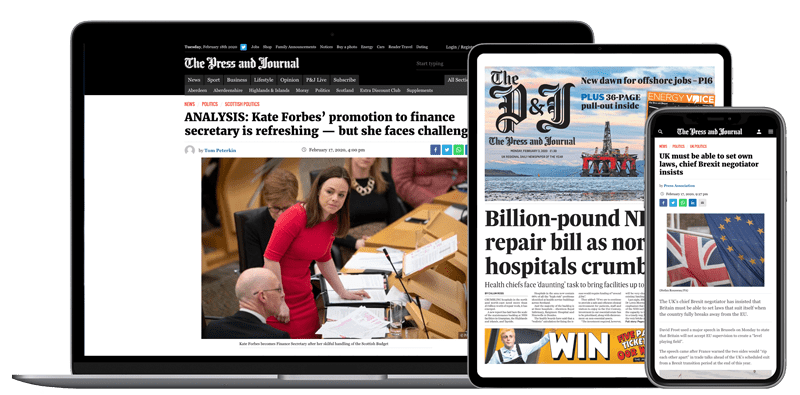 Help support quality local journalism … become a digital subscriber to The Press and Journal
For as little as £5.99 a month you can access all of our content, including Premium articles.
Subscribe