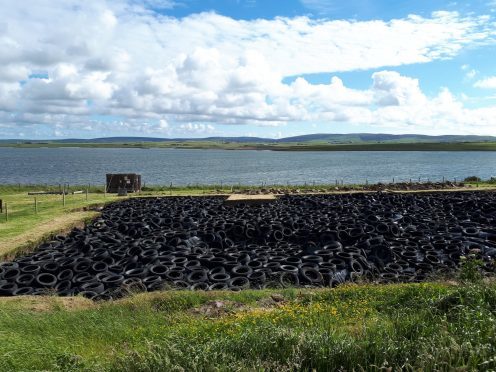 Archaeologists in Orkney are expecting a bumper tourist season as one of the island's most famous neolithic attractions opens for the summer.
Work on the excavation of the 5,000-year-old Ness of Brodgar begins again on Monday – and it will open to the public on Wednesday.
The site sits close to the famous Ring of Brodgar and the Maeshowe Chambered Cairn on a narrow spit of land between the Loch of Harray and the Loch of Stenness.
It has been carefully and painstakingly uncovered by archaeologists since 2003.
Because of its exposed location, the dig site is covered in tarpaulins, which are then weighed down with car tyres to prevent them blowing away.
Even then the covers need to be frequently put back in place because of high winds.
But more than 100 volunteers and works will return to the site on Monday to uncover it before getting back to work.
Last year around 12,000 people visited the Ness last year – and management at the dig site are expecting another busy season after the complex featured prominently on a national television programme over the winter.
Site director Nick Card said it was an "exciting time" as they prepare to get back to work.
The Ness is a complex of prehistoric buildings and is thought to have been of ceremonial significance to the neolithic people of Orkney.
As well as the buildings themselves, several important artefacts and items of artwork have been found during the excavation.
Mr Card is particularly keen to continue work on a building in the southern trench of the dig, which was only uncovered in the last two to three years.
He said: "It is an ornamental style of building which we have been working on.
"It's difficult to compare it to anything else, its an unparalleled find."
It is believed that the building may be of ceremonial importance or that it could be a type of burial chamber.
This year's dig is scheduled to last for around eight weeks and is led by the UHI Archaeology Institute, with support from the Leader programme.
Visitors to the site will be welcomed from Wednesday, with three guided tours a day running.
There is also a viewing platform for tourists to watch the archaeologists at work.