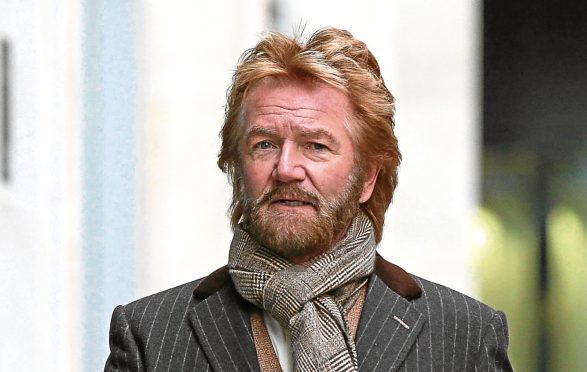 TV star Noel Edmonds has secured funding to pursue Lloyds Banking Group through the courts as he seeks up to £60million in compensation from the lender.
The former Deal Or No Deal presenter is seeking financial redress after falling victim to fraud by former staff at Halifax Bank of Scotland (HBOS), which Lloyds rescued at the height of the financial crisis.
Mr Edmonds said yesterday he had secured a "seven-figure" sum from specialist litigation funder Therium to bankroll his case.
He added: "This is massively significant for me and for the victims of Lloyds' criminality.
"It is a firm endorsement of my case – Therium do not take on a case where they think there's a chance of losing."
Therium, which helps fund lawsuits and then takes a portion of the damages if successful, is also behind a class action lawsuit against car giant Volkswagen over the emissions scandal.
The deal struck with Mr Edmonds means he is insured against any costs orders that might be made against him.
He is pursuing Lloyds for damages – after a "derisory" compensation offer – for losses allegedly suffered when his former business, Unique Group, was destroyed because of the fraud. Mr Edmonds' solicitor, Jonathan Coad, of Keystone Law, is preparing for the next steps in what he described as a "David vs Goliath" battle.
Mr Coad added: "We can now start to prepare the proceedings in earnest.
"This will begin by an application to set aside the settlement agreement which concluded the bank's 2008 claim against Noel on his personal guarantee, which we say was obtained by fraud on the part of the bank.
"As well as the bank's fraud, we will also be relying on the overwhelming evidence of the deliberate concealment by Lloyds of its wrongdoing to defeat any limitation defence."
Mr Edmonds said he was still open to negotiation with Lloyds, insisting: "I don't want my day in court." Mediation talks broke down late last year.
Lloyds has set aside £100million for victims of the fraud at the hands of HBOS Reading staff between 2003 and 2007. Corrupt financiers from the branch were jailed last year for the £245million loans scam, which destroyed several businesses, and they squandered the profits on high-end prostitutes and luxury holidays.
Lloyds has rejected the basis of Mr Edmonds' claim.
A spokesman for the bank said: "Lloyds Banking Group made determined efforts to reach a consensual resolution with Mr Edmonds through mediation late last year, but this was not possible.
"As a formal litigation process has begun it would be inappropriate to comment, other than to say his claim will be contested."