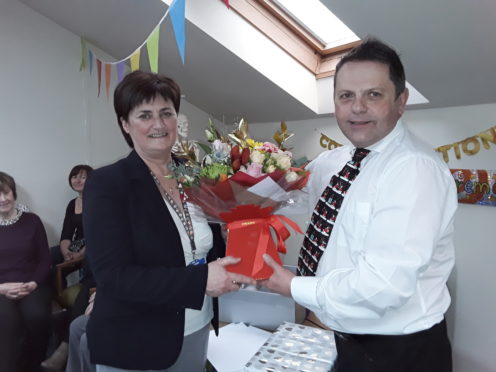 NHS Western Isles nurse director Chris Anne Campbell has retired after almost 40 years of service.
From Port of Ness, Isle of Lewis, Chris Anne's career began training as a student nurse at Edinburgh Royal Infirmary in 1976.
Following completion of training, she then worked in various theatre wards at Edinburgh Royal Infirmary before returning to her home islands with husband Torquil at the beginning of 1982, working in theatre in the former Lewis Hospital in Stornoway.
Chris Anne took a five year break from nursing as she raised her family – son Ewan and daughter Laura – returning to work with NHS Western Isles part-time as a bank nurse in 1989.
She moved on to work in the surgical ward of the former Lewis Hospital, then as a theatre nurse when the new Western Isles Hospital opened in 1992.
As she returned to full-time work she was promoted to theatre sister.
In 2004 Chris Anne left theatre to take up the post as project manager for agenda for change – with NHSWI being the first Health Board to complete its Agenda for Change under her leadership.
In 2007 she moved to the post of senior nurse at Western Isles Hospital, but soon afterwards she agreed to cover the post of interim hospital manager – a secondment which lasted three years.
The next NHSWI post for Chris Anne was Associate Chief Operating Officer, before she took up another interim post as Nurse Director, then being formally appointed to the position in 2016.
Chris Anne said: "I am proud of our health services. It has some challenges, but I'm very proud to have been involved in so many things which have brought the service forward.
"I've enjoyed every job I had. I loved theatre and operational management. There have been very few days when I've thought 'I don't want to go to work today'.
"The health service is not the health service I came into in 1976 when nurses were trained as apprentices. Now nurses are trained and educated to degree level.
"The way nurse training is provided has totally changed and in many ways has changed how nurses work, though the actual caring side of nursing remains the same, but that has always been a strong essence of health care within NHS Western Isles."
She added: "Another large change has been the introduction of the integrated joint board in terms of how we all work together, bringing about a new era.
"The health service never stands still. It's constantly changing and becomes more challenge to keep up with the pace of change."
NHS Western Isles chief executive Gordon Jamieson said: "Chris Anne is a role model for people to follow. I have worked with her for over a decade and she always puts the interests of patients whom we serve first.
"She has worked tirelessly throughout always going more than the extra mile, with the highest standards of professionalism and integrity."