The air raids sounded so frequently throughout the Second World War that Aberdeen was given the nickname "Siren City".
And now, a north-east mother and daughter are creating a commemorative database of all those who were killed in Aberdeen during the conflict, many during the bombings.
Pauline Gerrard and her mother, Sheila Runcie, have already chronicled the deaths of 660 Aberdeen residents during the hostilities.
Tragically, their database includes 29 children under the age of 16 who lost their lives.
Their efforts have so far unearthed many poignant stories, demonstrating the impact of the conflict on north-east soldiers and civilians, both young and old, male and female.
The list chronicles the demise of the Cox family – mother Williamina, aged 22, and her three children, Freda, 3, Frederick, 17 months and John, five months – who lived at 60 Bedford Place and were victims of the devastating Aberdeen Blitz on April 21, 1943.
The scale of the Luftwaffe's assault on the region was unprecedented that evening.
In the space of just 44 minutes, 127 bombs damaged or destroyed more than 12,000 homes and killed 98 civilians and 27 soldiers.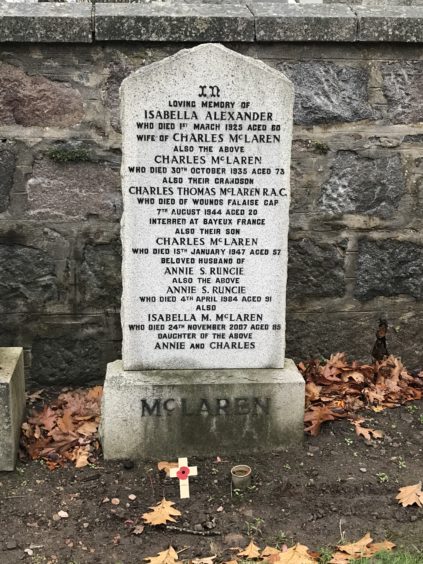 Missiles rained down upon the city and in the space of a few hours many streets were wiped out.
People awoke the next morning to discover that many houses had simply been reduced to rubble and ash.
Mrs Gerrard said: "I started up a community 'Guardians of the Graveyard' scheme last year.
"Anne Park is one of the original guardians and she has previously completed a database for the First World War.
"She knew that my interest in graveyards stemmed from visiting my dad's cousin's grave in Caen in Normandy when I was a teenager and she had been encouraging me to take on something similar for the Second World War.
"We are mapping and taking monument inscriptions of Allenvale Cemetery just now and we have already reached 660 war dead.
"We began with the Roll of Honour from the Central School and then added the Commonwealth War Graves Commission memorials from the 17 cemeteries which are cared for by Aberdeen City Council and, at the moment, we are adding those from Robert Gordon's College and and Aberdeen Grammar School.
'We research using the British News Archive and while it might just be a gravestone we are looking at, it really matters.
"That's because, after we learn about the circumstances of their death, we see a person, who gave their life and a story gradually unfolds.
"It is very important to me that these names are never forgotten."
Mrs Gerrard described the work as meticulous and painstaking, and she does not expect the project to be completed in weeks or months, but over the course of several years.
However, she is determined to discover as many names as possible for the database and has invited Press and Journal readers to get in touch.
"We want to ensure the list is a permanent memorial to all those who died and the more information we can find, the more we can build this up into a comprehensive database."
Anyone who has information or wishes to contribute to the effort can email graveyardguardians@outlook.com.