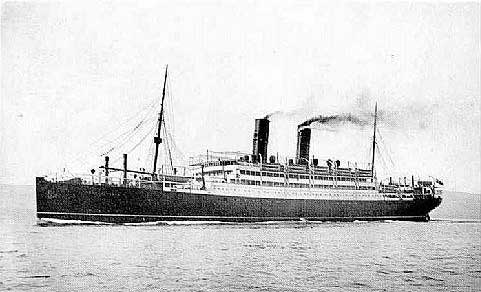 The SS Transylvania was near Savona in the Gulf of Genoa when she fell into the sights of one of the First World War's most successful U-boat commanders.
It proved no contest as the enemy submarine struck, Otto Schultze directing its torpedoes at the vessel, causing catastrophic damage and grievous loss of life as it sank beneath the waves.
Thousands of Allied soldiers, bound for Egypt, were on board the Greenock-built liner, which was part of the passenger line of the Cunard subsidiary Anchor Line, but had been taken over for the war effort.
Aberdeen man, Private James Smith, a member of the Black Watch, was among the 412 who became victims of the attack.
A total of 10 crew members, 29 army officers and 373 soldiers died in the incident on May 4, 1917.
Many of their bodies were buried in a special plot in Savona Town Cemetery, while others were laid to rest in other parts of Italy and in France, Monaco and Spain.
But it's only recently that Pte Smith's sacrifice had led to his name being added to the Scottish National War Memorial at Edinburgh Castle, following ongoing research undertaken by his descendent, John Brock.
The 75-year-old Manchester-based man has talked to the Press and Journal about two members of his Aberdonian family, who were killed in different conflicts.
The other was Surgeon Lieutenant H G Bruce, who also served in the first conflict, but succumbed during the Second World War when his ship was sunk off Malta in 1942.
Mr Brock is still searching for details about the medical soldier who had roots in the north-east of Scotland.
He said: "I have just had two of my ancestors' names added to the memorial in Edinburgh, but it would appear there are a lot of Scottish service personnel who are not mentioned on it because their relatives are not aware they have to apply to have their names entered in the records.
"I feel this is a shame because these people died for their country, they paid the ultimate sacrifice, often in horrific circumstances, and yet so many of them have no proper recognition."
Mr Brock's family were originally from Thurso and Aberdeen and, although his research was hampered by the large number of Smiths in the archives, he has unearthed some evidence that Pte Smith – who was the husband of one of his great-grandfather's daughters – may have a grandson who is living in the Aberdeen area.
He said: "I was given a lot of help by the Black Watch Museum – who did a tremendous job – and I'm very pleased that both their names have been added, even if it has happened belatedly.
"I am still working to learn more about H G Bruce – who was the father-in-law of one of my great-cousins – and if anybody has any information, I would be delighted to hear from them.
"It is now 75 years since the Second World War ended, but I know that there are many families who are still searching for more information about what happened to their loved ones."
The SNWM was established by Royal Charter to commemorate the sacrifice of Scots in the Great War, Second World War and subsequent conflicts.
It houses and displays the Rolls of Honour of Scots servicemen and women from the Armed Forces, the Dominions, the Merchant Navy, Women's Services, Nursing Services and civilian casualties of all wars from 1914 to the present day.
Further information can be found at www.snwm.org.