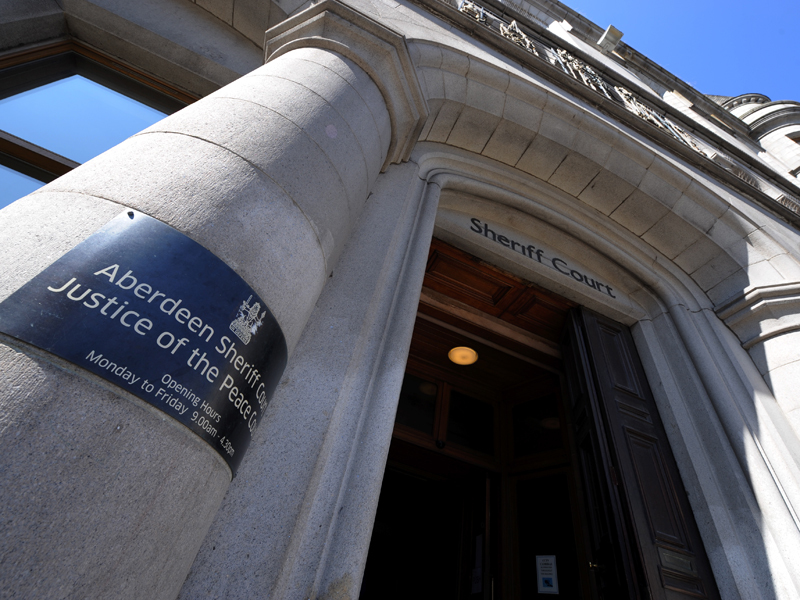 A teenager who carried out a vicious and unprovoked assault on an off-duty fireman has been spared jail.
Gary Michie was left with a fractured cheek and a black and blue eye after Daniel Hay attacked him in Huntly's Doric Kebab shop on October 5 last year.
The 19-year-old pinned his victim against a windowsill before repeatedly throwing punches at him, leaving him covered in blood.
Mr Michie could do nothing but cower down with his hands in front of his face as he was struck about 10 times.
Hay admitted carrying out the drunken assault when he appeared at Aberdeen Sheriff Court last month.
Footage of the brutal attack recorded on a witness's mobile phone was shown to the court.
Fiscal depute Anne MacDonald said the 47-year-old fireman had joined a queue in the shop when he noticed a scuffle going on beside him.
Ms MacDonald said a woman was trying to restrain someone involved in the argument and Mr Michie went to assist.
However, as he approached, the woman let go and he turned back to rejoin the queue.
Ms MacDonald said that at that point Hay "lunged" at Mr Michie.
When Hay first appeared in court he was warned by the sheriff that there was a real possibility of him being given a custodial sentence.
But yesterday he was given another chance to keep his liberty after social workers reported that he showed "genuine remorse" for his actions.
The court heard Hay had displayed "significant victim empathy" after the assault and had even gone to Mr Michie's home to apologise.
Sheriff Graham Buchanan said: "If there is one thing that shines through in this report it is that you are a young man who made a very big mistake and you are extremely remorseful for your actions.
"There is no doubt that this was a serious offence. You acted in a very aggressive manner, albeit for a very short time."
Sheriff Buchanan said that it was clear he had a problem with "indulging in alcohol" and going on to act in an inappropriate manner.
He said: "This is something you are going to have to get a grip of and from what's been said I am sure that you realise that."
Hay, of 9 King Street, Huntly, was ordered to carry out 225 hours of unpaid work within the next year. He was also placed on supervision for the duration of the order.
Hay will also have to pay Mr Michie £1,000 in compensation.